Muslim and Christian authorities in Lebanon have been working to reinforce the commonalities between religions and sects to achieve further reconciliation and counter extremist ideology by promoting a culture of dialogue and mercy.
They have been working to highlight Lebanon's role in the region at various conferences , upholding it as a model of religious co-existence, moderation and tolerance, which form a bulwark against the current of violent extremism.
One of those conferences was an international symposium in Rome on November 3rd and 4th on the theme of partnership for peace and reconciliation.
The symposium was organised by the King Abdullah bin Abdulaziz International Centre for Inter-religious and Intercultural Dialogue, with the Adyan Foundation and the Pontifical Council for Inter-religious Dialogue of the Holy See.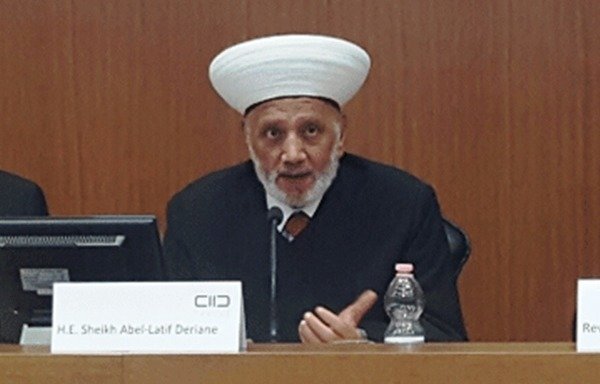 "[Lebanon] provides a living example that religious difference is not a problem per se and not a cause of the conflict, if it remains under the umbrella of mercy and love based on faith in God," Grand Mufti of Lebanon Abdul Latif Derian said.
A society devoid of mercy "cannot be a society of peace, nor can it advocate it", he said in a speech delivered at the symposium.
Building bridges
Lebanon's Dar al-Fatwa is working to disseminate the culture of peace and mercy and reinforce the commonalities between religions to counter extremist ideology, said Islamic-Christian National Dialogue Committee member Mohammed al-Sammak, who serves as an adviser to Lebanon's Grand Mufti.
This task is at the heart of the Dar's role, message and mission, he said, "for Dar al-Fatwa exists in a multi-religion and multi-sect society".
In keeping with this, Dar al-Fatwa continues to build bridges of friendship and understanding between all components of society, he told Al-Mashareq.
Its commitment to this task is represented by respect for differences and understanding their causes, al-Sammak said, and it works to influence societies characterised by multiplicity of religious and sectarian affiliations.
"There is a permanent role for Lebanon to build bridges that foster dialogue and achieve reconciliation between the various social and religious components," he said.
Commonalities based on "the promotion of a culture of respect for national rights, the rights of citizens, equality among citizens and dialogue" can serve as the foundation for reconciliation in the face of extremism, he said.
"At a time when extremism has created space for itself in our Arab world, we are working to reinforce the commonalities, make them the basis of our Lebanese culture and disseminate them to the Arab world and the Middle East via forums and conferences," he said.
This is in order to fill the ideological void that extremists believe they can breach to plant their fundamentalist ideas, he said.
Promoting dialogue
Amid the current climate of intolerance, violence and extremism "we are working with other Islamic and Christian communities to reinforce the commonalities between us", said the Rev. Abdo Abu Kassem, director of the Catholic Media Centre.
These commonalities fall under many headings, he told Al-Mashareq, "including brotherhood among humankind and filiation before God".
These are the essential precepts through which "we, as a multi-religion and multi-sect people, open up to each other and establish a constructive and meaningful dialogue", he said.
Lebanese people are in constant contact with one another in all areas of life, he said -- via meetings, seminars and joint committees and through national, humanitarian and social concerns.
This convergence "presents Lebanon to the Islamic world as an open and brotherly society that is inclusive of all sects", he said.
"Lebanon's situation is unique. It is, as Pope John Paul II described it, more than a country, it is a message," Abu Kassem said.
Wisdom and mercy
The message of the Druze "is a message of awareness, wisdom and mercy, which lead to peace", said Sheikh Ghandi Makarem, head of the Druze Religious Court.
"This message is based on reason and on justice, around which all human virtues revolve, and from which all values emanate, including mercy," he said.
"We believe that dialogue in all its forms and on all levels, starting with dialogue with the self and purifying, is the secret key that enables society and people to enter the fold of peace," Makarem said.
"We are of the conviction that mercy is the path to peace and a way to deal with the self and with others, and that it leads to tolerance," he added.
The current situation in the Middle East is "frightening and catastrophic", he said. "Mercy is at its last breath due to the enormity of the injustice, oppression and barbarism" perpetrated by extremist groups under the guise of religion.
"We have nearly destroyed our civilisations and religions ourselves, if it were not for some hope and the will of the people of thought, faith and reason, who are countering violence with a kind word, extremism with love, and injustice and deprivation with mercy," he said.