Constant torrential rainfall, overflowing rivers and subsequent flooding in many parts of Iran have severely damaged several provinces this week.
The Islamic Republic News Agency (IRNA) quoted Mohammad-Baqer Mohammadi, operations manager for Iran's Red Crescent, as saying that 19 provinces have suffered drastic damages since December 6th.
Iranian media outlets reported that at least nine people have been killed in the floods as of Tuesday (December 8th).
Southern Iran has suffered the most damage, but floods have severely affected many other parts of the country as well. In Hormozgan province, some 69 homes were irreparably damaged in the floods, with many left homeless.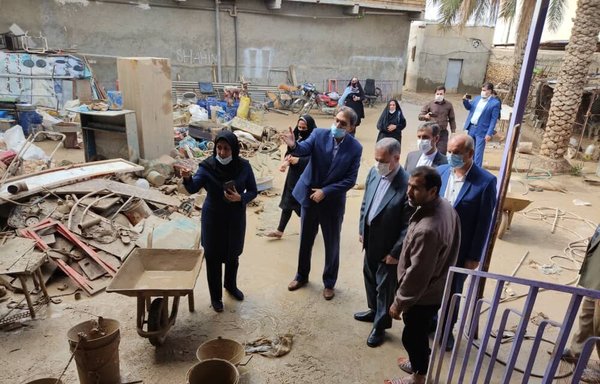 In Fars province, Kazeroun has had the most amount of downpour in the past two days and 14 other cities are severely flooded.
Khuzestan officials have stated that the province has not received their share of emergency funding for the current Iranian year, which is now in its ninth month.
They have announced that lack of funding obstructs rescue and reconstruction efforts in light of the thousands of dollars needed to reverse the damage to homes, wild stock and agriculture.
It was only on Monday that Iran's Interior Ministry announced it had sent a letter to the country's Planning and Budget Organisation asking for funding to mitigate the damage from flooding.
Incompetency, bad governance
Severe floods in southern and central Iran cause major destruction, casualties and loss of life every season.
Shortages in emergency funding, insufficient flood preparation, weak dam structures, lack of crisis management and incompetent local governance are the significant reasons for the disasters downpours cause every few months.
Despite the recurring problems, the Iranian government has done virtually nothing to prepare for expected flooding and is currently doing little to remedy the damages.
Meanwhile, the Islamic Revolutionary Guard Corps (IRGC) received an increase in its annual budget this year, most of which was arguably spent on combatting protests in Iran, including in Khuzestan province, as well on proxy wars in the region.
Just last week, on December 3rd, President Hassan Rouhani's administration allocated some $340,000 to the Qassem Soleimani Foundation, which is headed by Zeinab Soleimani, daughter of the IRGC Quds Force commander who was killed at Baghdad airport in a US raid in January.
The Foundation reportedly received $400,000 last year as well.