Hadramaut governor Faraj al-Bahsani has stepped up security preparedness in the Hadramaut valley and desert in response to heightened extremist activity and advances by the Iran-backed Houthis (Ansarallah) in neighbouring al-Jawf.
Elements of groups such as al-Qaeda in the Arabian Peninsula (AQAP) and the "Islamic State of Iraq and Syria" (ISIS) "cannot move and play around freely in Seiyun and the other valley and desert cities", al-Bahsani said.
"This is a dangerous situation that we will not accept to go on," he added, following a Monday (March 2nd) meeting in Seiyun with the Hadramaut Valley security committee.
"Intelligence and security reports have indicated that al-Qaeda and ISIS elements are plotting to undermine security and slide Hadramaut desert and valley into a spiral of violence, conflict and chaos," he said.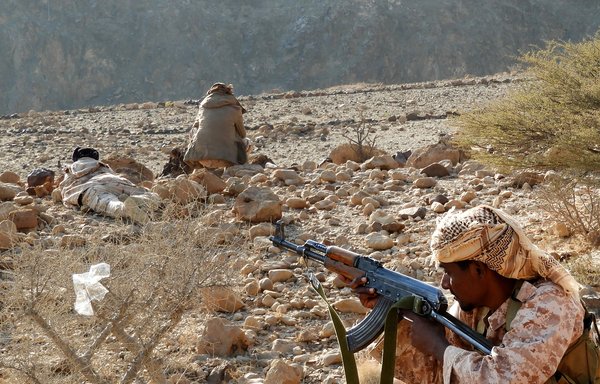 The security agencies in Hadramaut have done good intelligence work by penetrating terrorist groups, he noted.
"This will enable the security and military agencies to carry out pre-emptive operations to thwart their plots."
The Monday meeting in Seiyun was held in response to President Abd Rabbu Mansour Hadi's directives to assess the security situation in Hadramaut.
Participants sought to determine the cause of recent violence and identify the necessary solutions to put an end to it and eliminate the perpetrators.
Assassinations in Seiyun, al-Qatn
Three people were killed in Seiyun and al-Qatn on February 27th.
In Seiyun, an unidentified gunman on a motorcycle fired a barrage of bullets on Health Institute students as they emerged from the building's gate, killing two and wounding three others.
In a separate incident, a Yemeni soldier was assassinated in Seiyun's central market by another unidentified gunman on a motorcycle.
In al-Qatn, meanwhile, an electronics shop worker was killed by two gunmen who fled the scene after committing their crime.
Seiyun meeting participants agreed to place all Hadramaut police stations on alert, assume responsibility for all the province's security checkpoints, and recruit women to conduct vital security checks, adding another layer of security.
They agreed to co-operate with the Arab coalition commander in Hadramaut valley and desert, who will support the province's security efforts, and to co-operate with intelligence agencies.
Al-Bahsani pledged to send the newest batch of Hadramaut Police Academy graduates to trouble spots in Hadramaut valley and desert.
He urged Hadramaut Valley's local authority to assume its security responsibility and implement preliminary security measures as part of the security plan.
And he stressed that all agencies would work hard to introduce tangible changes and exert all possible efforts to improve security in the province.
Spillover from neighbouring al-Jawf
Separately, al-Bahsani directed the First Military District Command to secure Hadramaut's borders with al-Jawf province, after the Houthis this week overran its provincial capital, al-Hazm.
According to the UN, more than 2,000 families have been displaced after heavy fighting in al-Jawf, AFP reported.
Since the fall of al-Hazm, "an estimated 1,800 families reportedly fled heavily populated districts of al-Ghayl and al-Hazm", the UN Office for the Co-ordination of Humanitarian Affairs (OCHA) said in a Tuesday statement.
It added that "2,100 displaced families reached Marib on March 1st", noting that the loss of the strategic city means the Houthis now threaten Marib province.
Al-Jawf has been mostly controlled by the Houthis, but al-Hazm, only 150 kilometres south of the Saudi border, had been in the hands of the government.
The Seiyun meeting and the new security measures it introduced reflect the urgency of the situation and the volume of challenges facing Hadramaut, political analyst Emad al-Dini told Al-Mashareq.
"The fall of al-Jawf to the Houthis will have military and geographical consequences on the security situation in Hadramaut," he said.
Additionally, "terrorist cells must be confronted strongly", he said. "This makes it necessary to unify security and military efforts in Hadramaut Valley and Coast."
Hadramaut must recruit, train and arm 3,000 local residents to participate in the province's stepped up security efforts, as previously directed by Hadi, Tarim District director Khaled Hewaidi told Al-Mashareq.
"Security agencies need personnel who will work in different security, intelligence, reconnaissance aspects to identify the terrorist cells before they can carry out their destructive operations," he said.