Al-Qaeda gunmen killed 19 soldiers in an attack on an army base in southern Yemen on Friday (August 2nd), a day after separate deadly assaults by Houthi militiamen and an extremist bomber left at least 49 dead and 48 wounded.
Al-Qaeda gunmen stormed Al-Mahfad base in Abyan province and remained inside for several hours before military reinforcements came, security officials said, adding that the soldiers were killed in clashes with the extremists.
"Al-Qaeda gunmen took advantage of what happened (Thursday) in Aden and launched an assault on Al-Mahfad base," a government security official said.
"Military reinforcements were sent... and the gunmen were killed while others were driven out with air support from the (Arab) coalition, in an operation that lasted hours," the official said.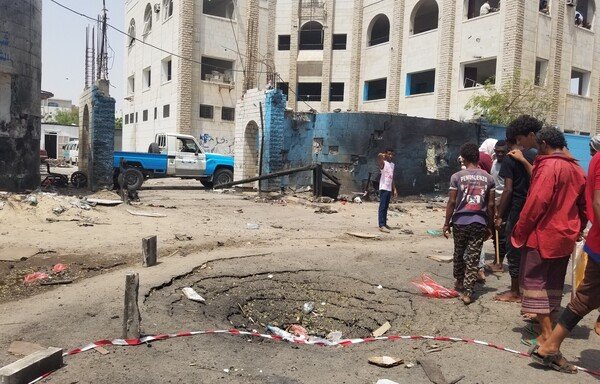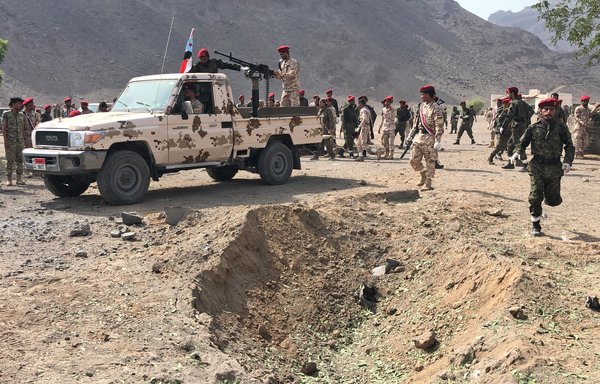 "At least 19 soldiers were killed and others wounded."
Security analyst Aleksandar Mitreski said the attacks "seem opportunistic".
"Al-Qaeda has neither the capability nor the strategic appetite to open a new front in south Yemen," said Mitreski who is also a researcher at the University of Sydney.
"We may see other sporadic attacks in the future motivated by al-Qaeda's desire to remain a relevant actor in the Yemeni conflict," he said.
Dozens killed in Aden
On Thursday, separate attacks claimed by the Iran-backed Houthis (Ansarallah) and the "Islamic State of Iraq and Syria" (ISIS) targeted security forces in Aden, killing at least 49 people, many of them newly trained police cadets.
A suicide car bombing claimed by ISIS hit a police station, killing 13 police officers, a security source said.
"A vehicle and a motorcycle packed with explosives targeted al-Sheikh Othman Police Station, killing and wounding dozens," Yemen's Interior Ministry said.
A separate attack was carried out by the Houthis, who said they had launched a drone and a ballistic missile at a training camp west of Aden.
The aerial attack hit as senior commanders were overseeing a military parade for newly graduated cadets at al-Jala training camp, 20 kilometres from the centre of Aden.
The missile struck about five metres from the viewing platform, an AFP photographer reported.
"Dozens were killed, including the Commander of 1st Support Brigade, Brig. Gen. Munir Abul Yamama, and a number of his aides," the ministry said.
Perpetrators will face justice
Yemeni President Abd Rabbu Mansour Hadi vowed to punish "rogue elements" and confirmed the perpetrators will be brought to justice.
In two cables of condolences to victims of the Thursday attacks, Hadi instructed all security and military agencies to raise the security alert to confront such shameful acts by the Houthis and the forces allied with them.
The Interior Ministry in turn vowed to crack down on terrorists and terror cells and those who seek to stir chaos or target the security forces.
"The ministry strongly condemns these terrorist operations," ministry spokesman Abdul Qawi Baash told Al-Mashareq.
"The fact that the two (Thursday) attacks took place almost simultaneously indicates that Houthis and terrorist groups are complementing each others' roles and that Iran is tampering with Yemen's stability and security," he said.
In a statement, Yemeni government spokesman Rajeh Badi said "the fact that the two attacks were simultaneously carried out confirms that their source and aims are the same, which are to undermine the stability and security of Aden".
"The two attacks highlight Iran's hostile and destructive role in Yemen, where it supports and sponsors the criminal Houthis and supplies them with ballistic missiles, drones and sophisticated weaponry," he added.
Meanwhile, the government has issued directives to compensate the owners of properties and houses that sustained damages as a result of the police station attack, which forced some families to leave their homes.
Widespread condemnation
Yemen's Vice-President Ali Muhsin al-Ahmar, the Prime Minister, his two deputies and a number of state officials strongly condemned the attacks.
Deputy Minister of Human Rights Nabil Abdul Hafeez also expressed his sorrow.
"What happened in Aden is heartbreaking," he told Al-Mashareq. "The attacks are aimed at confusing the situation and opening up a new wound in the country."
"We condemn the two terrorist treacherous and cowardly attacks in the strongest possible terms," Deputy Minister of Religious Endowments and Guidance Tariq al-Qurashi told Al-Mashareq.
He urged all security and military agencies to unify their efforts to confront and fend off future threats of this nature.
Aden-based gynecologist Anhar Salem told Al-Mashareq her city was sad and in pain over what happened on Thursday.
"What wrong have the civilians whose houses were damaged in al-Sheikh Othman done?" she asked, noting also that "the victims of al-Jala camp were attending a graduation ceremony and were not on the battlefield".
Yemenis will not see security or stability in the north or south until "these criminal militias are eradicated", Yemeni journalist Rashad al-Sharaabi told Al-Mashareq.
Al-Qaeda in the Arabian Peninsula (AQAP), ISIS and other extremists have flourished in the chaos of the war between the government and the Houthis.
UN envoy Martin Griffiths on Thursday called on the government and the Houthis "to honour their commitment to peace and put more efforts towards a political solution to the conflict".