In a move many Yemenis claim is motivated by politics rather than religion, the Houthis (Ansarallah) have announced that Eid al-Fitr will be celebrated Wednesday (June 5th), rather than Tuesday, as proclaimed by the government.
The decision issued by the Iran-backed Houthis undermines that of the legitimate government, and has sparked disagreements within families in parts of Yemen controlled by the militia, some Yemenis said.
Some want to celebrate Eid on Tuesday, they said, while others call for a continuation of the fast on that day.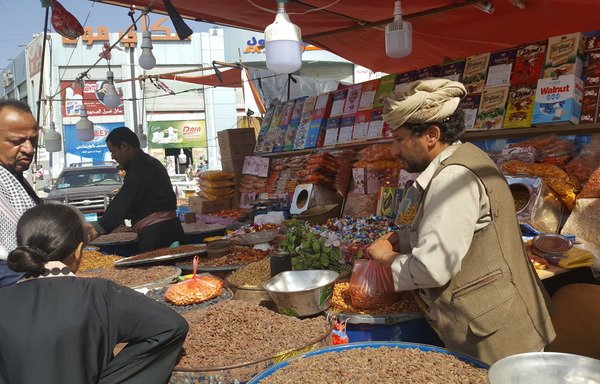 Some Sanaa residents prepared for Eid prayers on Tuesday, but the Houthi-controlled Religious Endowments and Guidance Offices instructed religious guides and militia members to monitor the "violating" mosques and report them, Sanaa resident Mohammed Moghni said.
According to the imam of the mosque Moghni attends, punitive measures can be taken against those who oversee these houses of worship, he added.
The conflicting rulings have angered many Sanaa residents.
"The militia authority issued that order just to be different from Saudi Arabia," government employee Saleh Muhsin told Al-Mashareq. "They are now manipulating even religion for their own interest."
Eid festivities, on a reduced scale
While some Yemenis have been preparing to celebrate Eid al-Fitr with the customary joy, the suffering of the displaced population and of the population in general cannot be hidden.
"Most of the Eid festivities have disappeared, especially popular festivities for which most Yemen's provinces are known," civil activist Ibtessam Abdul Aziz told Al-Mashareq.
Despite the circumstances, some Eid festivities are still in evidence, she said, "including women's decoration of their homes and preparation of some foods and cookies".
But it has become more difficult for some men to continue the custom of 'Asab al-Eid', a sum of money given out when they visit their relatives and also to children, she said.
"This has now become almost impossible for many as salaries are not paid and because business activities have stopped due to war," Abdul Aziz said.
She urged men to visit their relatives, even if they do not give them Eid money.
"This is very important, and Islam urges us to do so," she said, noting that "visiting relatives is the most important Eid manifestation in most provinces across the country".
'I do not feel safe'
"For the second year running, I will spend Eid outside my city because of the war that the Houthis have waged against Yemenis to serve Iran's interests in the region," said Hammoud Qayed, who was displaced from al-Hodeidah.
"I live with my family in a tent on a Sanaa street," he told Al-Mashareq. "Although I got Eid clothes for my kids from benefactors, I do not feel safe."
Qayed said his family does not receive food assistance on a regular basis, and accused the Houthis of interfering with the distribution of food aid and of allocating it to their own supporters.
The non-payment of public sector salaries has exacerbated the suffering of the Yemeni people, economist Abdul Aziz Thabet told Al-Mashareq.
Additionally, he said, the number of internally displaced persons (IDPs) has increased from the provinces where there has been fighting, especially al-Hodeidah, Taez, Ibb, al-Daleh and Saada.
"UN reports indicate that two-thirds of Yemenis are in need of assistance," he said. "However, assistance allocated for those affected by the war, such as IDPs and poor people, is manipulated and does not reach the beneficiaries."