Recently deployed F-15C Eagle fighter jets are bringing superior air combat technology to the mission to defeat the "Islamic State of Iraq and Syria" (ISIS) and provide stability in the region, Iraqi officials told Diyaruna.
The US Air Force fighter jets, which deployed to the region early this year, have allowed for the precise targeting of ISIS positions, the collection of intelligence and the protection of ground forces as part of Operation Inherent Resolve.
The aircraft are designed to be "absolutely one of the most dangerous fighter jets", said Iraqi Ministry of Defence spokesman Maj. Gen. Tahseen al-Khafaji.
"There are several models of the F-15 jet, including the 'C' model, which is the most popular," he told Diyaruna, noting that its two jet engines give it greater thrust and allow for safer manoeuvering.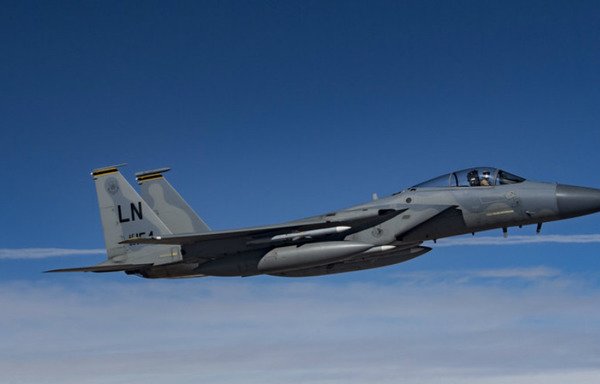 "It is a superior aircraft that has an electronic and satellite guided navigation system that makes it difficult to detect and target, even from the most advanced ground defence systems," al-Khafaji said.
"It has proven the most effective in not only precision targeting at a range of distances, but also gathering and intercepting intelligence and enemy electronic communications," he said.
As part of the US's advanced military and combat system, the F-15C Eagle has the force to "protect itself by air, land and sea and to defend allies", he said.
"For the past four years [the US] has been providing us with air support by targeting terrorist strongholds," al-Khafaji said, adding that US forces also have been providing training to the Iraqi military.
Latest aviation technology
The F-15C is known for its "self-shielding systems that give it the ability to conceal itself from radars", strategic expert Ahmed al-Sharifi told Diyaruna.
Its incorporation of the latest aviation technology gives it "many advantages" in carrying out its combat missions, he said.
The fighter jet can strike at a range of heights and angles with smart, precision targeting, he said, and has a superior ability to gracefully manoeuvre and easily retreat from areas of engagement.
"Weather conditions and changes do not limit its capabilities, as it is designed to adapt to harsh weather such as rain and sand storms, both at night and during the day thanks to its very precise navigation system," al-Sharifi said.
This is a unique fighter jet "that is only used for high level and strategic missions", he said, noting that it can fly at a speed of more than 3,000 kilometres per hour at a height of up to 65,000 feet.
The F-15C Eagle "is one of the best aircraft in terms of combat performance", as it can conduct reconnaissance, interdiction and air-to-air missions, strategic and political affairs researcher Amir al-Saidi told Diyaruna.
In addition to the fighter jet's ability to take part in combat in all types of weather conditions, "it can also carry heavy cargo such as weapons", he said.
It is also designed to carry and launch a variety of missiles, particularly the air-to-air variety (AIM-120 AMRAAM, AIM-9 Sidewinder and AIM-7 Sparrow).
"Thanks to the upgrades it has received, this jet is considered to be a significant part of the arsenal of the US, NATO and US allies' air force," al-Saidi said.