France has stepped up its efforts to support Iraq by strengthening ties with its leadership and providing assistance and training to the Iraqi military.
During a January 14th visit to Iraq, French Foreign Minister Jean-Yves Le Drian told Iraqi Prime Minister Adel Abdel Mahdi the two countries had entered "a new stage" in their ties, AFP reported.
During the two-day visit, Le Drian met with his Iraqi counterpart, Foreign Minister Mohamed al-Hakim, to discuss bilateral relations and to pave the way for a visit from French President Emmanuel Macron.
Al-Hakim praised the vital role France continues to play in supporting Iraq in confronting the "Islamic State of Iraq and Syria" (ISIS) as part of the international coalition, and in the humanitarian, cultural and educational arenas.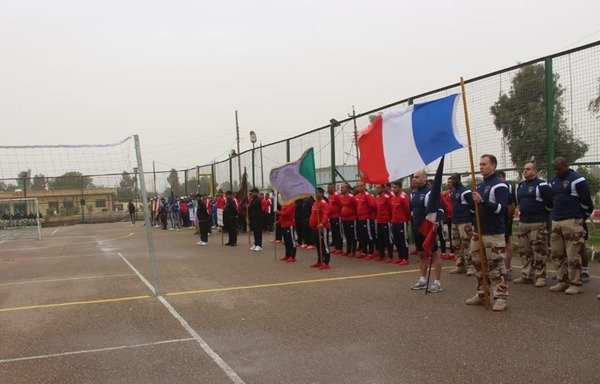 Le Drian in turn stressed the importance of bilateral relations between the two countries, and his hopes for further development and co-operation in the economic, security, military and cultural fields.
He also stressed France's full commitment to supporting Iraq's unity, security and sovereignty.
French officials 'welcome'
French Defence Minister Florence Parly is expected to visit Iraq to observe the progress of French trainers who have been working to improve the combat readiness of Iraqi soldiers.
The visit will demonstrate "the level of French commitment to support Iraq", said Iraqi MP for Diyala Abdul Khaliq al-Azzawi, who serves on the parliamentary security and defence committee.
Iraq welcomes visits by French officials, "as the French have had a positive impact on the security and prosperity of our country", he told Diyaruna.
"We have always considered France to be a friendly country that has strongly supported us in our fight and victory over ISIS," he said. "It has and continues to play a significant role in helping us hunt down and defeat terrorist elements."
France has helped Iraq with military training, he said, noting that "the French continue to strongly contribute towards building the Iraqi army and its combat capability so that it is able to protect the country and maintain its stability".
French artillery meanwhile plays "an important and vital role" in Anbar, provincial council security committee chairman Naeem al-Koud told Diyaruna.
French artillery strikes launched towards ISIS targets in Syria as part of Task Force Wagram's responsibilities, have weakened the group and are "now considered the most important border defence lines", he said.
This presence makes it clear the French "are still fulfilling their commitment to fighting terrorism, and also to supporting Iraq militarily", he said.
Helping Iraq regain strength
Iraq has historical ties with France and "Iraqis appreciate its positive positions regarding their country's affairs", said Issam al-Fayli, who teaches political sciences at al-Mustansiriyah University.
"They still remember how France moved without hesitation to support them when ISIS attacked their cities," he told Diyaruna.
Since 2014, France has helped to degrade ISIS's capabilities by targeting its headquarters and fortifications with airstrikes and ground artillery fire, and has provided intelligence to Iraqi forces on the movement of ISIS elements.
The French military has deployed 1,200 soldiers as part of the anti-ISIS efforts, via air operations, artillery forces and training for the Iraqi army.
The visits of French officials to Baghdad "carry clear indications that France will continue its policy to support Iraq so the country can regain its strength and sovereignty", al-Fayli said.
"France's main goal is to build a sufficiently trained Iraqi combat force that has the skill and knowledge to use modern combat technology in smart wars and the ability to penetrate and dismantle enemy networks," he added.
Al-Fayli expressed his hope that these visits and meetings would result in military agreements and memoranda of co-operation and that "a joint operations room to exchange information and security expertise would be formed".
Both countries also will work towards "solidifying a strong economic partnership" that is aligned with Iraq's goals to develop cities liberated from ISIS, he added.
In 2017, France extended Iraq a loan of 430 million euros ($512 million) to help it implement reforms and improve public services.
During his recent visit, Le Drian announced that France would issue a new one billion euro ($1.1 billion) loan over the next four years to help Iraq rebuild in the post-ISIS era, AFP reported.
"French businesses are absolutely available to contribute to Iraq's reconstruction," Le Drian said.