Yemeni citizens and religious scholars have swiftly and forcefully condemned a video posted online by the "Islamic State of Iraq and Syria" (ISIS) that shows the group executing four youths at an undisclosed location in al-Bayda province.
Since Wednesday night (January 9th), when the grisly footage was posted online and began to circulate on social media, the crime has drawn public outrage, with religious scholars making it clear these actions have no basis in Islam.
The video shows four ISIS elements executing four handcuffed men at an undisclosed location in the central province of al-Bayda.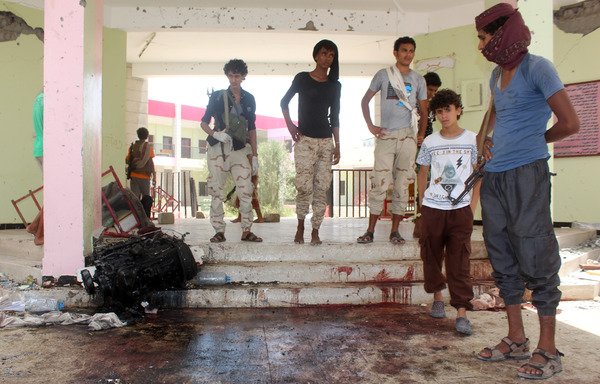 The four gunmen stand directly behind the handcuffed youths, and then shoot them dead at close range.
The masked speaker claims the victims were "soldiers of the pro-government forces who had been taken captive during a recent attack", and threatens there will be similar executions in the future.
Swift condemnation from scholars
Religious scholars immediately condemned the execution, stressing that not only does ISIS have nothing to do with Islam, its goal is to tarnish Islam.
"We condemn this terrorist operation with the strongest words and most convincing evidence from sharia," said Sheikh Yahya al-Najjar of the Yemen Scholars Association.
"What ISIS did is a reprehensible act that has nothing to do with Islam," he told Al-Mashareq. "Its actions have nothing to do with religion or humanity."
"We cannot find enough words in all of the dictionaries of this world to condemn this heinous crime," he added.
ISIS and other extremist groups like it "have no religion", said Deputy Minister of Religious Endowments and Guidance Jabri Ibrahim.
"They are among the losers," he told Al-Mashareq. "Those who engage in murder in this way are sick and evil and know nothing about good or kindness."
"Their aim is to tarnish Islam in the name of Islam, although Islam has nothing to do with them."
"They just use Islam as a justification for slaughter, murder and arson," he added, stressing that "Islam is the religion of peace, love and tolerance".
Relatives demand victims' bodies
The brother of one of the victims has asked the Yemeni government to identify the place where the crime was committed and recover the bodies of the young men, so they can be buried in a dignified way.
"I ask the government to shoulder its responsibility and unveil how those young men were lured and killed in this way at the hands of groups that exist under the eye and watch of those who are entrusted with the lives and security of Yemenis," wrote Abdul Fattah al-Shogaa in a social media post.
Al-Shogaa's brother, Zayed, is one of the four victims.
"My brother and a group of his colleagues were martyred on al-Bayda-Marib highway while on their way to join the national army," he added.
In a separate social media post, journalist and activist Samia al-Aghbari said she has been terrified ever since she watched the execution video.
She tried to put the images of those young men out of her mind, she said, but she could not.
"Their images are chasing me wherever I go; they were terrified and helpless while at the hands of a merciless gang," she wrote. "If this is how I feel, although I do not know them, then how about their families, when they watch the video of this crime?"
Business owner Bassam Ali told Al-Mashareq he condemns the executions, but blamed the ongoing conflict between pro-government forces and the Iran-backed Houthis (Ansarallah) for creating a climate where ISIS can thrive.
"Conflict among the warring parties has given these terrorist groups a chance to re-emerge and commit these terrorist acts," he said, adding that "anyone in their right mind" will condemn the executions.