Four members of the Jordanian forces and three members of a suspected terrorist cell were killed during a raid Saturday (August 11th) on a militant hideout after an officer died in a bomb blast near the capital.
At a news conference on Monday Interior Minister Samir Mubaideen said the targets "were not part of an organisation but followed its takfiri ideology and supported Daesh". He also said the group had planned a series of attacks in Jordan.
Five suspects also were arrested during Saturday's raid in connection with a home-made bomb that exploded under a patrol car at a music festival.
A joint unit of special forces, police and army troops raided a house in Salt, northwest of Amman, in search of a suspected terrorist cell, said government spokeswoman Jumana Ghneimat.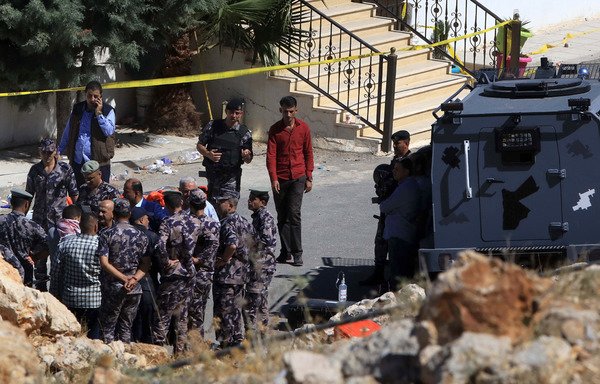 The militants were sought in connection with a Friday night bombing that killed a police sergeant and wounded six others in al-Fuhais, west of Amman, she said.
"The suspects refused to surrender and opened heavy fire toward a joint security force," Ghneimat said Saturday.
They also "blew up the building in which they were hiding, and which they had booby-trapped earlier", she added.
Three members of the security forces were killed in the shootout with the gunmen who were holed up in an apartment in Salt, she said in a statement.
A fourth who was critically wounded died of his injuries on Sunday, she added.
Bodies under the rubble
The bodies of three "terrorists", as well as automatic weapons, were found under the rubble of the building, and five militants were arrested during the operation, Ghneimat said.
There was no immediate claim of responsibility for Friday's bomb blast in al-Fuhais, and the identities of the suspects were not known.
"A clean-up operation is still under way," Ghneimat said, noting that units of the civil defence were at the scene to assess the damage at the building and sift through the rubble and urging civilians to stay away for their own safety.
An excavator was later seen demolishing the structure.
Medical sources said 11 people were wounded during the raid, including members of the security forces and civilians who were residents of the building.
Women and children were among those hurt, they said.
Jordan will strike 'forcefully'
Jordan's King Abdullah said the kingdom would "strike mercilessly and forcefully" against those who sought to harm it.
"This cowardly terrorist act, and any act that targets the security of Jordan, will only add to our unity, strength and determination to wipe out terrorism and its criminal gangs," he told a meeting of top security officials.
The government set up a crisis cell to follow the developments, the Jordanian news agency, Petra, reported.
Prime Minister Omar al-Razzaz, who chaired the meeting, vowed Saturday that Jordan would "not be complacent in the hunt for terrorists".
Jordan has played a key role in the international coalition fighting the "Islamic State of Iraq and Syria" (ISIS) in Syria and Iraq.