Yemeni forces backed by the Arab coalition on Sunday (July 15th) kicked off a military operation to liberate Hajjah province's Haradh district, on the border with Saudi Arabia, from the Iran-backed Houthis (Ansarallah).
The operation began with Arab coalition warplanes pounding several Houthi military targets, including vehicles and rocket launchers, local media reported.
Joint forces on Sunday liberated parts of Hiran district in Hajjah province from the Houthis, inflicting heavy losses on the militia.
In a large-scale offensive, Yemeni forces also liberated several key positions in Wadi Hiran, including al-Khawariya village.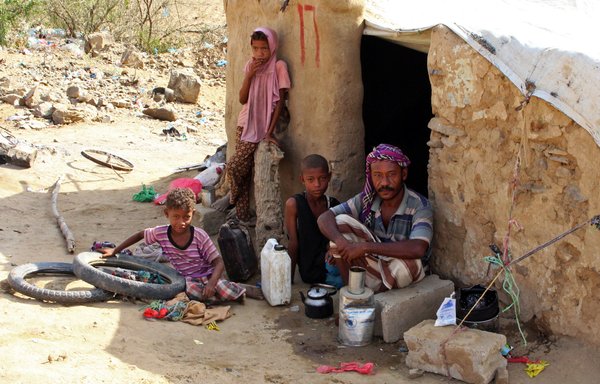 "The army forces are now just 12 kilometres away from the international highway between Haradh and al-Hodeidah province," Col. Mohammed al-Khulani of the 5th Military District's Military Guidance Division said in a statement.
"Battles are still under way, with the Houthi militias suffering heavy losses in assets and lives," he said. "As the army advanced, Houthi elements fled, leaving behind the bodies of their dead in Hiran's valleys and desert."
The Houthis on Saturday evening imposed a curfew in the al-Hodeidah province town of Zabid and detained a number of civilians. They also stormed houses, kidnapped several residents and took them to an unknown place.
Meanwhile, pro-government forces are making progress towards the liberation of Zabid, having recaptured already al-Tuhayat.
Humanitarian operations
The UAE Red Crescent has air-dropped 13 tonnes of relief and humanitarian supplies to residents of al-Tuhayat.
Yemen's Minister of Local Administration and chairman of the Higher Committee for Relief Abdul Raqib Fatah thanked the UAE, and called on international organisations to condemn the Houthis for impeding relief operations.
He accused the Houthis of confiscating humanitarian supplies in al-Hodeidah, threatening and kidnapping UN staff members, and launching several attacks, including burning World Food Programme (WFP) storehouses in the province.
The militia stormed the WFP office in Kilo 7, and kidnapped two staff members, local media reported.
"Activating battlefields in Saada and Hajjah provinces while proceeding with operations on the west coast will increase pressures on the Houthis, who are looking for more tribal fighters to reinforce their ranks," said journalist Mounir Talal.
"This will further tighten the noose on them, and as a result, more areas will be liberated," he told Al-Mashareq.
"Houthis are manipulating the distribution of aid to al-Hodeidah residents as per their own interests, by either trading supplies for the recruitment of sons of poor families or selling them and benefiting from the returns," he said.