Yemen's government has warned the Houthis (Ansarallah) to withdraw from the Red Sea city and port of al-Hodeidah in response to international peace efforts or face military resolution.
In a report carried by regional media, Yemen government spokesman Rajeh Badi announced that the government would stop the battle to liberate al-Hodeidah "only when Houthis withdraw from the city and its port".
The Arab coalition has temporarily suspended its military operations in al-Hodeidah to give UN envoy to Yemen Martin Griffiths a chance to pursue a peaceful solution, and is awaiting the outcome of the talks, he said.
Should efforts to secure a handover of the city and port fail, however, the battle to liberate them from the Iran-backed Houthis would resume, he said.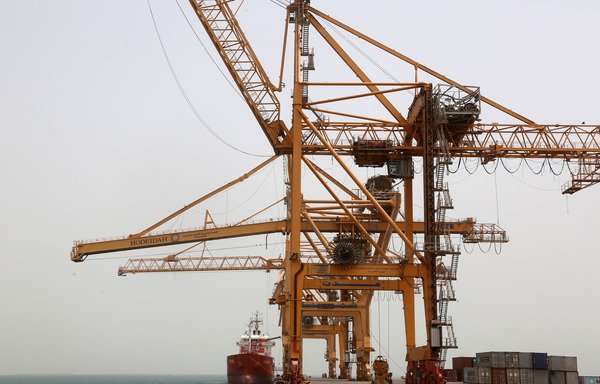 Griffiths arrived in Sanaa on Monday to attempt to persuade the Houthis to withdraw from al-Hodeidah and its port and pursue a peaceful solution.
Speaking at a Monday press conference in Riyadh, Arab coalition spokesman Col. Turki al-Maliki said Griffiths was expected to remain in Sanaa for 48 hours.
"The coalition's operations are aimed at pressuring the Houthi militias to return to the negotiating table," he said, pointing out that it was the Houthis who disrupted the peace process in Yemen in the first place.
Al-Maliki indicated he was not optimistic about the outcome, saying there is "no seriousness or signs on their part about accepting [the legitimate government]".
Houthis must withdraw
"Violations committed against the people of al-Hodeidah under the Houthis' control are serious," said Mohammed Anaam, former editor of the General People's Congress mouthpiece al-Mithaq.
The local population has been besieged, used as human shields, and in some cases forced to fight alongside the Houthis, he told Al-Mashareq.
"Griffiths' visit to Sanaa will not stop the decision to liberate the city and its port," he said. "The only thing that will is the Iran-backed Houthis' handover of the city and port."
President Abd Rabbu Mansour Hadi's insistence on a full withdrawal from the city and port is "the right decision", he said.
"The liberation of al-Hodeidah port from the Houthis will be the biggest military blow to them, because it will stop their military and economic supply line," he added.
The coalition accuses Iran of smuggling weapons to the Houthis through al-Hodeidah port, a charge Tehran denies.
The Houthis are facing "military and popular pressures", political analyst Munir Talal told Al-Mashareq.
"The government's insistence on the Houthis' full withdrawal from al-Hodeidah and its port reflects its strong position, especially after the liberation of the city's airport," he said.
"The daily supply of military brigades to the joint forces will make the liberation of al-Hodeidah a matter of time," he said. "The only thing that can prevent its liberation by force is the Houthis' acceptance of withdrawal."