A new primary and secondary health care programme, launched June 13th, with 70 million euros ($81 million) from the EU Regional Trust Fund in Response to the Syrian Crisis, seeks to support Lebanon's health sector.
The International Medical Corps (IMC) in Lebanon and the UN High Commissioner for Refugees (UNHCR) are implementing the programme, which aims to provide quality services for all people in need across the country.
The new programme "goes beyond the treatment of diseases and conditions to provide comprehensive, accessible, community-based care for all", the EU said in a statement.
More than 500,000 vulnerable persons are expected to benefit from quality and affordable services to treat conditions from malnutrition to mental health, the statement said.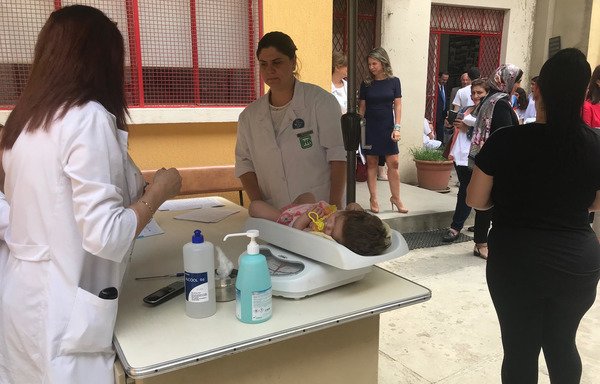 The EU's support of Lebanon's health sector is a "necessary and urgent response to the heavy task laid on Lebanon's shoulders in hosting the largest number of refugees in the world", said EU Ambassador Christina Lassen.
The programme will provide primary and secondary health care to Lebanese citizens and Syrian refugees, she told Al-Mashareq.
It is one of several programmes in Lebanon supported by the EU since 2014, at a total cost of 173 million euros ($201 million), which have helped meet the basic health needs of the population, Lassen said.
"We are working with the Ministry of Health on developing a sustainable health care model for the future that eliminates financial barriers that prevent citizens from accessing essential health services," she said.
Integrated services
The new health care programme "offers a package of integrated health services for mothers, children and other family members by a team of specialised physicians", said IMC regional director Eduard Tschan.
It also offers health awareness and educational sessions, he told Al-Mashareq.
Through the programme, "patients, including Lebanese citizens, Syrian refugees and other nationals receive good quality health services at health centres throughout Lebanon", he said.
Health services can be accessed for a low or token fee, "whereby a patient pays only once for a medical examination", he added.
The fee also covers radiography, diagnosis, laboratory tests and some medicines approved by the ministry, he said, in addition to vaccines, health and psychological care.
A package of health services for persons with disabilities will be available in the near future, Tschan said.
The IMC, which has been operating in Lebanon since 2006, began implementing the new programme in January at 50 centres throughout Lebanon, he said.
Comprehensive care
Primary health care provided at health centres throughout Lebanon "protects patients from contracting disease and prevents the spread of infectious and non-communicable diseases by providing vaccines, initial treatment and primary health care", said Minister of Public Health Ghassan Hasbani.
"Primary health care is the first line of defence for public health," he told Al-Mashareq.
These centres, and the services they provide, are an integral part of the ministry's strategy to provide comprehensive health care, he said.
The new primary and secondary health care programme is able to cover "all Lebanese regions, and all Lebanese, including Syrian refugees, because it is supported by international organisations", he added.