Saudi Arabia on Monday (June 4th) began issuing its first driver's licenses to women in decades, just weeks before the historic lifting of the kingdom's ban on female motorists.
Ten Saudi women swapped their foreign licenses for Saudi ones in multiple cities, including the capital Riyadh, as the kingdom prepares to end its ban on June 24th.
"Ten Saudi women made history on Monday when they were issued driving licenses," said the information ministry's Centre for International Communication (CIC).
"Expectations are that next week an additional 2,000 women will join the ranks of licensed drivers in the kingdom."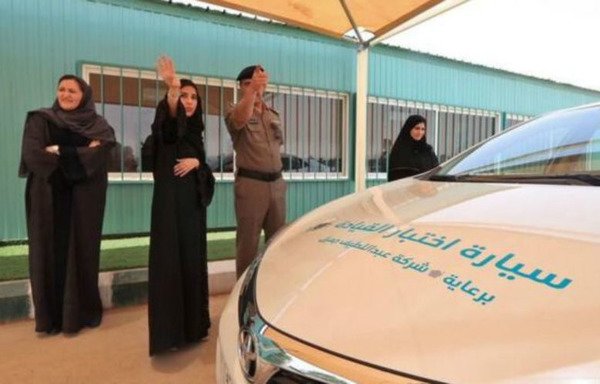 "It is a dream come true that I am about to drive in the kingdom," Rema Jawdat, one of the women to receive a license, was quoted as saying by the CIC.
"Driving to me represents having a choice -- the choice of independent movement. Now we have that option," added Jawdat, an official at the ministry of economy and planning who has previous driving experience in Lebanon and Switzerland.
Authorities facilitate applications
The traffic department, in order to ensure the smooth approval of as many licenses as possible, "has started [issuing licenses] to women who already know how to drive and hold driver's licenses from other Arab and foreign countries", Lt. Col. Jamal al-Nukhaifi of the Saudi police told Al-Mashareq.
These women passed practical tests before receiving their licenses, he said.
Women who have recently learned to drive at newly established driving schools in the kingdom have also started to receive their licenses, said al-Nukhaifi.
Saudi women must be over 18 to be eligible to apply for a private vehicle license and over 20 to apply for a public vehicle license, he said.
They must pass a medical examination, followed by a theoretical test and a practical test, he added.
Traffic laws do not differentiate between male and female drivers, particularly with regard to offenses, al-Nukhaifi said.
Women drivers who commit traffic violations will be penalised based on laws that apply to both men and women, he said, "with the only difference being that women who are to be detained will be temporarily held during the next few months at the Ministry of Labour and Social Development's girls' care centre".
"This arrangement will continue until special centres for detained women are established," he said.