In the final communiqué of the 29th Arab Summit, held in the Saudi city of Dhahran on Sunday (April 15th), heads of state and delegations from 21 of the Arab League's 22 member states issued a strong warning to Iran.
"We renew our strong condemnation of Iran's terrorist acts in the Arab region and reject its blatant interference in the affairs of Arab countries," Saudi Arabia's King Salman bin Abdulaziz said in his opening address.
Kings, princes and presidents participating in the summit also addressed the gathering, which included a number of Arab kings and 17 heads of state, with meetings, speeches and consultations continuing until the evening.
In the summit's final communiqué, the Dhahran Declaration, member states rejected Iran's interference in the internal affairs of Arab countries.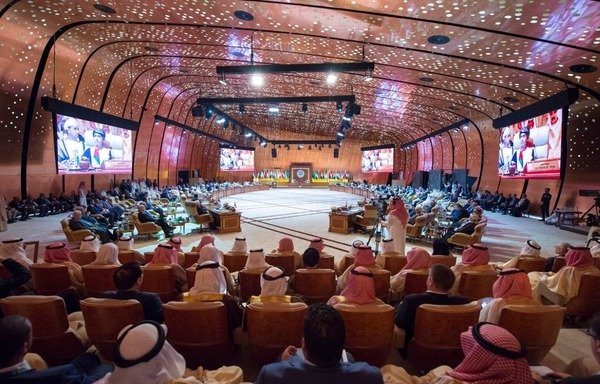 They condemned Iran's "aggressive attempts to destabilise the security and fuel sectarian sedition in the Arab countries" by supporting and arming "terrorist militias" in a number of Arab countries.
These actions violate the principles of good neighbourliness, the rules of international relations, the principles of international law and the UN charter, the declaration said.
The declaration demanded that Iran withdraw its militias and armed elements from all Arab countries, particularly Syria and Yemen.
Affirming support for Arab countries
The Arab League strongly condemns the targeting of Saudi Arabia by the Iran-backed Houthis (Ansarallah), the statement said, noting that 119 ballistic missiles had been launched towards Riyadh and other cities.
The declaration affirmed the Arab League's support to Saudi Arabia "in all measures taken to protect its security and capabilities".
It called on the international community to tighten sanctions on Iran and its affiliated militias, and prevent it from supporting groups such as the Houthis, with ballistic missiles manufactured in Iran and launched from inside Yemen.
It also called on Iran to comply with the terms of UN Security Council Resolution No. 2216 of 2015, which imposes sanctions, including a general assets freeze, travel ban and arms embargo, on Abdulmalik al-Houthi, the Houthis' leader.
UNSCR 2216 also calls on all parties to immediately and unconditionally end violence, for the Houthis to withdraw from all areas seized during the current conflict, relinquish arms seized from military and security institutions, and cease all actions falling within the authority of the legitimate government.
Member states also affirmed their support to Bahrain in all measures taken to protect its security and capabilities from tampering and external interference.
They affirmed their support for the efforts of the Arab Coalition to support Yemen's legitimate government, bring an end to the Yemen crisis and ensure that country's independence and its unity.
Iranian interference a key concern
"It is natural that the Arab Summit's final communiqué would address the Iranian issue and Iran's interventions in the region," said Abdullah al-Dakhil, a political science lecturer at King Saud University in Riyadh.
"This is because the issue of Iranian interference is a top concern of many countries participating in the summit," he told Al-Mashareq.
The issue requires a unified Arab position because of its complexity, he said, noting that Iran's Islamic Revolutionary Guard Corps (IRGC) has expanded its presence in Yemen, Lebanon, Syria and Iraq.
The matter is related to Arab national security, he said, noting that ballistic missiles launched by the Iran-backed Houthis at Saudi Arabia have become a source of direct threat to civilians in the region.
"It is no secret that the Houthis obtain and launch these missiles with the IRGC's help and direct support," he added.
Cross-border militias established and run by the IRGC have become an increasing concern, al-Dakhil said.
These militias are working to execute Iran's expansionist plan, he said, and "perhaps the best evidence [of this] is the IRGC's transfer of missiles and drones to militias in Yemen, Syria and Lebanon".
This presents "a real danger that must be eliminated", he added.
"A common Arab position is important as individual decisions and declarations, as strong as they may be, cannot be as effective as collective decision," he said.
A unified Arab position is necessary to effectively confront Iran, he said, and rid the region of activities that undermine its stability, security and safety.