Egypt's 2018 presidential elections kicked off Friday (March 16th) with Egyptian expatriates casting their ballots at diplomatic missions in 124 countries around the world.
Voting overseas will take place March 16th to 18th, from 9:00 a.m. to 9:00 p.m., Egypt's National Electoral Commission (NEC) announced.
According to Egypt's statistics agency, there are 9.5 million Egyptians living outside the country, including about 765,000 in the UAE.
The electoral process is going smoothly and on schedule in all embassies, without any obstacles or problems impeding the voting, NEC chairman Lasheen Ibrahim said in a statement Friday.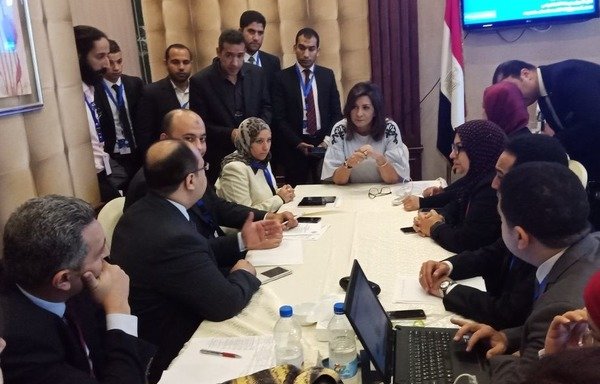 "The operations chamber has received reports about large numbers of Egyptians standing outside embassies and consulates to cast their ballots, especially in Kuwait, Abu Dhabi, Dubai, Riyadh and Jeddah," he said.
Ibrahim urged Egyptian expatriates to take part in the presidential elections.
"Select whomever you deem qualified to care for the people's interests and protect the homeland's safety and whomever you consider to be suitable for this extremely important post," he said.
Two candidates -- incumbent president Abdel Fattah al-Sisi and al-Ghad Party chief Moussa Mustafa Moussa -- have been approved to run in the elections.
Strong turnout in Iraq, UAE
There has been strong turnout to the elections in Iraq since the early morning hours, Egypt's ambassador to Iraq Alaa Moussa told Al-Mashareq.
"Voters in Baghdad came from many cities, including Basra and Karbala, although they are hours away from the capital," he said.
Egypt's ambassador to the UAE Wael Gad said a large number of Egyptians arrived early to vote amid a festive atmosphere.
"Voting in Dubai is going well, and there is turnout from the Egyptian community in the northern emirates," he said.
Special arrangements have been made for senior citizens and people with special needs to facilitate the voting process for them, he added.
Voting inside Egypt is scheduled for March 26th to 28th. If no candidate obtains the majority of votes, a three-day run-off round will commence on April 19th abroad, and on April 24th in Egypt.