The Australian government recently awarded UNICEF Jordan a $10 million grant to improve education at facilities serving Syrian refugee children and host communities in Jordan over the next two years.
UNICEF Jordan has been working with the Ministry of Education and other partners to provide education to all children living in in the kingdom, regardless of nationality, said UNICEF educational specialist Rana Kawar.
UNICEF will be supporting the ministry by providing maintenance, rehabilitation and expansion services to schools in Syrian refugee camps and Jordanian host communities.
"The aim is to provide 2,520 classrooms by the year 2025," Kawar said.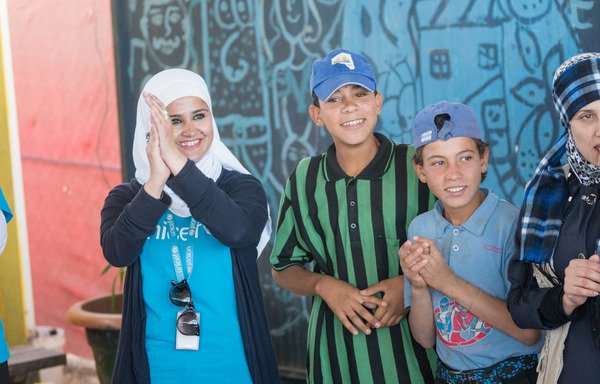 At the same time, UNICEF is backing an ongoing nationwide school enrollment initiative, "Learning for All, Back to School Campaign", in collaboration with the Ministry of Education, the UN High Commissioner for Refugees (UNHCR), the International Organisation for Migration (IOM) and civil society partners.
This campaign is reaching out to families, caregivers and children across the kingdom.
"Educators will be sent door to door to raise the awareness of parents and children on the importance of education through fliers, posters and other channels," Kawar said.
Accommodating Syrian students
Although the Jordanian public school system was struggling even before refugees began to arrive from Syria, the government took immediate steps to ensure refugee children have access to quality education, ministry officials said.
"We opened classrooms, built schools and trained teachers to deal with the cultural and psychological needs of the refugee children," said Khawla Abu al-Haija, the ministry's director of general education.
"To accommodate the large numbers of Syrian students, we have opened afternoon shifts in an additional 98 schools," she told Al-Mashareq.
The government plans to add afternoon shifts at a further 100 schools, she said.
"A number of schools also were established in al-Zaatari, al-Azraq and al-Emirati refugee camps," Abu al-Haija said.
There are currently 43 schools serving various refugee camps, and the plan is to add more, according to a Ministry of Education report.
A full 26,400 Syrian students were enrolled in school in the kingdom in the 2016/2017 academic year, and around 3,000 classrooms were added.
Additionally, children who have missed more than three years of schooling are able to register for catch-up classes to accelerate their learning.
Out-of-school children and youth are targeted through UNICEF's 194 Makani (My Space) centres in various host communities.
These centres provide vulnerable children and youth with training in basic life skills, as well as psycho-social and learning support services.
"There are 350,000 school-aged refugee children, 60% of whom are out of school -- these are the ones Makani targets," Kawar said.