Security |
2019-03-19
Arab coalition airdrops support Hajur tribes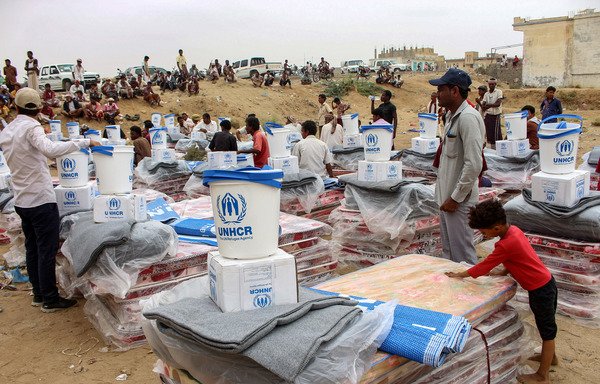 The Arab coalition has been carrying out airdrops to support tribes in the Hajjah province district of Hajur who have been under constant fire from the Iran-backed Houthis (Ansarallah), Yemeni officials said.
Yemen's Ministry of Human Rights on March 10th declared Hajur a disaster area, and has urged the UN to intervene and provide urgent humanitarian assistance.
More than 60 civilians have been killed as a result of continued shelling by the Houthis during a more than two-month siege the militia has imposed on the area, the ministry said at the time of the declaration.
Inside the Hajur district, the Houthis have cut off water supplies, prevented families from leaving, and targeted civilians with various weapons, including ballistic missiles, Yemeni officials said.
Around the same time, the Arab coalition carried out eight airdrops for the Hajur tribes under siege that included weapons, food and medical supplies.
"The Arab coalition is the only [force] that has been able to reach some of the residents of the district of Hajur," said Deputy Minister for Human Rights Nabil Abdul-Hafeez.
Fighting is raging in the province's al-Abysa and Kushar districts, he told Al-Mashareq, adding that women and children have been among the victims.
Support for Hajur tribes
Arab coalition countries "provide valuable support to the tribes of Hajur with weapons for their self-defence, as well as relief and medical materials", he said.
Abdul-Hafeez praised the people of Hajur for the bravery they have shown in defending their areas from the Houthi incursion, and said the tribes should not have to face the Houthis alone.
As of March 9th, more than 200 Houthis had been killed in the province's Kushar sub-district, the Arab coalition said.
"Airstrikes have been carried out against the militia in Kushar, which is the scene of violent confrontations between the tribes of Hajur and the Houthis," the Arab coalition said in a statement.
"The aim of the airstrikes is to protect the Yemeni people," the statement said.
"The targets of the airstrikes were concentrated in Jabal Tal, the centre of the sub-district, and al-Zaakira," it added, noting that the Houthis' supply routes from Amran also were targeted.
The airdrops carried out by the Arab coalition "have a role in helping the tribes of Hajur", political analyst Wadih Atta told Al-Mashareq.
"The situation in Hajur is worrying," he added, noting that "the drops so far do not meet the humanitarian and military needs on the ground".
Atta suggested opening a relief and military air corridor and attending to medical needs on the ground because people are dying of their injuries due to lack of medical equipment.
"The airdrops, both militarily and humanitarian-wise, have an important role in supporting the tribes of Hajur in confronting the Houthis," political analyst Waddah al-Jaleel told Al-Mashareq.
0 COMMENT(S)