The United States pledged $148 million for stabilisation efforts in Iraq and Syria as it joined Saudi Arabia on Thursday (June 8) in a call for the repatriation of "Islamic State of Iraq and Syria" (ISIS) foreign fighters and their relatives.
The announcement came at a ministerial meeting in Riyadh of the international coalition to defeat ISIS, which was co-hosted by Saudi Arabia and the United States with the aim of raising $601 million for a stabilisation fund.
"I'm announcing that the United States is committing $148.7 million to that fund," said US Secretary of State Antony Blinken, who on Tuesday kicked-off a three-day visit to the kingdom.
"This support will meet critical needs that Syrians and Iraqis themselves have identified," he said.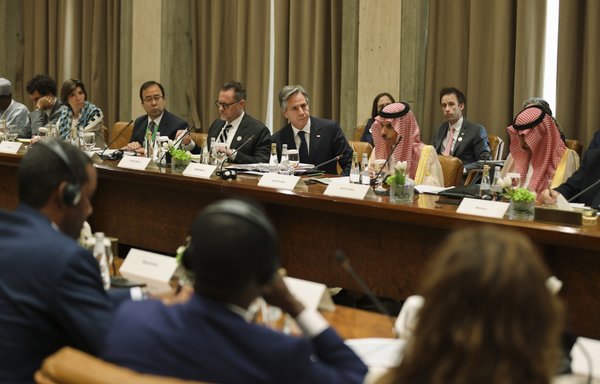 The United Kingdom will pledge more than $109 million over the next five years to support stabilisation efforts in Iraq and Kurdish-controlled northeastern Syria, its foreign ministry said.
This comes on top of $19.9 million in aid over the next two years to specifically address acute humanitarian needs in northeastern Syria, it added.
'You must step up'
The "caliphate", which ISIS proclaimed across swathes of Iraq and Syria in 2014, was declared defeated in 2019 following counter-offensives in Iraq and Syria.
Yet thousands of foreign fighters who had travelled to join the ranks of ISIS and their family members continue to be held in detention centres and camps where US commanders have warned they could fuel an ISIS revival.
Despite repeated calls for their repatriation, foreign governments have allowed only a trickle to return home, fearing security threats and political backlash.
Saudi Foreign Minister Prince Faisal bin Farhan said it was "disheartening and absolutely unacceptable" that some wealthy countries had not repatriated citizens who had travelled to Iraq and Syria to join ISIS.
"To those countries, you must step up, you must take your responsibility," the kingdom's top diplomat said.
Blinken applauded countries that have brought home their nationals from Syria --- among them Iraq, Germany, France, Belgium and Tajikistan -- urging other nations to follow suit.
"Repatriation is critical" to reduce populations of large informal camps such as Syria's al-Hol, which houses 10,000 foreigners, including ISIS relatives, he said.
"Failure to repatriate foreign terrorist fighters risks the possibility that they could again take up arms and attempt to restore" the ISIS proto-state, he added.
The international coalition was formed in 2014, after ISIS overran swathes of Iraq and Syria, where it racked up a list of atrocities in Muslim and non-Muslim areas and imposed its harsh interpretation of sharia on local populations.
Despite the group's territorial defeat, ISIS elements continue to conduct attacks against civilians and security forces in both Iraq and Syria.
The United Nations estimates that ISIS still has 5,000 to 7,000 loyalists across the two countries, roughly half of whom are fighters.
'Deeply invested' in GCC
Thursday's international coalition meeting came a day after Blinken told diplomats from Gulf Co-operation Council (GCC) member states that the United States remains "deeply invested" in Gulf partnerships.
Blinken flew into Saudi Arabia on Tuesday, kickstarting a three-day visit aimed at boosting ties with its longtime ally.
He spoke during a GCC ministerial meeting on strategic partnership in Riyadh following talks with the Saudi foreign minister and Crown Prince Mohammed bin Salman.
"The United States is in this region to say we remain deeply invested in partnering with all of you," Blinken said at the opening of the meeting.
"The GCC is the core of our vision for a Middle East that is more stable, more secure, more prosperous," he added.
Also on the agenda were key regional issues.
"Together, we are working to achieve a ... resolution to the conflict in Yemen," and to "continue to counter Iran's destabilising behaviour" including recent seizures of tankers in international waters, Blinken told the GCC ministers.
"We are determined to find a political solution in Syria that maintains its unity and sovereignty and meets the aspirations of its people," he added.
"We are also collaborating with countries in the region to widen and deepen the normalisation of relations with Israel."
On Iraq, the GCC ministers welcomed continued progress on the project to link Iraq to the GCC electricity grid.
Once complete, the project will provide much-needed power to the Iraqi people and set the stage for greater economic co-operation down the road, the US State Department said in a statement.
In talks, Blinken and Prince Faisal "resolved to continue to work together to counter terrorism, to support efforts to bring about a lasting peace in Yemen, and to promote stability, security, de-escalation and integration in the region", the State Department said.
"The two sides pledged to continue their strong co-operation to end the fighting in Sudan," it added.
On Tuesday, Blinken had "an open, candid discussion" with Prince Mohammed in Jeddah, a US official said on condition of anonymity.
The two discussed shared priorities, including countering terrorism through the international coalition, achieving peace in Yemen, and deepening economic and scientific co-operation, Blinken said on social media.