Iran-controlled militias in Syria's eastern province of Deir Ezzor have been keeping a low profile since the Arab League readmitted Syria last month, removing banners and flags from their headquarters and outposts.
But the militias remain firmly entrenched, local activists told Al-Mashareq, describing the removal of visual identifiers as a ploy to smooth Bashar al-Assad's path to Arab re-acceptance, rather than a sign of their withdrawal.
Some Arab countries have demanded that Iran-backed militias leave Syria as a prerequisite for restoring relations with Damascus, and the Syrian regime has attempted to convey that Iran-affiliated militias have left Deir Ezzor.
But local activists say Iranian militias are in fact strengthening their presence.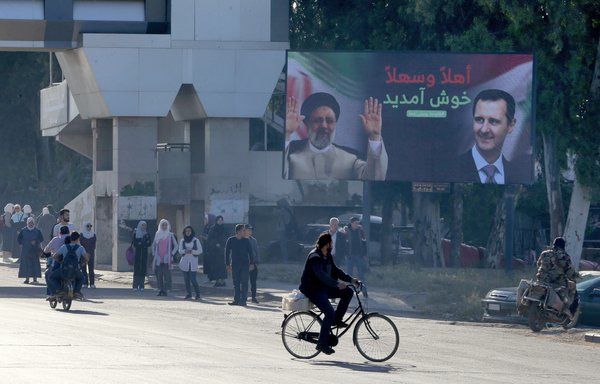 Militias affiliated with the Islamic Revolutionary Guard Corps (IRGC) in the cities of Deir Ezzor, Albu Kamal and al-Mayadeen started taking down Iranian flags and militia banners a while ago, media activist Ammar Saleh said.
This process accelerated ahead of the May 19 Arab League summit in Jeddah, Saudi Arabia, he told Al-Mashareq.
Taking down flags began as an attempt to camouflage Iran-affiliated military headquarters and facilities in order to evade air strikes targeting missile and drone facilities and factories, he said.
The Syrian regime also has attempted to hide the presence of Iran-backed militias in al-Mayadeen by raising Syrian flags on Iranian outposts to give the impression that the militias are Syrian, not Iranian, Saleh added.
Meanwhile, the militias have reinforced their checkpoints and gathering places in Deir Ezzor city, where they recently built land berms near the al-Rusafa Association housing project.
The housing project has been transformed into a military barracks for the militias, and new fortifications have been observed inside and around the al-Rahba citadel on the outskirts of al-Mayadeen, he said.
In another piece of deception, Iranian militias have been setting up security checkpoints at the entrance to the headquarters they share with Syrian regime soldiers, dressed in military uniforms and hoisting Syrian flags, Saleh said.
"The Iranian militias also have stricter monitoring in place and have imposed a total ban on filming," he said.
"They have prohibited elements from using smartphones in an attempt to prevent any leak of information or photos that confirm the continued Iranian presence and their activities in the area," he said.
Missiles and ammunition
Deir Ezzor media activist Jamil al-Abed also told Al-Mashareq that militias loyal to the IRGC have not stopped their activities in the area.
On the contrary, he said, they have reinforced the areas under their control with missiles and ammunition, especially the military base in the village of Habbouba in eastern Aleppo, between al-Khafsa and Maskanah.
But "the number of militia banners have decreased significantly, with the exception of the Fatemiyoun Division, which continues to raise its banners at a number of centres", he said.
The removal of Iranian flags is nothing but "an attempt by the Syrian regime to give the impression that it has begun to expel Iran-backed militias from Syrian territory, which is demanded by Arab countries as a prerequisite for starting the process of normalisation", al-Abed said.
The reality on the ground is different.
The Iranian-Syrian attempt to hide the Iranian presence in the region is a farce, he said, as the militia centres can be monitored via satellite, and anyone can photograph militia elements as proof of their continued presence.
Syrian regime's deception
The Iranian presence in Syria "has become more of an occupation", Iranian affairs researcher Sheyar Turko said.
The removal of Iranian flags and the banners of IRGC-affiliated militias is just window dressing on the part of the Syrian regime, he said.
"Iran will not withdraw from Syria just because Syria has returned to the Arab League and normalisation processes have started," Turko observed.
"Iran has penetrated Syria's military and security apparatus and its economy, and Syria is an important link between Iraq and Lebanon for the establishment of a road between Tehran and Lebanon."
The Syrian regime has been known to be deceptive since it assumed power, he said, adding that Syrian lying about Iran's presence in the region is no surprise.
Expelling Iranian militias such as the Fatemiyoun Division and the 47th Regiment will not be easy, Turko said.
Militiamen have settled in the vicinity of Deir Ezzor, Palmyra and Aleppo, often with family members who have relocated to Syria, which makes expelling them from Syrian territory an extremely difficult process, he added.
This indicates the Iranian plan was based on occupation from the start, which means these militias will not be going anywhere, he said.
"No matter how much Arab backing he has, al-Assad cannot ask Iran to leave his country willingly," The Atlantic Council wrote May 16.
"High-ranking Iranian officials have described Syria as Iran's 'Thirty-Fifth Province' to emphasise that they view anti-Iranian activity in Syria on par with domestic unrest."