Iran has boasted at length about the May 17 return of the Iranian navy's 86th flotilla from a voyage around the world.
Tasnim News, affiliated with the Islamic Revolutionary Guard Corps (IRGC), and other regime-linked media, have described the flotilla's circumnavigation around the world "as part of the country's efforts to expand its naval presence".
The flotilla, which contained the domestically built Dena destroyer and Makran forward base ship, set sail on the mission from the southern Iranian port of Bandar Abbas on September 20.
First stopping in Mumbai, India, it sailed around the world in 236 days, and anchored in Rio de Janeiro, Brazil, in time for the 120th anniversary of the establishment of relations between Iran and Brazil, Tasnim wrote.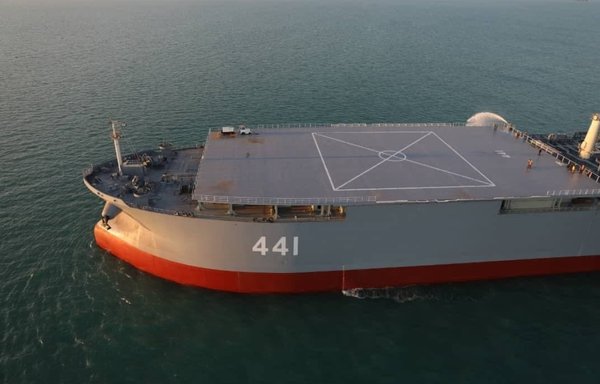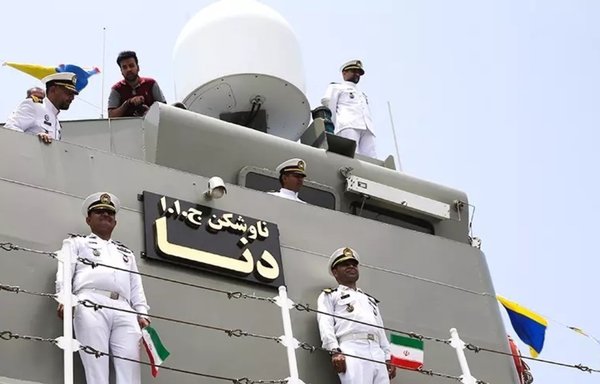 Dena is a Mowj-class military destroyer equipped with anti-ship cruise missiles, torpedoes and naval cannons.
Makran, which weighs 121,000 tonnes and can carry five helicopters, is Iran's only forward base ship, and was converted from an oil tanker in 2020.
Tehran put on a show of welcoming the 86th flotilla back from the circumnavigation, and advertised the voyage as a great achievement and a show of power and presence.
The navy took families of the 86th flotilla crew to welcome the returning sailors, and filmed and photographed the embraces.
Despite the regime's pride in its circumnavigation and multiple outlets' fawning coverage, the Iranian navy's feat is by no means new or major.
First circumnavigation
Some 500 years have passed since the first circumnavigation of the earth, during which great advances have occurred in technology and design, enabling faster and more efficient circumnavigation than ever before.
The first ever circumnavigation -- instigated and organised by Portuguese explorer Ferdinand Magellan -- confirmed that the earth is round.
On September 20, 1519, with five ships and a crew of 270 men, Magellan set sail from Sanlúcar de Barrameda in southern Spain, on what would become the first circumnavigation of the world.
Magellan himself died during the tumultuous three-year voyage, and Juan Sebastian Elcano completed the journey from the Philippines back to Spain with a final crew of only 18 men.
The US Navy first circumnavigated the globe on December 16, 1907, when US President Theodore Roosevelt's "Great White Fleet," a force of 16 battleships, began its journey out of Hampton Roads, Virginia.
The United States' first underwater circumnavigation was done on the Triton -- over 447 feet (136 metres) long -- in 1960, with a crew of 142.
In September 2017, an Indian all-female crew of navy officers embarked on an eight-month circumnavigation. With no prior training or experience, they crossed over 22,000 nautical miles (40,744km), three oceans, three capes and five countries.
Aside from the military, circumnavigation is popular in sports and as a personal hobby as well. The circumnavigation race, in which participants cannot use a navigation system, is solo, nonstop and unassisted, a feat first accomplished in 1969.
'Much ado about nothing'
The Iranian regime's emphasis on its navy's circumnavigation with its relatively small fleet of ships is exaggerated, particularly at a time when its political and economic struggles are so severe and evident.
The move has no historical or strategic value, observers say.
An Iranian navy analyst, who did not wish to be named, said, "News seems to travel awfully slowly to the Iranian military. It brags about circumnavigation as though it has just discovered it, after five centuries!"
"The Iranian regime has so many issues to deal with, including its navy's obsolete equipment, that circumnavigation should be the absolute last thing on the officials' mind."
"IRGC speedboats continue to harass US ships and Iran continues to wreak havoc along the Strait of Hormuz, all of which are terrible for Iran's international image, yet it sends its navy to circumnavigate as an international show of force. No wonder it is in so much trouble with its own public," he told Al-Mashareq.
The country's overall inflation index for the 12-month period ending March 21 stood at 51.8%, per the BBC's Persian service.
In late March, the Statistical Centre of Iran (SCI) announced it would not publish inflation details for the five-year period ending in 2021.
Analysts say the SCI's decision indicates that inflation has spiraled out of control, to the point that the government anticipates protests.
According to the BBC report, available data show the rate of point-to-point inflation for the 30-day period ending on April 21 surpassed 60%, which is the highest inflation rate in 80 years.
During the same period, the price of goods has risen by some 80%.
Meanwhile, the Islamic Republic has been using drones for destruction across the globe, has continued to militarise its affiliated Houthi group despite the "peace deal" with Saudi Arabia, and has not ceased to meddle in regional countries' affairs.
Tehran has clung to China and Russia, though neither country is acting or has historically acted in Iran's interest.
On May 24, Ukrainian President Volodymyr Zelenskyy called on Iran not to become an accomplice of Russia in its invasion of his country by providing Moscow with Iranian drones to attack civilian infrastructure and kill Ukrainians.
In a video address, Zelenskyy said Russia had used some 1,160 Shahed kamikaze drones against Ukraine, some 900 of which were shot down by the Ukrainian air defence.