BEIRUT -- A Russian-controlled 'private security company' that has been safeguarding the Kremlin's interests in Syria has been busily recruiting Syrian youth to serve in the Russian mercenary Wagner Group, a war monitor said.
The "Al-Sayyad for Guarding and Protection Services" company (Al-Sayyad) has been trolling for recruits in areas controlled by the Syrian regime, the Syrian Observatory for Human Rights said April 20.
These recruits are trained and deployed to fight in Syria's eastern desert (Badiya), Libya or Ukraine, where Russia is waging an unprovoked war.
Private protection and security companies in Syria are licensed through the Ministry of Interior under Legislative Decree No. 55 of 2013, issued by Syrian President Bashar al-Assad.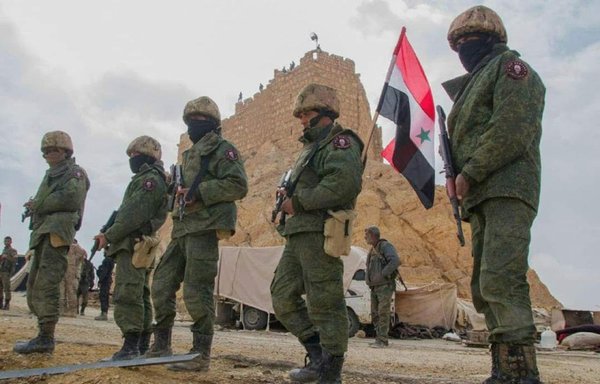 The decree provides a mechanism and cover through which foreign powers such as Russia and Iran can legally establish an armed presence in Syria.
Typically managed by former Syrian regime army and intelligence services officers -- the decree stipulates that the company owner must be Syrian -- a number of these companies are funded and directed by Russia or Iran.
Destination unknown
On April 16, Al-Sayyad posted a recruitment advertisement on its Telegram channel, calling for male candidates between the ages of 22 and 46.
After the announcement was posted -- it was live for only a few hours -- some 2,000 candidates gathered in front of the company's headquarters in al-Sayed village in rural Homs, from among whom the company selected a few hundred.
The Syrian youth who joined up, in many cases desperate for any paid employment, were not told where they would be deployed.
This sparked speculation about their destination, with some Syrians expressing concern that they could be sent to Libya or Ukraine.
Established in 2017, the Al-Sayyad company is run by Fawaz Mikhail Gerges. The European Union holds Gerges responsible for recruiting Syrian mercenaries to fight in Ukraine, and has imposed sanctions on the company.
Dire and deteriorating economic conditions are the main reason why Syrian youth are attracted to Al-Sayyad, according to the Suwayda 24 news website.
The private security company claims it will pay salaries that far exceed anything young men could command in the various pro-regime militias, although there are many reports from recruits who have not been paid as promised.
Given Russia's isolation from the global financial system as a consequence of its aggression in Ukraine, it is also unlikely Russia will be able to keep paying them, observers said.
A 46-year-old recruit from Daraa who asked that his name be given simply as "Hassan" out of concern for his safety told Al-Mashareq he is waiting for Al-Sayyad to call him and inform him of his destination.
Hassan said he has not been earning an income sufficient to support his family in agriculture or construction work since 2018, and has had to pull one of his sons out of school and send him to work instead.
Motivated by money
Observatory director Rami Abdel Rahman said he has information indicating Al-Sayyad "is recruiting Syrian youth as fighters for operations inside Syrian territory", specifically in the eastern desert, where the Wagner Group is based.
The Wagner Group has reduced its presence in the eastern desert -- a strategic location due to its phosphate mines and gas fields -- since Russia's invasion of Ukraine, he said.
There is no precise information on the number of recruits, he said, but Syrian youth are motivated by money to join, as they face economic hardship and unemployment, oblivious of the consequences of the military operations they will be asked to take part in.
"Most of the young people flocking to enlist are between 20 and 30 years old," he said.
Suwayda 24 administrator Rayan Maarouf said the Wagner Group started recruiting Syrian youth in 2020 through Al-Sayyad company, which is officially registered with the Syrian regime.
The private security company recruits personnel under the guise of hunting "Islamic State of Iraq and Syria" (ISIS) remnants for two purposes, he told Al-Mashareq.
"The first is for inside Syria, and the second is for external operations in co-ordination with the Russian forces," he explained.
"A group of recruits were previously sent to Libya and Ukraine by way of the Hmeimim air base."
'Internal and external missions'
Maarouf noted that the advertisement Al-Sayyad posted on Telegram in April said the company needed fighters for "internal and external missions".
Candidates swarmed the company's headquarters near the Syrian army's 118th Division base, he said, where they underwent health and fitness screenings.
He said he has heard that some 119,000 recruits joined the company in 2022.
A 26-year-old Sweida native who asked to use the pseudonym "Jamal" said he decided to sign up with Al-Sayyad after he saw the recruitment announcement.
"When the war in Syria began, I was 14 years old and in middle school," he told Al-Mashareq. "I dropped out of high school after we moved to Lebanon and worked with my father to earn a living for my family."
"Because of the deteriorating economic conditions in Lebanon, I snuck back into Syria with the help of smugglers at the end of 2019, as I am wanted for military service [and would be detained and drafted]", he said.
There he was recruited by the Wagner Group and sent to fight in Libya.
"The worsening situation in Syria deprived us, as a young generation, of the possibility of leading a decent life," he said, noting that with the paucity of opportunities in Syria, circumstances would force him to "do it again".