As Israel celebrates 75 years of independence this week, its strategic partnership with the United States has endured, particularly in the form of military support it has received from Washington over the years.
The United States has provided extensive military aid and support to Israel since its independence in 1948, helping it respond to threats from Iran and its proxies and promote regional stability.
In the early years of Israel's existence, the United States provided military equipment and training to help establish the Israeli Defence Forces (IDF). This included small arms, artillery and aircraft, as well as training for Israeli pilots and military officers.
US military personnel even fought alongside Israeli forces in the early days.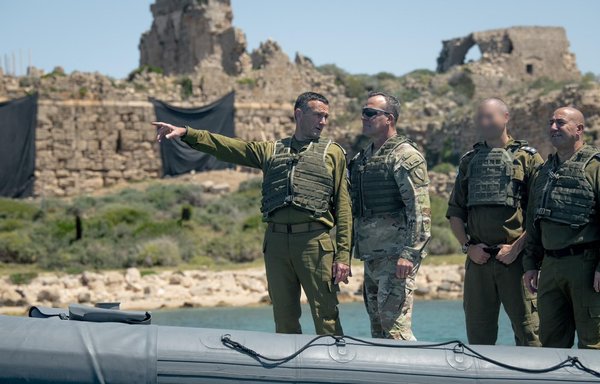 One such figure was US Col. David "Mickey" Marcus, who served as a military advisor and helped to establish and organise the IDF.
Marcus was appointed general and given command of the Jerusalem front on May 28, 1948. As no ranks had been granted to the Israeli high command at that time, he became Israel's first general.
Marcus played a crucial role in the defence of Jerusalem but was killed by friendly fire hours after the June 1948 ceasefire. He is remembered as a hero in Israel and is the only American buried at West Point who died under the flag of another country.
Since then, the United States has continued to provide significant military aid to Israel, including advanced weaponry, intelligence sharing and joint military exercises.
This has included the transfer of weapons such as the F-16 and F-35 fighter jets, as well as advanced missile defence systems like the Iron Dome.
To date, the United States has provided Israel $158 billion in bilateral assistance and missile defence funding.
From 1971 to 2007, this included significant economic assistance, but at present, almost all US bilateral aid to Israel is in the form of military assistance.
In 2016, the two governments signed a memorandum of understanding (MOU) in which the United States pledged $38 billion in military aid to Israel over 10 years, including an unprecedented commitment of $5 billion for missile defence.
F-16: symbol of US-Israel alliance
One of the enduring symbols of the US-Israeli alliance is the F-16 Falcon fighter jet, a clear example of the United States rapidly exporting essential fighters to Israel after initial production and their immediate use in combat.
The United States has produced more than 4,600 F-16s since production was approved in 1976, making it the most flown fighter aircraft around the world.
Israel has successfully deployed the fighter jets for more than four decades.
In April 1981, less than five years after the United States approved their production, two F-16s from the same Israeli Air Force (IAF) squadron downed two Syrian Mi-8 helicopters near the Lebanese town of Zahle.
Also in 1981, eight IAF F-16s, along with six F-15 Eagles, conducted a surprise attack on the Osirak nuclear reactor in Iraq.
The F-16s were responsible for delivering precision-guided munitions on the target, while the F-15s provided air cover and engaged enemy aircraft in the area. The operation was a success, destroying the reactor and setting back Iraq's nuclear programme.
In the 1982 Lebanon war, Israeli F-16s engaged Syrian aircraft in one of the largest air battles involving jet aircraft, which lasted for three days.
Israeli F-16s were credited with a 44-0 kill ratio during the conflict, with one aircraft reportedly shooting down four Syrian fighters in a single sortie.
Since then, the F-16 has continued to carry out important tasks for the IAF.
During a 2021 Israel-Hamas flare-up in Gaza, F-16I Sufas made up the majority of the aircraft responsible for striking the group's underground tunnel network and other weapon depots.
The IAF's F-16s also have targeted Iranian forces and pro-Iran militias in Syria.
Force multiplier
The F-16 Falcon is a proven force multiplier because of its advanced capabilities and versatility in combat situations.
Its design and technology enable it to effectively engage a variety of targets, including ground-based air defence systems, enemy aircraft and ground targets.
One of the key features that make the F-16 a force multiplier is its advanced avionics and electronics systems, which allow it to detect and track targets with great accuracy and respond quickly to threats.
It also has advanced weapon systems, including air-to-air missiles and precision-guided munitions, which enable it to strike targets with precision and effectiveness.
In addition, the F-16's manoeuvrability and speed make it an effective platform for both air-to-air and air-to-ground missions, and its ability to operate in a wide range of environments, including deserts and mountainous terrain, gives it great operational flexibility.
The F-16 Falcon is one of the most widely used fighter jets in the world, having been adopted by numerous countries for their air forces.
It is also relatively affordable and easy to maintain compared to other advanced fighter jets, making it an attractive option for countries with more limited defence budgets.
As of 2021, the F-16 is used by over 25 different countries, including the United States, Belgium, Denmark, Egypt, Greece, Israel, South Korea and Turkey, among others.
Nimblest force in region
Other than the F-16, the IAF's fleet also comprises the latest generation F-35 stealth aircraft, making it one of the nimblest and most versatile forces in the region.
Israel is the first international operator of the F-35 Joint Strike Fighter. It received its first F-35s in 2016, and used them in combat for the first time in 2018.
In November, Israel's Nevatim Air Base took delivery of three new F-35s, bringing the total number to 36.
Israel will have 50 of the advanced jets by 2024, according to Defence News.
In March, Israel sent seven F-35s for the first time to the US-led Red Flag exercise in Nevada, amid increasing tensions with Iran.
The exercise builds on the success of Juniper Oak 23.2, Juniper Falcon and other combined exercises and provides the US Air Force (USAF) the opportunity to enhance interoperability with the IAF, strengthen bilateral co-operation and improve capabilities in ways that enhance and promote regional stability, USAF said.