BEIRUT -- Lebanese Hizbullah has been engaged in a recent flurry of activity in certain parts of Syria, repositioning its weapons and ammunition supplies and stepping up its efforts to recruit Syrian youth to guard them, observers said.
The Iran-backed party has transferred weapons and ammunition from its warehouses near al-Kiswah, south of Damascus, to the outskirts of Palmyra, the Syrian Observatory for Human Rights said March 16.
Hizbullah recently sent four trucks loaded with ammunition and medium and heavy weapons to the vicinity of the village of Marhatan on the western outskirts of ancient Palmyra, reportedly storing them in underground warehouses.
Hizbullah had dug out the warehouses over the past year, the Observatory said.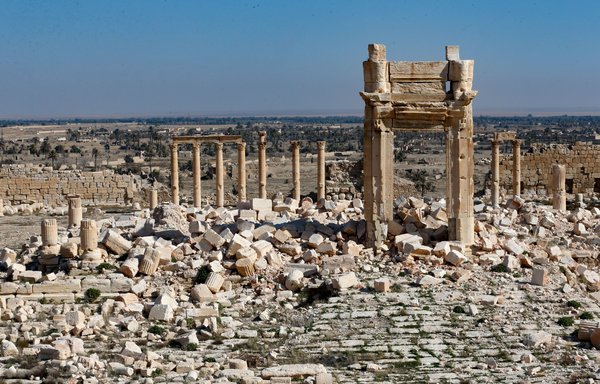 The move comes as Hizbullah, which backs the brutal regime of Bashar al-Assad, steps up its recruitment of Syrians in the desert areas of eastern Homs province, with more than 22 people recruited to date, the Observatory said.
The new recruits will be used as guards for Hizbullah's outposts and weapons depots, it said, adding that the party has been giving them weapons training in a military field it operates on the edge of Marhatan.
Heightened activity
Hizbullah "recently moved weapons of various calibres to warehouses south of Palmyra", Observatory director Rami Abdul Rahman told Al-Mashareq.
Hizbullah also brought in a group of Bedouin cattle herders who are in constant communication with it and the Islamic Revolutionary Guard Corps (IRGC), he said.
"It moved them to the vicinity of Marhatan and other areas in the Syrian desert with their livestock and tents, to guard its weapon depots under the pretext of grazing their cattle in return for monthly salaries," Abdul Rahman said.
"Hizbullah started some time ago recruiting the remaining youth in rural Homs and subjecting them to military and security tests to serve as guards in those areas, under the command of its leaders," he said.
The Iran-backed party had previously recruited fighters from Deir Ezzor and Latakia, he said, and now from rural Homs and Aleppo, "bringing the total number of recruits in the past year to about 6,000 Syrian fighters".
He noted that Syrian youth join the ranks of Hizbullah chiefly as a result of "the stifling economic situation, which makes it easier to get them to submit to the party's will".
Quest for control
Hizbullah's recruitment of Syrians is part of a wider Iranian effort to bring Syria under the control of Iran-aligned militias, said Lebanese Institute for Democracy and Human Rights (LIFE) executive director Nabil al-Halabi.
"Hizbullah is currently recruiting a new batch of Syrians to protect the areas where it brought about demographic change after displacing their original inhabitants," he told Al-Mashareq.
Al-Halabi said the recruitment campaign Hizbullah resumed in Homs province "was expanded to include Aleppo with the aim of effecting demographic change".
The party moved its weapons to these areas in order to protect the parts it controls in the eastern Homs desert and around Palmyra, he said.
Al-Halabi noted that the weapons were moved from al-Kiswah in rural Damascus, which "is a strategic gathering point for Hizbullah's weapons" and is close to the Syrian-Lebanese border.
Syrian researcher and Hizbullah specialist Turki Mustafa also confirmed Hizbullah has recently moved weapons and ammunition from military sites near Sayyida Zainab, south of Damascus, to other sites in the Palmyra desert.
"Weapons were moved from the vicinity of Palmyra and distributed to more fortified military areas located within the sphere of influence of Iranian militias near the city of al-Sukhna, the Third Station and al-Suwana area," he said.
In al-Kiswah, Mustafa told Al-Mashareq, "weapons were distributed to fortified sites within the area where the 9th Division (Nimr Forces) of the al-Assad regime forces has a presence".
Among the weapons stored there are "Iranian-made medium-range missiles", he said.