BANGUI, Central African Republic -- On a night in early March, arsonists attacked a brewery owned by the French drink giant Castel in Bangui, capital of the Central African Republic (CAR).
Hurling petrol bombs, they set fire to beer crates stacked inside the MOCAF brewery's fortified storage yard.
But this was not some random assault by firebugs.
Footage from security cameras, say sources familiar with the incident, shows a planned operation by four men wearing fatigues resembling those of the Russian mercenary group Wagner.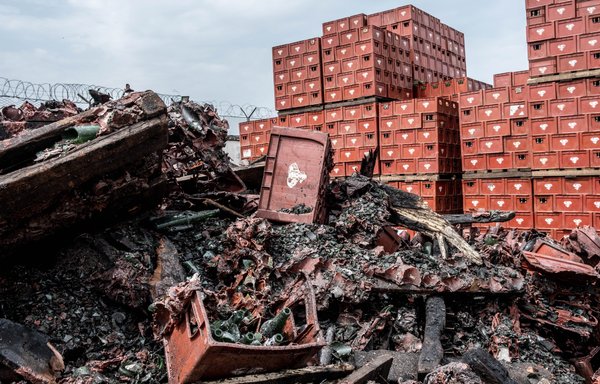 The attack, they say, bears the hallmarks of a ruthless campaign to carve out Russian influence in the CAR, a country poor but replete with valuable forests, gold and commercial minerals.
France and Russia have long been wrestling for influence in the CAR, which has been plagued by a nearly decade-long civil conflict.
But until this physical attack on French interests, the confrontation had been largely limited to anti-French trolling, seeking to poison relations between the CAR and its former colonial power.
In December 2020, Facebook removed troll "factories" and other sources of fake news allegedly controlled by entities linked to Wagner Group chief Yevgeny Prigozhin, as well as accounts reportedly linked to the French military.
Russian concerns over rapprochement
Last December, France pulled its last troops out of the CAR.
It ended a deployment that had continued since the country's independence in 1960 and helped to stabilise it after a civil war erupted along sectarian lines in 2013.
The pullout came on the heels of a French withdrawal from the Sahel state of Mali after its junta forged a close alliance with the Kremlin and brought in paramilitaries described by France as Wagner men.
Russia is throwing its weight into the conflict between the Mali regime and the Azawad movements -- a coalition of Tuareg independence and Arab nationalist groups.
By using Wagner to promote its interests in central and west Africa, the Kremlin is seeking to create a new area of influence and leverage outside its traditional circle in the Middle East and Libya, observers say.
But in an apparent sign of warming relations, CAR President Faustin Archange Touadera met this month with Emmanuel Macron in Gabon during the French president's most recent Africa trip.
That meeting occurred just days before the Castel brewery attack on the night of March 5.
"The Russians are concerned about a possible rapprochement between Touadera and the West, and are going to do whatever they can to stop it," said Roland Marchal, a researcher specialising in the economies of and conflicts in sub-Saharan Africa at Sciences Po university in Paris.
Brewery target
Earlier this year, Castel and MOCAF, a major local employer, were hit by smear campaigns on social media and in the streets.
Castel presented a favourable target.
French anti-terrorism prosecutors had opened a preliminary inquiry into "complicity in war crimes" over a suspected financial deal with CAR rebels to secure production sites of the firm's SUCAF sugar refinery.
Signs saying "Castel = Terrorism" or "If you buy Castel, you're paying your own murder" were carried by a few dozen protesters outside the brewery in mid-January.
A senior Castel executive in France, who requested anonymity to discuss the security risks, said there was an attempted intrusion before the March 5 attack.
"On January 30, during a curfew, three white men got out of an unmarked car and approached [the brewery] carrying a ladder before fleeing when security personnel approached."
"The same night, a drone flew over the brewery," the executive said.
Clear signs Wagner involved
Video footage of the March 5 attack went viral on social media and was confirmed to AFP by MOCAF, the French group's local subsidiary.
Ben Wilson Ngassan, a communications consultant for MOCAF, said "around 30" petrol bombs were thrown in "a premeditated operation, a lightning attack [that lasted] five minutes, tops".
A well-informed European source said the footage bore clear signs that the assailants were Wagner.
They had "quite an athletic build", had a military comportment, wore military fatigues -- a familiar sight in Bangui -- and had Kalashnikov assault rifles slung over their shoulders, the source said.
Russian paramilitaries have been in the country since 2018, when they were brought in to buttress the CAR's beleaguered military.
Their numbers grew by hundreds in 2020 to thwart opposition fighters who were advancing on the capital as a presidential election unfolded.
Russian ambassador to the CAR Alexander Bikantov said on February 3 that 1,890 "Russian instructors" were currently present in the country.
"The government is interested in increasing their number," Russian state-owned news agency RIA Novosti quoted him as saying.
A United Nations rights analyst, as well as NGOs and Western capitals, has accused Wagner mercenaries of carrying out crimes against civilians in the CAR and elsewhere in the Sahel.
But France also suspects Touadera of buying Wagner's support against insurgencies by providing it access to diamonds and to the country's other natural riches.
Master propagandists
A diplomat in Bangui called the brewery bombing the latest attempt to intimidate Western businesses in the CAR.
It came as a rival beer called Africa Ti L'Or appeared in markets and bars across Bangui.
The new brand is brewed by a firm called the First Industrial Co., owned by Russia's cultural attaché in Bangui, Dimitri Sytyi, according to the weekly Jeune Afrique.
Sytyi is "one of the pillars of the Wagner network in [the] CAR", according to the All Eyes on Wagner investigative consortium.
He was a long-time assistant of Valery Zakharov, Wagner's first boss in the CAR, according to The Africa Report.
"Sytyi is now Wagner's 'civilian' number one in Bangui," it said. He serves as Wagner's "master propagandist and political bridgehead".
He was reportedly injured in December by a letter bomb, which Prigozhin blamed on France -- a claim that France dismissed as Russian "propaganda".
Social networks and pro-Russia media outlets have attributed the brewery attack to Central Africans or disguised "mercenaries" paid by France to make it look like a Wagner attack.
The Ndjoni Sango news site, a staunch supporter of Russia's presence in the country, even announced the arrest of seven "suspects" and attributed the attack to the Fulani ethnic group.
The claim "is fake news", an official in the CAR's security forces told AFP.