Ukraine's backers met for a second day on Wednesday (February 15), looking to speed up deliveries of ammunition and arms to Kyiv, amid reports that the United States is considering sending arms seized in the Gulf of Oman.
The US military is mulling a proposal to send Ukraine thousands of seized weapons and more than a million rounds of ammunition once bound for the Iran-backed Houthis in Yemen, the Wall Street Journal reported.
The news came as allies meeting at NATO headquarters in Brussels focused on ensuring Ukrainian forces have the ammunition, armoured vehicles and air defences they need on the ground to push back renewed Russian offensives.
These include tanks, air defences and precision missiles.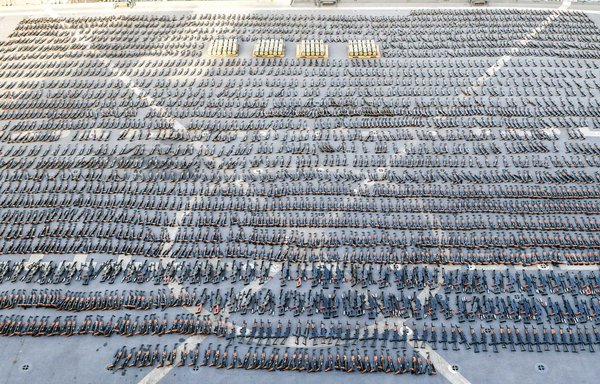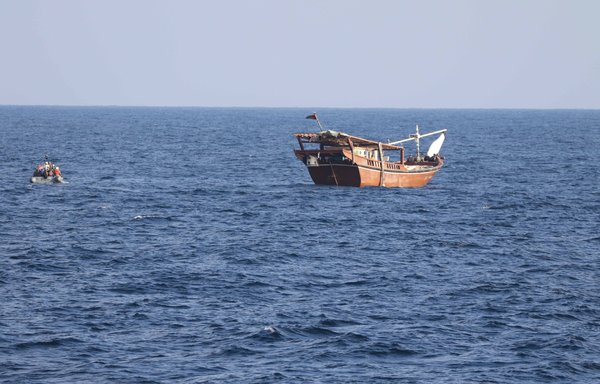 "We will provide the Ukrainians with the means to hold out and advance during the spring counter-offensive," said US Secretary of Defence Lloyd Austin.
Ukraine's Western supporters -- spearheaded by the United States -- have already supplied billions of dollars in arms to help Kyiv hold Moscow back.
Austin said Ukraine was looking to turn the tide on the battlefield to gain momentum, and that he expected Kyiv's forces to launch their own counter-offensive in the spring, AFP reported.
Ukrainian President Volodymyr Zelenskyy said the situation on the front line, especially in eastern Ukraine, "remains extremely difficult".
"It is literally a battle for every metre of Ukrainian land," he said.
The fighting is consuming vast quantities of ammunition, straining stockpiles and industries on both sides of the confrontation.
NATO chief Jens Stoltenberg has warned that Kyiv's current rate of expenditure was "many times higher" than the output in NATO countries.
Allies continue to raid their shelves for the rounds -- especially 155mm shells -- that Ukraine is firing by the thousand each day.
NATO is scrambling to get its factories to pump out more, and allies are eyeing plans for joint weapons purchases, higher defence spending and longer-term contracts.
German Defence Minister Boris Pistorius said Berlin had signed a deal with manufacturer Rheinmetall to restart production of ammunition for Gepard air defence guns sent to Ukraine.
France and Australia said they would produce 155mm artillery together, while the Pentagon announced a $552 million contract with two arms companies to produce 155mm shells for Kyiv. The first US deliveries are expected in March.
Norway's government Tuesday became the latest to join a group of nations promising Leopard 2 tanks, offering eight vehicles.
Turning the tables on Iran
The weapons the United States is considering sending to Ukraine were seized in recent months off the Yemeni coast from smugglers suspected of working for Iran, US and European officials told the Wall Street Journal.
The seized cache of weapons -- which would normally be destroyed -- includes more than 5,000 assault rifles, 1.6 million rounds of small-arm ammunition, a small number of antitank missiles and more than 7,000 proximity fuses, the newspaper said.
"The unusual move would open up a new supply of firepower America and its allies could tap into as they struggle to meet Ukraine's need for military support as its war with Russia enters its second year," it said.
"The challenge is finding a legal justification for taking weapons from one conflict and transferring them to another."
The United Nations arms embargo requires that seized weapons be destroyed, stored or disposed of. US officials said lawyers have been looking at whether there is any wiggle room for them to transfer the weapons to Ukraine.
Sending the weapons bound for the Houthis in Yemen to Ukraine "would allow the US to turn the tables on Iran", US officials told the Wall Street Journal.
In addition to providing lethal arms to its proxies in Yemen, Iran has provided Russia with drones that have been used to target civilians in Ukraine, they said.
"It's a message to take weapons meant to arm Iran's proxies and flip them to achieve our priorities in Ukraine, where Iran is providing arms to Russia," on US official told the newspaper.
Arms seizures along smuggling route
On January 15, elite French forces, with support from the US military, seized a massive shipment of Iranian arms destined for the Houthis in the Gulf of Oman, along a well-known smuggling route.
"The seizure is one of four significant illicit cargo interdictions over the past two months that have prevented more than 5,000 weapons and 1.6 million rounds of ammunition from reaching Yemen," US Central Command (US CENTCOM) said at the time.
On January 6, the US Navy intercepted a fishing vessel in the Gulf of Oman as it attempted to smuggle more than 2,100 assault rifles along a maritime route from Iran to Yemen.
In December, US naval forces seized explosive precursor materials, rocket fuses and propellant being smuggled on a fishing trawler from Iran to Yemen.
The cargo included 140 tonnes of urea fertiliser, 70 tonnes of ammonium perchlorate and 50 tonnes of ammunition.
And in November, the US Navy said it had scuttled a boat transporting "explosive materials" from Iran to supply the Houthis, with enough power to fuel a dozen ballistic missiles.