As the death toll from the earthquake in Türkiye and Syria on Thursday (February 9) climbed to more than 17,500 and hopes of finding survivors faded, the tragedy was compounded and amplified by the actions of the Syrian regime.
While access to Türkiye is not an issue, the earthquake response is proving a diplomatic headache for those seeking to channel aid to Syrians in both regime and opposition-controlled areas.
Around half of the Syrians affected by the earthquake live in areas controlled by the regime of Bashar al-Assad, which is under Western sanctions.
The other half live in Idlib province, the last opposition bastion, and adjacent parts of Aleppo province.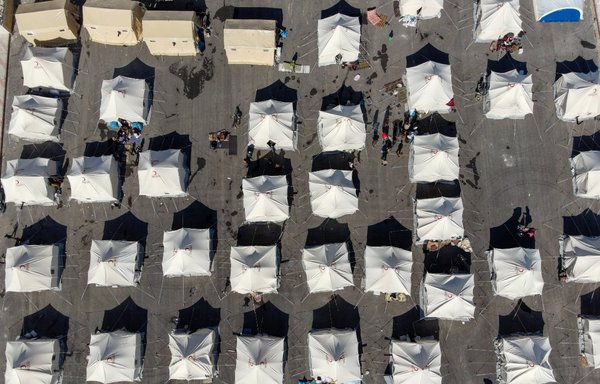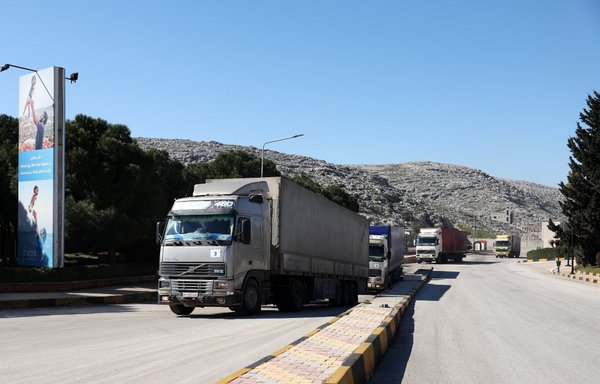 Both areas are home to some four million people, many dependent on humanitarian handouts after being displaced by the conflict.
Western nations withdrew their diplomats from Damascus and imposed sanctions on al-Assad's regime after he launched a brutal crackdown on anti-government protests in 2011.
The Arab League also suspended Syria's membership.
Aid groups and Western nations are now grappling with the complicated logistics of sending emergency assistance to Syria, especially the opposition areas outside government control.
"Syria is still a grey zone from a legal and diplomatic standpoint," said Marc Schakal, in charge of Syria operations for Doctors Without Borders (MSF).
Helping Syrian people
The United States said Tuesday it was working with partners to provide earthquake relief in Syria but would stand firm against working with the regime.
"In Syria itself, we have US-funded humanitarian partners that are co-ordinating lifesaving assistance," said US Secretary of State Antony Blinken.
"We're committed to providing that assistance to help people in Syria recover from this disaster, just as we have been their leading humanitarian donor since the start of the war in Syria itself," Blinken said.
"I want to emphasise here that these funds, of course, go to the Syrian people -- not to the regime. That won't change."
The United States has refused normalisation of relations with al-Assad or any direct reconstruction aid, seeking accountability for the regime's abuses.
US President Joe Biden said he had called on US officials to reach out to their Turkish counterparts to co-ordinate on assistance, and that humanitarian groups supported by the United States were responding to the destruction in Syria.
"We are committed to doing what we can on both sides of the border to helping our Turkish allies respond in the first instance with rescue and recovery efforts," said State Department spokesman Ned Price.
"We are determined to do what we can to address the humanitarian needs of the Syrian people," Price said.
Regime, allies obstruct aid
The situation in the opposition enclave of Idlib -- also home to many internally displaced persons (IDPs) who fled there to escape Syrian regime and Russian bombing campaigns -- is particularly harsh.
Syrian regime forces even bombarded areas badly affected by the earthquake shortly after the disaster took place, Middle East Eye reported.
British MP Alicia Kearns on Tuesday said al-Assad launched a "truly callous and heinous attack" on the Aleppo town of Marea in the hours after the tremor.
A military source near the location confirmed the incident to Middle East Eye.
Also Tuesday, several United Nations (UN) Security Council members called on Syria to give guarantees regarding chemical weapons after a global watchdog concluded the Syrian regime had conducted a chlorine attack on the opposition town of Douma in 2018.
The Organisation for the Prohibition of Chemical Weapons (OPCW) in January blamed Damascus for the chemical attack on Douma, which killed 43 people.
The OPCW said there were "reasonable grounds to believe" at least one Syrian air force helicopter had dropped two cylinders of the toxic gas on the town.
Raphael Pitti, a doctor with the French non-governmental organisation Mehad, said aid for Idlib was now more crucial than ever as "the situation of the population was already dramatic" before the quake.
International assistance trickles into Idlib via a single Türkiye-Syria border crossing, Bab al-Hawa, operated under a special United Nations (UN) authorisation that expires in July.
UN aid previously arrived through four such crossings earlier in the conflict, but Russia -- a major ally of the Syrian regime -- has managed to limit them to one.
On Thursday, the first UN aid convoy since the earthquake reached northwest Syria, said Mazen Alloush, media officer at the Bab al-Hawa crossing.
The International Organisation for Migration (IOM) said in a statement the delivery includes blankets, mattresses, tents and "basic relief items... to cover the needs of at least 500 people".
Aid via Bab al-Hawa already supplies the Idlib region with 80% of its needs, and aid groups now fear it could fast become congested with extra shipments.
But Syria's envoy to the UN, Bassam Sabbagh, on Monday appeared to rule out reopening any other border crossings into opposition-held areas, insisting that all aid should instead transit "from inside Syria".
"If anyone would like to help Syria, they can co-ordinate with the government," he said.
Pitti said he highly doubted any aid passing through Damascus would make it to opposition-held territory -- "just like it's been the case for the past 10 years".
German Foreign Minister Annalena Baerbock on Tuesday urged Moscow to facilitate the opening of other border crossings into northwest Syria.
"All international actors, including Russia, should use their influence on the Syrian regime to ensure humanitarian aid for victims arrives," she said.
Regime rejects vital help
Israel's Prime Minister Benjamin Netanyahu said he had given the go-ahead to send aid to Syria, but a regime official swiftly denied Syria had requested help.
Israel "received a request from a diplomatic source for humanitarian aid to Syria, and I approved it", Netanyahu said.
But a Syrian official said the regime, which does not recognise Israel, "ridiculed and denied the allegations" it had requested aid from its southern neighbour.
The Israeli leader also confirmed his government would send humanitarian assistance to Türkiye following the disaster, including a team of search and rescue specialists and a delegation equipped with humanitarian supplies.
A statement from Israeli Foreign Minister Eli Cohen said his Turkish counterpart Mevlüt Çavuşoğlu had told him that Türkiye would "welcome the Israeli aid".