The Central Bank of Iran (CBI) recently reached an agreement with the Central Bank of Russia to establish interbank communications and transfer systems, as the two pariah states move closer together.
Iranian media reported that the deal, inked January 29, will boost trade and ease mutual bank transactions.
Initially, Iran's Shahr Bank and Russia's VTB Bank will participate in the programme, they said, and other banks will gradually join.
CBI's website said 52 branches of Iranian banks will use Iran's domestic interbank system (SEPAM) to connect with 106 non-Russian banks in 13 countries, using the System for Transfer of Financial Messages (SPFS), Russia's equivalent of the Society for Worldwide Interbank Financial Telecommunication (SWIFT).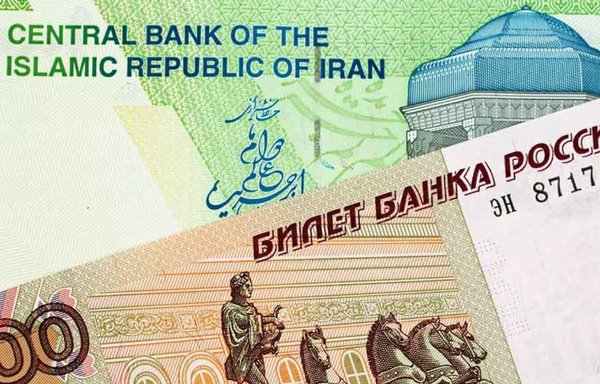 The agreement will enable 700 Russian banks to interact with Iranian banks, it said.
With the new deal, Iranian banks no longer need to connect via the SWIFT network.
CBI deputy governor for international affairs Mohsen Karimi and Vladislav Gridchin, representing Russia's central bank, signed the memorandum of understanding in Tehran.
Karimi described the deal as "a major step forward in implementing counter-measures against Western banking sanctions".
The two interbank systems cannot be sanctioned and "their infrastructure is not controlled by Western governments", he said, adding that the agreement will pave the way for all Iranian banks to engage with Russian lenders.
Since Iranian president Ebrahim Raisi took office in August 2021, Russia has become the biggest foreign investor in Iran, according to Iran's deputy economy minister Ali Fekri.
The two countries' expanded ties and banking relations are emblematic of their mutual isolation from the global community, observers say.
Russia moved to expand ties with Iran when it was punished by the global community following its assault on Ukraine, which triggered Western sanctions.
Iran meanwhile has supported Russia in its war on Ukraine by supplying Russia with drones and missiles, entering a de facto state of war with Ukraine.
Import-export relations have been established among Isfahan, Moscow and St. Petersburg, alongside comprehensive agricultural and industrial relations.
Iranians wary of Russia
Iran's Chamber of Commerce in November published an analysis fiercely defending the expanding ties between Tehran and Moscow.
Although Iranians are highly pessimistic about Iran-Russia relations, it noted, "these relations are in Iran's interest".
Iranians historically have been harsh critics of Russia, and sceptical of ties between the two nations -- a sentiment more widely evident as Russians invest more heavily in Iran.
Iran and Russia, both former imperial powers that for centuries vied to dominate the Caspian Sea region, have long had a highly nuanced and delicate relationship marked by rivalry and co-operation.
Winning Russia as a close ally is all the more attractive for Iran's leadership right now, as it can count on Moscow to turn a blind eye to its human rights and economic violations on the home front and in the region.
"Most ordinary Iranians despise Russia and are concerned about the expansion of ties between the two countries," said Cyrus, an Iranian journalist focusing on Iran-Russia relations who asked that his full name not be used.
"Many Iranians firmly believe Moscow does not want or will not allow Tehran to expand its relations with the West and that it wants Iran to remain isolated, under sanctions and out of the nuclear deal," he told Al-Mashareq.
Iran itself has been taking steps away from the 2015 nuclear deal, known as the Joint Comprehensive Plan of Action (JCPOA).
Last week, International Atomic Energy Agency (IAEA) Director-General Rafael Grossi told European Parliament lawmakers Iran had "amassed enough nuclear material for several nuclear weapons -- not one at this point".
Speaking about Iran's recent atomic activities, including enriching uranium well beyond the limits of the 2015 deal to curb its nuclear capabilities, Grossi said Tehran's trajectory "is certainly not a good one", AFP reported.
Failed 'Looking East' policy
Iran has been inching closer to both China and Russia in recent years as it has become further isolated from the international community, implementing Iranian leader Ali Khamenei's "Looking East" policy.
In March 2021, Iranian and Chinese officials signed a 25-year "strategic co-operation pact" that drew sharp domestic criticism as foes of the deal accused the regime of "selling Iran".
But ignoring public opinion, the regime forged ahead with the $400 billion deal, part of a sweeping Chinese plan to fund infrastructure projects and increase China's global sway, only to see Beijing recently stepping back.
Ali Fekri, Iranian deputy economic minister, said on January 29 that China "invested only $185 million in 25 projects in Iran" between March 2022 and the end of January.
In the two preceding years, Beijing invested $227 million in Iran annually.
The recent news that China hacked Iran's Foreign Ministry and other key official entities further eroded relations between the two nations.
Meanwhile, Russia has overtaken China as top investor in Iran as China has moved closer to Iran's archrival, Saudi Arabia, and to other Arab countries.
China is presently Saudi Arabia's largest trade partner and the largest buyer of its oil.
Trade between Russia and Iran surged by 15% last year, reaching $4.6 billion, according to Vyacheslav Volodin, the speaker of the Russian State Duma.
Taking steps to expand trade is "extremely important" amid the pressure of sanctions on the two countries, said Volodin.
He also lauded the free trade deal inked last month between Iran and the Russia-led Eurasian Economic Union (EEU or EAEU), saying it would help expand trade between Tehran and Moscow.
"China and Russia have, time and again, betrayed Iran in spite of the agreements or promises they made," said Taraneh, a history professor at a university in Tehran, who asked that her full name not be used.
"So far, Khamenei's 'Looking East' policy has been a disaster, even a betrayal of the regime, after the Chinese seemed to have backed out," she told Al-Mashareq.