By placing his trust in a small group of generals who have gained notoriety for their brutality, Russian President Vladimir Putin has lost the support of certain allies and handed his adversaries a club to beat him with, analysts say.
Putin's decision to elevate -- and even honour -- senior military officers who have been accused of committing war crimes will end up costing him dearly, they said, accusing him of making a series of blunders in his political decisions.
"Putin is making successive errors, for after intervening in Syria, he intervened in Ukraine using private military companies that can be likened to terrorist groups to achieve his goals," political expert Ramez Mamdouh told Al-Mashareq.
"He capped these mistakes by turning to a number of generals and officers who committed and are committing war crimes in Syria and Ukraine, led by Col. Gen. Aleksandr Chaiko," he said.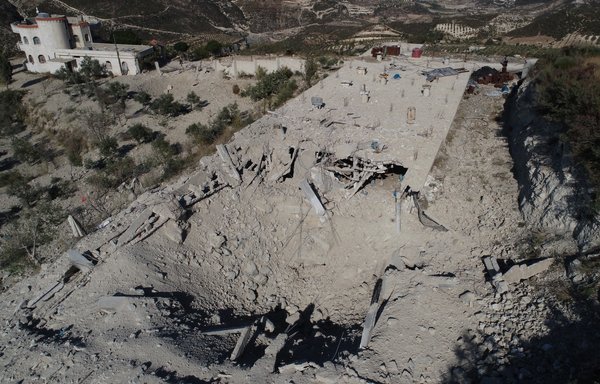 Mamdouh noted that Chaiko is accused of committing atrocities during the military operations that he oversaw and issued orders for, with disastrous consequences for civilians.
Putin's resort to using Chaiko in Syria and Ukraine and placing him at "the top of the chain of command will be of great benefit to Russia's opponents and foes", he said.
The decision to allow an accused war criminal to occupy a senior position in the military weakens the Russian position overall and undermines any sympathy or respect Russia might garner on the world stage, he said.
Chaiko will be brandished against Putin, Mamdouh added, as he is ultimately accountable for this decision and its consequences, as head of the Russian Federation and commander-in-chief of the armed forces.
In other words, he said, Putin would not be able to defend Chaiko's decisions as individualistic or stemming from combat situations, as Chaiko would have undoubtedly needed to secure Putin's approval for his actions.
Russia is heading "towards international isolation", Mamdouh said, with a diminishing number of countries that can be considered as its allies.
Chaiko is a war criminal
"Putin did not learn from historical or even recent events," al-Sharq Centre for Regional and Strategic Studies researcher Sami Gheit told Al-Mashareq.
In the aftermath of World War II, for example, the allied powers put heavy pressure on war criminals for "the heinous crimes committed against civilians, such that the prosecutions continued for decades", Gheit said.
Putin and his generals will be on the wrong side of history this time, despite the aura he attempts to create, as Russia is significantly weaker as a consequence of Putin's continuous defiance of the international will, he said.
Moreover, he added, Putin has surrounded himself with "a group of generals like Aleksandr Chaiko, and exported them as senior leaders to do the dirty work everywhere, from Syria to Africa to Ukraine".
The strange thing about Putin's position, Gheit noted, is that he not only assigns Chaiko war missions but entrusts him with diplomatic negotiations.
Putin must think that whoever negotiates with Chaiko will be intimidated by the general's strongman reputation, he said, but the reality "will be completely the opposite" as people "will refuse to sit at the same table with a war criminal".
Gheit said the "Chaiko card" will be very important "in holding Putin himself accountable to the international community and depriving him of any gains he might dream of as a result of his misadventures".
The end of Putin's dreams
Some say that Putin's decision in 2020 to bestow the title "Hero of Russia" on Chaiko was "extreme political stupidity", said political expert Abdel Nabi Bakkar, also noting the decision to promote him to the rank of Col. Gen. in 2021.
"But it would be more accurate to say that it is a message to the international community that Chaiko's cruelty and criminality will be the fate of all those who try to confront Putin and his insane plans."
Chaiko carried out his atrocities in Syria first, and when he was transferred to Ukraine, he served as a warning of how things would be if Ukraine rejected Putin's demands, he explained.
Ukraine will be the biggest beneficiary of Chaiko's reassignment, Bakkar said.
The move would bolster Kyiv's argument for mobilisation of support by the international community by highlighting Chaiko's crimes, which are emblematic of Russia's current policy towards its neighbours, he said.
Ukraine will be "the end of Putin's dreams", Bakkar said.