Iranian-made drones deployed by Russian forces attacked the Ukrainian capital Kyiv early Monday (December 19) yet again, as Iran's foreign ministry doubled down on its expanded military relations with Russia.
The Monday assault, carried out with Iranian-manufactured unmanned aerial vehicles (UAVs), commonly known as drones, came days after Kyiv withstood one of the biggest missile attacks since the start of Russia's February invasion.
A volley of more than 70 missiles unleashed Friday pitched multiple Ukrainian cities into darkness and forced residents to endure sub-zero temperatures without heating or running water.
The national electricity operator was forced to impose emergency rolling blackouts as it raced to repair the battered energy grid.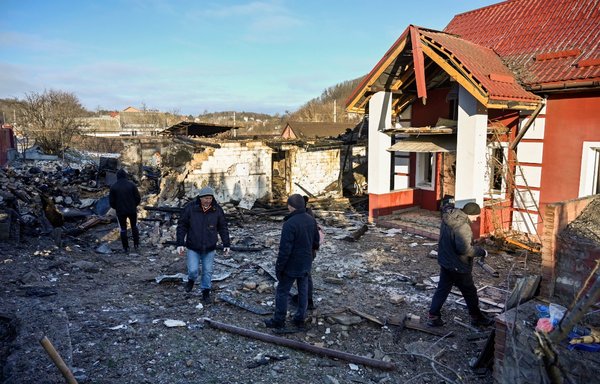 A few days earlier, Ukrainian forces said they had shot down a swarm of Iranian-made drones launched at Kyiv by Russian forces, giving further credence to recent warnings about deepening Iran-Russia military ties.
During the Monday air alert, "23 enemy UAVs were recorded in the sky above the capital. Air defence destroyed 18 drones", the Kyiv city military administration said on social media.
It said Russian forces were using barrage ammunition from "Shaheds", weaponised Iranian-made drones that have pummelled Kyiv in recent weeks.
"Explosions" occurred in the central Shevchenkivskyi district and the western Solomianskyi district, damaging critical infrastructure facilities, Mayor Vitali Klitschko confirmed.
Emergency power cuts will be carried out in the capital following the attack, Ukrainian energy operator DTEK said.
Russia's assault on civilian infrastructure constitutes war crimes, France and the European Union have said, with the bloc's foreign policy chief calling the bombings "barbaric".
Russia's top military backer
In a December 9 security briefing, White House National Security Council spokesman John Kirby warned that Iran and Russia had entered into "a full-fledged defence partnership".
This poses a threat to Ukraine, Iran's neighbours and the world, he said.
"Iran has become Russia's top military backer," Kirby said, noting that Iran has transferred several hundred UAVs to Russia, which Russia has been using to attack Ukraine's infrastructure and kill civilians.
In a Friday interview with PBS, US Central Intelligence Agency (CIA) chief William Burns said the military co-operation between Iran and Russia "poses real threats" to US allies in the Middle East.
In a Sunday retort, Iranian foreign ministry spokesman Nasser Kanani said Tehran "acts independently in regulating its foreign relations and does not seek permission from anyone", with "national interests" dictating its policies.
"Co-operation between Iran and Russia in various fields, including defence, is expanding within the framework of common interests ... and is not against any third country," he said.
Despite Iran's denials and attempts to hide its hand, ample evidence shows that Russia has used Iranian drones to carry out multiple attacks in Ukraine.
Iran prepares satellite launch
Separately, Iranian Telecommunications Minister Issa Zarepour on Sunday announced the Islamic Republic was preparing to launch "at least two satellites" into space by late March, just over a month after successfully testing a launcher.
The United States has repeatedly voiced concern that such launches could boost Iran's ballistic missile technology, extending to the potential delivery of nuclear warheads.
"Nahid-1 and Nahid-2 satellites are being prepared," Zarepour said, according to IRNA. Nahid is the name given to a series of telecommunications satellites developed by the Iranian Space Research Centre.
In early November, Iranian state television announced the "successful suborbital launch of the satellite launcher named Ghaem-100".
The Ghaem-100 rocket was manufactured by the aerospace organisation of the Islamic Revolutionary Guard Corps (IRGC) and is Iran's first three-stage solid-fuel satellite launcher, the channel added.
Iran put its first military satellite into orbit in April 2020, drawing a sharp rebuke from Washington.
In August this year, another Iranian satellite, Khayyam, was launched by Russia on a Soyuz-2.1b rocket from Baikonur Cosmodrome in Kazakhstan.
The device was constructed by Russia under Iran's supervision, Iran's space agency said.
Khayyam will enable "significant spying capabilities" and that a deepening Russia-Iran alliance amounts to a "profound threat" to the world, said the United States.
Iran's space agency rejected those allegations, countering that the purpose of Khayyam was to "monitor the country's borders", and help with the management of natural resources and agriculture.
Uranium enrichment at 'record levels'
Meanwhile, Iran Saturday said its uranium enrichment capacity has increased to record levels, state news agency IRNA reported.
"Currently, the enrichment capacity of the country has reached more than twice its amount in the entire history of this industry," said Mohammad Eslami, director of the Atomic Energy Organisation of Iran (AEOI).
A technical team from the International Atomic Energy Agency (IAEA) was in Iran on Sunday to try to resolve a deadlock over the detection of traces of radioactive material at sites not declared as having hosted nuclear activities.
The nuclear watchdog has long called on Iran to explain the presence of man-made uranium found at three undeclared sites, requesting "access to locations and materials" as well as the collection of samples.
Under the 2015 nuclear deal, known as the Joint Comprehensive Plan of Action (JPCOA), Iran agreed to restrict its enrichment of uranium to just under 4%, well below the 90% level considered necessary for a nuclear warhead.
In return for that and other curbs on its nuclear activities, Iran was promised relief from international sanctions.
But the IAEA in September said it could not guarantee the peaceful nature of Iran's nuclear programme.