ADEN -- Under the guidance of an Oman-based facilitator, the Iran-backed Houthis have built out a media machine that churns out propaganda via television, radio and social media channels, a detailed report reveals.
The media facilitator, Mohammed Abdul Salam, is a close contact of the group's leader, Abdul-Malik al-Houthi, according to a study published October 28 by the US West Point Military Academy Combating Terrorism Centre (CTC).
Abdul Salam, who is best known as the Oman-based point of contact between the Houthis and foreign journalists and entities, "is the founding father of Houthi propaganda and disinformation capabilities", the report said.
With Houthi information minister Dhaifallah al-Shami, he has expanded the group's media operation, working alongside the Islamic Revolutionary Guard Corps (IRGC)'s Islamic Radio and Television Union (IRTVU) and Lebanese Hizbullah media outlets, it said.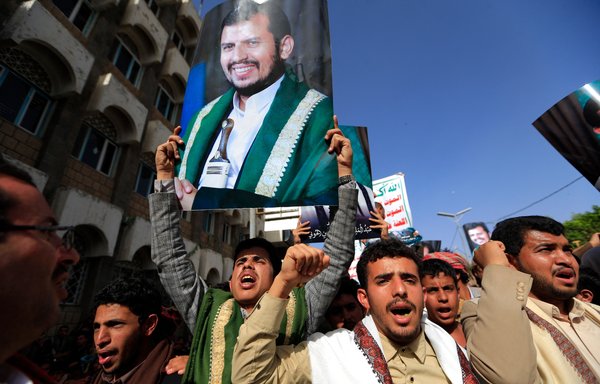 The end result is "a powerful offensive capability aimed at controlling the international narrative surrounding the conflict in Yemen", the report said.
Abdul Salam's deputy, Saba News director Nasser al-Din Amer, heads social media operations via a dedicated social media centre, where messaging and hashtag campaigns are created, it said.
This includes "Twitter banks" of prepared content for supporters to draw upon and amplify, "including with instructions of how to avoid being detected as bots by Twitter content algorithms", the report said.
The Houthis directly control their Beirut-based Al-Masirah satellite television station and the Sanaa headquarters of Yemen's SABA News agency, it said.
Lebanese Hizbullah media advisers seem to have played a long-standing role in building out Houthi information operation capabilities, the report said.
A conduit to Khamenei
Abdul Salam's role is to serve as "the Houthis' foreign minister and a conduit for [Iranian leader Ali] Khamenei's directives to Abdul Malik al-Houthi", Yemeni Deputy Minister of Justice Faisal al-Majeedi told Al-Mashareq.
Abdul Salam has been entrusted with serving as the group's official spokesman and representing it abroad, in addition to heading the negotiation delegations, he said.
He "is the front through which al-Houthi moves" in countries such as Oman, Iran, Iraq and Lebanon, al-Majeedi said, adding that "this is not an easy task and can be undertaken only by someone who is trusted by Iran and Hizbullah".
To this end, Abdul Salam "is listed among the group's most important leaders because he is entrusted with extraordinary tasks", he said, noting that he also relays messages from al-Houthi to Khamenei.
Regarding Hizbullah's influence over the Houthi media, al-Majeedi said Abdul Salam "is implementing the media strategy drawn up by Hizbullah leaders".
Smuggling operations
Al-Majeedi said there are credible reports indicating that Abdul Salam controls a number of oil companies and that through him, Iranian oil is smuggled through the ports controlled by the Houthis.
Political analyst Mahmoud al-Taher told Al-Mashareq there are signs that Abdul Salam is involved in suspicious activities related to oil, weapons and drugs.
"Abdul Salam runs several oil, contracting, import and export companies, which are fake companies [established for the purpose] of money laundering and smuggling drugs and weapons to his group," al-Taher said.
He noted that in addition to his role as head of the Houthis' media apparatus, Abdul Salam sometimes attends sessions of the Houthi Jihad Council.
He reportedly took media courses from Iranian and Hizbullah experts to learn how to direct the Houthis' propaganda campaigns, in line with a strategy drawn up by Hizbullah, al-Taher said.
Abdul Salam's relationship with Iran is strong, he added, "which makes him receptive to Iranian directives to be a mediator of messages between Iran and his group inside Yemen".
According to political analyst Ahmed al-Sabahi, Abdul Salam, who resides in Muscat, Oman, recently assumed the role of chair of the Houthi negotiating delegation.
"You can say that he is responsible for external co-ordination between the Iranians and the Houthis and directs funding transactions from Muscat," he said.
Media content management
Abdul Salam has been a prominent Houthi leader since the outset, and has been running media wings in Lebanon with Iranian funding, political analyst Faisal Ahmed told Al-Mashareq.
"Abdul Salam draws up media policies for the group's external media operations, including disinformation and propaganda messaging that serves the group's goals and Iran's goals in the region," he said.
This has extended to "claiming responsibility for military operations that the group did not carry out", Ahmed noted.
He said that both the Houthis' information minister, al-Shami, and the Saba News director, Amer, have recruited "the cadres of the official media outlets to serve Iran's media agenda".
"Those who oppose them are at best dismissed, if they are not imprisoned," he said, on charges of collaborating with the Arab coalition.