CAIRO -- As conditions in Syria become increasingly desperate, many in the country are risking their lives on land and at sea to pursue a better future.
Some attempt this journey via Turkey to the north, while others head south, for Africa, where smuggling networks promise to transport them across the water to Spain, for a hefty fee.
Twelve Syrians who attempted this route in early October paid with their lives.
Many of them hailed from the Kurdish-administered Kobani region of Syria, where residents were devastated by the news that 10 area residents were among the dead, Kurdish Red Crescent official Azad Dudeki told Al-Mashareq.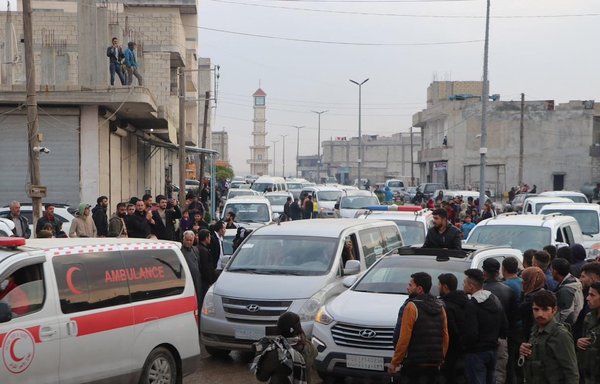 Others remain missing, he said, noting that the overall situation is complicated.
In addition to those who were killed or drowned in the recent incident, he said, some Syrian asylum seekers are being held in Algerian detention centres, while others have been deported to Nigeria.
"The individuals in both groups are facing dire conditions," he added, estimating that at least 60 people have been incarcerated or deported.
The detainees "are afraid of being handed over to the Syrian authorities, at which time they will undoubtedly be arrested, while those in Nigeria cannot go anywhere because they do not have the required visas", he said.
Fear of going back
Of the 12 who died in the recent crossing attempt, 10 were from the Kobani region of northern Syria, Dudeki said.
The other two hailed from the Syrian provinces of Latakia and Aleppo.
"Six people are still missing and have likely drowned as well, while only four people survived the accident," he said.
Though the incident occurred on October 3, there was a delay of more than a month in transporting the bodies back to Syria, he said, due to the legal procedures implemented in Algeria, Syria and Lebanon.
The bodies were transported to Beirut and then from Beirut to Syria.
The Lebanese Red Crescent transported them to the Syrian border, from whence the Syrian Red Crescent delivered them to Manbij Hospital, where the families at last received the bodies of their dead.
"The Syrian Democratic Council and the Autonomous Administration formed a committee to follow up on the matter and the fate of those who remain in Algeria and Nigeria, and to find a way to bring them back to Syria," Dudeki said.
Part of the challenge is to prevent them from being arrested by the Syrian regime upon their return, he said.
One of the solutions being considered is the possibility of moving them to Iraq and from there to Kurdish-controlled areas of Syria, to keep them out of the hands of the Syrian regime.
A report by the Independent International Commission of Inquiry on Syria in September found that Syria is still not secure for the return of refugees and that the Syrian regime does not provide any guarantees for their safe return.
The report, submitted to the United Nations (UN) Human Rights Council, documented grave violations of basic human rights and international humanitarian law across Syria between January 1 and June 30, 2022.
It pointed to human rights violations by the parties to the conflict, a lack of security in areas under Syrian regime control and the continuation of arbitrary arrests, forced disappearances and citizens' death under torture.
Lebanese Hizbullah and the Islamic Revolutionary Guard Corps (IRGC) are involved in "a large portion" of the violations, "because they are affiliated with the Syrian regime ... and fight on its side", Syrian Network for Human Rights director Fadel Abdul Ghany told Al-Mashareq.
No choice but to emigrate
In Kobani, as in the rest of Syria, all the youth think about "is emigrating and leaving Syria due to the bad economic and security conditions and lack of job opportunities", said Kobani-based construction worker Raman Jallo.
"Because immigration procedures are difficult and pose many restrictions, they resort to illegal migration through Turkey, Lebanon and most recently Algeria," he told Al-Mashareq.
Every illegal migrant knows the risks of the trip, "such as the possibility of being arrested or the boat capsizing, as happened recently, but they are determined to go through with it as this is their last chance", he said.
"The cost of the trip to Algeria starts from $2,000 and is arranged through local intermediaries who have contacts with smugglers in Algeria," he said.
"Half of the amount is paid in Syria, and the other half is paid upon arrival in Algeria before boarding the boats."
These smugglers appear to be part of "very large organised networks", he said.
Those seeking to migrate are of all ages, he added, noting that the ages of those who died on October 3 ranged between 16 and 45.
Sadness prevails in Kobani
"An atmosphere of sadness is hanging over the city of Kobani and its countryside over the passing of the 10 area residents in 'death boats'," said Saleh Abdo, a 63-year-old trader from Kobani who has two sons.
"The victims come from most [local] villages," he told Al-Mashareq, adding that he has been keeping a close eye on his sons for some time "so that they do not fall into the trap of thinking about illegal migration".
He is now doubly terrified of the idea out of fear for them, he said, and is trying to get closer to them and make life easier for them.
"I convinced my eldest son to work with me in the field of commerce," he said. "As for the second one, he is still in university and I always encourage him to study and complete his education."