After decades of isolation due to wars and waves of violence, Iraq is once again opening its arms to foreign tourists eager to visit the archaeological sites that abound in its historic cities.
Tourist groups are touring the country from north to south under the watchful eye of the Iraqi security forces, whose capabilities have increased significantly as a result of US training and support, observers say.
According to official data, Iraq last year received more than 100,000 tourists from various countries, including the United States, Australia, France, Britain and Norway, more than three times the number of tourists in 2020.
Tourists often share their experiences on their personal social media accounts, where they document their observations and interviews with the local population.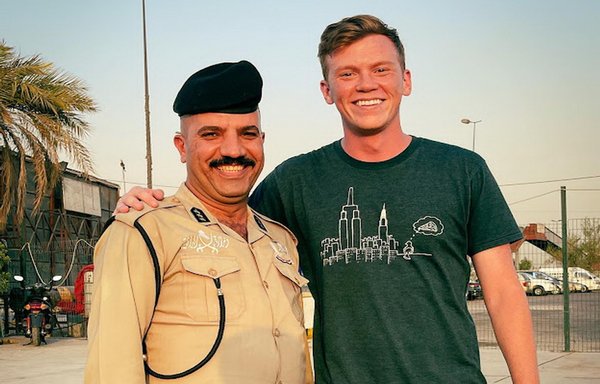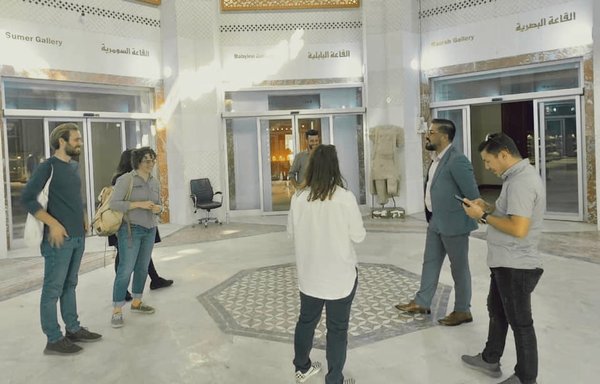 Among them is American vlogger Doug Barnard, who visited Iraq last year with two friends and posted 19 vlogs on YouTube about his visits to the historical and archaeological cities of Babylon, Samarra and Ninawa and the religious sites in Karbala.
He also toured several markets and cafes in Baghdad, Mosul and Basra, and traveled to the Chibayish marshes in Dhi Qar province.
Barnard, who said he was happy to explore many places that used to be dangerous for tourists but are now safe, described the Iraqis as "friendly and generous" and said he made many new friends, including security officers.
Increased readiness of security forces
Many of Iraq's archaeological treasures were looted or destroyed during the Islamic State of Iraq and Syria's (ISIS) hold over parts of the country.
But the past few years have seen an increase in the readiness of security forces to confront terrorist groups and thwart many of their attacks, benefiting from the expertise and military training they received at the hands of US advisors.
The intensive training courses have helped thousands of Iraqi security personnel to take the initiative in protecting their country and lead pre-emptive operations against ISIS remnants, experts said.
"The return of tourists and foreign travellers to Iraq to learn about its heritage, civilisation and the lives of its inhabitants is the result of the security efforts that have contributed to the consolidation of stability," security expert Safaa al-Aasam told Al-Mashareq.
"Our forces today are highly trained and are able to sustain the momentum of their operations against the remnants of terrorist groups," he said, adding that "they do everything in their power to protect the country from any danger".
"Security has a direct impact on people's lives, and in its absence all activities stop," including tourism, he said.
Al-Aasam stressed the importance of continuing to develop the military capabilities of Iraqi forces so they could overcome security challenges.
Supporting tourism activity
Security officials say great opportunities exist today to develop the tourism sector as they continue to enhance their security measures.
"Our responsibility is to work on addressing all security requirements to establish an environment that supports tourism activity," Ministry of Interior spokesman Maj. Gen. Saad Maan said at the First Annual Forum on Tourism and Hospitality, held in Baghdad on June 11.
Tourism is an important economic activity, he said, especially in Iraq, which is abound with archaeological and historical sites.
The country boasts six UNESCO World Heritage sites, including the Erbil Citadel, Hatra, Ashur (Qalaat Shergat), Malwiya Minaret in Samarra, the ruins of Babylon and the Ahwar (Marshes) in southern Iraq.
There also are more than 12,000 sites across Iraq that contain antiquities dating back to different eras.
In conjunction with enhanced security measures, Iraq seeks to develop its tourism infrastructure and restore its ancient cities that were damaged as a result of terrorism.
Several governmental committees from the Tourism and Antiquities Authority and the Secretariat General of the Iraqi Council of Ministers were formed to promote tourism through development projects.
Projects include the tourist village in the ancient Ur region in southern Iraq, which extends over an area of 800 dunams (almost 200 acres) and reaches the marshes, said Abdul Qadir al-Jumaili, an official at the Ministry of Culture's Tourism Facilities Department.
The foundation stone for this project was laid last year.
A-Jumaili said the village hosts hotels, malls, green spaces and several visitor centres where foreign travellers can learn about Iraq's civilisation and its many historical sites.
This year, Iraqi authorities reopened a number of archaeological sites after repairing the damage they sustained during the war on ISIS, including the historic site of Hatra in northern Iraq, which has begun welcoming tourists.