The United States, Jordan and 28 partner nations are wrapping up the two-week "Eager Lion" exercise in Jordan, a "multifaceted" military drill that serves as the "capstone" event of the broader US-Jordanian military partnership, officials said.
The exercise, which kicked off September 4 and concludes Thursday (September 15), is one of the largest in the region, US Central Command (CENTCOM) said.
It is designed to exchange military expertise and improve interoperability among partner nations from the Middle East and North Africa, Central Asia, Europe, the Americas and Australia.
"Eager Lion is a multifaceted event that demonstrates our commitment to partnerships and responsive joint forces operating in complex environments that offer no easy victories or quick wins," said Maj. Gen. Steven J. deMilliano, who heads up CENTCOM's Exercises and Training Directorate.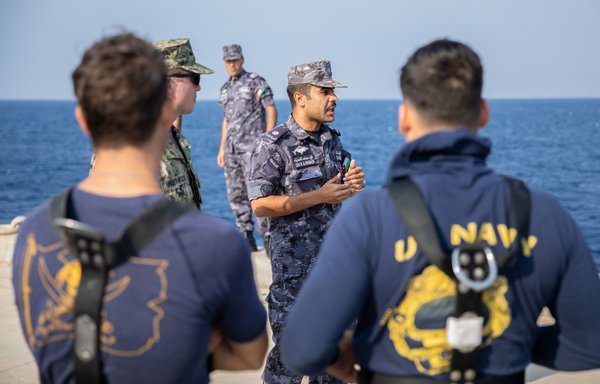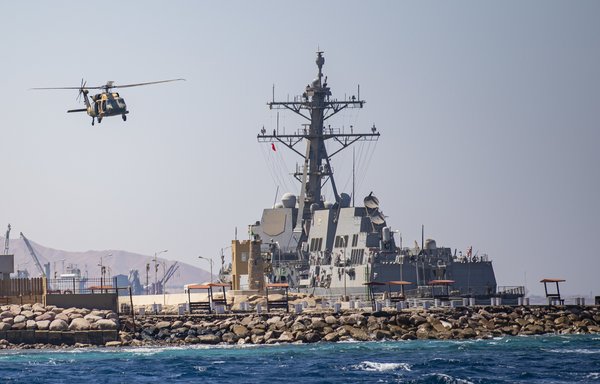 "More broadly, partnerships enable militaries to grow capabilities and quickly respond to demanding crisis situations," he said.
Approximately 1,700 US service members, 2,200 Jordanian Armed Forces personnel and 591 international coalition personnel from 28 other partner nations are participating in or observing the exercise, according to CENTCOM.
The exercise, now in its 10th iteration, underscores the United States' commitment to partners in the Middle East and joint defence against hybrid threats by state and non-state actors, CENTCOM said in a statement.
For the participating militaries, training events included a long-range bomber mission, tackling cyber-threats from hypothetical adversaries, inter-agency communication and co-ordination and counter-terrorism skills development.
Military personnel also worked on integrated air and missile defence synchronisation, maritime and border security, disaster response and humanitarian aid.
A field training exercise included a combined-arms live-fire exercise, command post exercise and a senior leader seminar to facilitate information sharing from the tactical to the strategic levels.
The 2022 scenario was designed to "test interoperability addressing regional challenges across air, land, sea and cyber domains", CENTCOM said.
Regional co-operation
Eager Lion comes on the heels of several major US-led exercises aimed at improving co-operation with partners in the Middle East and Central Asia.
In the face of ongoing threats to regional security from the Iranian regime and its proxies, the US and Saudi militaries have continued to conduct joint exercises to cement their partnership and prepare for a wide range of possible scenarios.
The Native Fury 22 exercise, which began August 9 and ran for almost a month, was "vital for strengthening the United States' long-standing relationship with the Saudi Armed Forces", CENTCOM tweeted on August 12.
In its eighth iteration, the exercise enhanced combined tactics, maritime capabilities and promoted long-term regional stability, it said.
Staged at the Saudi ports of Yanbu and al-Bayadh and Prince Sultan air base, it involved more than 1,000 soldiers and hundreds of vehicles and naval vessels.
It included a demonstration of the rapid integration of a Maritime Pre-Positioning Force, poised to respond to regional crises and contingency operations.
The US Navy's Pre-Positioning programme "strategically places military equipment and supplies aboard ships located in key ocean areas to ensure rapid availability during a major theatre war, a humanitarian operation or other contingency".
Separately, the US military and several Central Asian counterparts took part in an August exercise, hosted by Tajikistan, to improve regional co-operation.
Sponsored by CENTCOM, Regional Co-operation 2022 (RC 22) took place between August 10 and 20 in Dushanbe, according to a statement from the US embassy in Tajikistan.
Participants from the United States, Tajikistan, Kazakhstan, Kyrgyzstan, Mongolia, Pakistan and Uzbekistan took part in a six-day command post exercise as part of RC 22.
Tajikistan and the United States also conducted a five-day bilateral field training component of the exercise at the Fakhrabad Training Centre.
Growing threats
The latest drills come as drones manufactured and supplied by Iran flood countries where Iran-backed militias operate, including Iraq, Syria and Lebanon.
Lebanese Hizbullah has been training members of the Fatemiyoun Division on drone operation in Syria's eastern desert (Badiya), according to recent reports.
In Yemen, the Iran-backed Houthis have used Iranian drones on many occasions to strike installations in Saudi Arabia and the United Arab Emirates (UAE).
And in Iraq, Iran-backed militias have used Iranian drones for years to hit international coalition military bases and targets in the Arabian Gulf.
China's massive infrastructure drive to connect its mainland to the Horn of Africa via a network of military and commercial facilities also has raised concerns.
As part of its "String of Pearls" strategy, China's sea lines run through major ports in the Maldives, Bangladesh, Sri Lanka, Pakistan, Iran and Somalia.
They run through major maritime choke points including Bab al-Mandeb strait at the entrance to the Red Sea; the Strait of Malacca, between the Indian and Pacific oceans; the Strait of Hormuz, at the entrance to the Arabian Gulf; and the Lombok Strait, between the islands of Bali and Indonesia.
Beijing's global infrastructure drive, known as the Belt and Road Initiative (BRI) or One Belt, One Road (OBOR), continues inland from these important seaports, reaching other parts of the Middle East, Central Asia and Africa.
But critics warn that China's ostensibly commercial projects serve a dual purpose, allowing for its rapidly growing military to expand its reach.