ADEN -- In the immediate aftermath of an al-Qaeda attack on an Abyan province checkpoint Tuesday (September 6), Yemen's interior and defence ministries vowed to step up the fight against terrorism and extremism.
At dawn Tuesday, al-Qaeda elements attacked a checkpoint manned by Security Belt Forces near Ahwar, killing 21 members of the force, which is backed by the United Arab Emirates (UAE), and wounding seven others, official sources said.
Eight of the al-Qaeda attackers -- who had staged their assault on the Maqateen checkpoint between Hesn Saeed and Ahwar using machine guns -- were killed in the battle, the Interior Ministry said.
Security Belt Forces seized two vehicles belonging to the terrorists.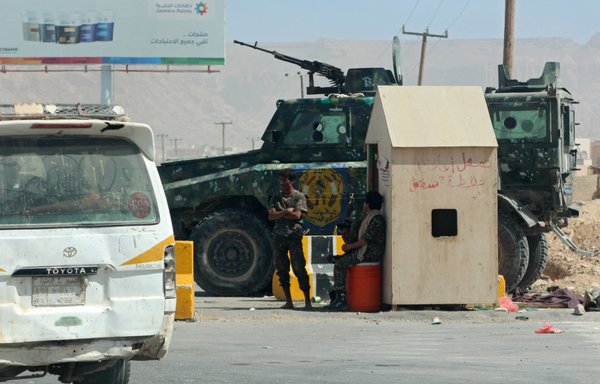 Mourning the fallen soldiers, the Interior Ministry urged security forces to be vigilant and united against extremists, and to step up efforts to arrest al-Qaeda elements and those who shelter them.
It also called on the public to report any suspicious activity to the police.
Yemen's security apparatus, with the support of the Yemeni people, is capable of defeating al-Qaeda and other groups that seek to destabilise the country, said Yemeni army spokesman Brig. Gen. Abdo Majali.
Brig. Gen. Abdullatif al-Sayyid of the Security Belt Forces in Abyan described the attack as a "treacherous" attempt to topple the Security Belt Forces.
"But our forces defeated them, their bodies are now scattered, and we were able to control the situation," he said. "The terrorists will be tracked down in Jabal al-Maraqishah, per the rapid response plan."
'Abyan rejects terrorism'
Government agencies and officials were swift to condemn the attack, among them Abyan governor Abu Bakr Hussein Salem, who paid a visit to the injured soldiers.
"All of Abyan rejects terrorism, and is capable of expelling the terrorists and putting an end to their evils that threaten our society," he said.
"Terrorist acts that target the security forces are aimed at undermining security and stability," Yemen's Ministry of Human Rights said in a statement, calling for increased public support for the security forces.
Yemen's Deputy Minister of Human Rights Nabil Abdul Hafeez condemned the "treacherous, cowardly terrorist attack on the security personnel in Ahwar".
"The terrorists recognise their own weaknesses, and therefore, they singled out the checkpoint for this treacherous attack because they are incapable of direct confrontation," he said.
Abdul Hafeez urged members of the public to co-operate with security forces by reporting terrorist activity "so our society can be spared".
The attack was retaliation for an August 28 raid by Security Belt Forces on al-Qaeda hideouts in Abyan, where they found explosive belts, improvised explosive devices (IEDs) and other materials, said political analyst Faisal Ahmed.
The Security Belt Forces' media centre said the group had been planning to attack Security Belt Forces and southern forces.
"When their hideouts were raided, however, they fled from their areas towards Qarn Siyoud and Remal al-Tareyah, leaving behind the tools of crime and terrorism," it said.
Battle against extremists
"Security Belt Forces and army forces are in an ongoing battle against the terrorists -- whether al-Qaeda or 'Islamic State of Iraq and Syria' (ISIS) -- in Abyan, which the terrorists consider their home," Ahmed said.
"Security Belt Forces and army forces recently kicked off Operation Arrows of East, deploying to the targeted checkpoint in Abyan on August 25," he said.
Al-Qaeda's Tuesday attack was not entirely unexpected, said Abaad Centre for Strategic Studies director Abdul Salam Mohammed.
He accused the Iran-backed Houthis of undermining the security and stability of the province, including by releasing many al-Qaeda leaders from prison, enabling al-Qaeda and ISIS to make inroads in the southern provinces.
"What happened in Shabwa and the [Tuesday] attack on the Security Belt Forces have angered the tribes, and such feelings of anger and resentment are exploited by the Houthis, al-Qaeda and ISIS for revenge in tribal areas," he said.
Immediately after Tuesday's attack, "the Houthis targeted a prominent leader in Yafie", indicating that "the Houthis and Iran have moved towards the south", said Mohammed.
Kidnapped UN worker
The attack in Abyan comes after al-Qaeda in the Arabian Peninsula (AQAP) on Saturday released a video showing a United Nations (UN) worker abducted in Abyan more than six months ago, the SITE Intelligence Group reported.
Five UN staff members were kidnapped in Abyan in February while returning to Aden after a field mission, UN spokeswoman Eri Kaneko said at the time.
In Saturday's video message, apparently recorded August 9, Akam Sofyol Anam, identified by SITE as a Bangladeshi, urges "the UN, the international community, the humanitarian organisations, to please come forward... and meet the demands of my captors", without outlining the demands.
Formed in a merger of al-Qaeda's Yemen and Saudi branches, AQAP has attacked both Houthi and government targets in Yemen, as well as foreigners. It also has been accused of plotting violence beyond the Middle East.
Yemen's UN-brokered ceasefire has drastically reduced fighting since the truce began in April, but outbreaks of violence continue.
Last week, 10 Yemeni soldiers were killed in a Houthi attack near Taez, which has been blockaded by the Iran-backed group since 2015.
The assault, which left several soldiers wounded, was aimed at cutting off a key route to the southwestern city of about two million, the government said.
On Thursday, the Houthis held a military parade in the Red Sea port city of al-Hodeidah, drawing a rebuke from the UN.