ADEN -- Human rights activists inside and outside Yemen continue to stress the importance of protecting Yemeni children from the effects of armed conflict, in partnership with United Nations (UN) initiatives.
The Yemeni government has taken steps to protect children from the effects of war that include awareness campaigns on traditional and social media, Yemeni ambassador to the UN Abdullah Ali Fadhel al-Saadi said July 20.
These measures have been taken in accordance with the government's commitment to partner with the UN, he said, and to continue providing care and protection for child victims of the conflict in Yemen.
Yemen's legitimate government will provide support and assistance to minors affected by the war, especially on an emergency basis, he said, and will continue to train government officials on methods of child protection.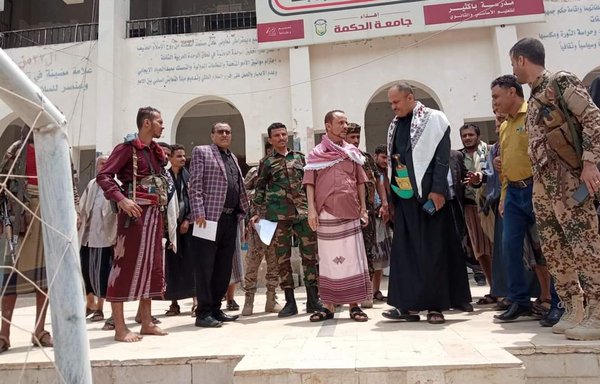 In Yemen's statement to the UN Security Council, al-Saadi said the government has implemented a training programme for officers and soldiers to protect children amid conflict.
The programme started with seven officers and has expanded, with 203 officers in various military zones receiving the training, he said.
The government also launched the "Action for Protecting Children" campaign in Aden in May, al-Saadi said.
He noted that in the 2021 UN secretary-general's report on children and armed conflict, the Yemeni government's name was removed from the list of parties involved in grave violation of children's rights.
This shows that Yemen is making efforts to protect children, in accordance with the joint action plan it signed with the UN in 2014, which aimed to put an end to the Yemeni forces' recruitment of children, he said.
In 2017, Yemen ratified the Safe Schools Declaration to prevent the use of schools for military purposes and to protect them from effects of conflict, he said.
Raising awareness
Deputy Minister of Legal Affairs and Human Rights Nabil Abdel Hafeez said the government is working to protect children by carrying out awareness campaigns via local media, in co-ordination with the Ministry of Information and Culture.
Campaign messages will be broadcast on television and radio and circulated on social media to raise awareness about the danger of child recruitment.
To raise public awareness of the need to protect children, civil society organisations in government-controlled provinces are holding seminars and training courses, as well as distributing leaflets, he told Al-Mashareq.
Yemen's armed forces were removed from the list of violators of children's rights thanks to the government's efforts to curb child recruitment and protect minors according to international conventions, Abdul Hafeez said.
The Yemeni government has committed to protecting children in partnership with the UN within the framework of a broader project.
Government officials have visited 80 military sites in areas under the control of the legitimate government to verify that there are no children in military and security facilities, he said.
As for child soldiers captured on the battlefields, Abdul Hafeez said, the government has "worked to protect them and send them to psychological rehabilitation courses to erase the Houthis' teachings from their minds".
Protecting children
Lawyer and human rights activist Abdul Rahman Berman told Al-Mashareq he hopes the Yemeni government will take measures to protect children from the devastating effects of the conflict.
It must harness all its institutions and capabilities, as well as the support of the international community, to help children overcome the effects of war, he said.
Continued, diligent efforts to keep children away from military recruitment will keep the Yemeni forces off the list of child rights violators and put an end to these violations, he said, which include occupying, closing or destroying schools.
The consequences of recruiting children include "creating a generation that has an urge to fight, a generation that knows nothing but guns and the smell of gunpowder, a generation that knows nothing but the colour of blood", he said.
The Iran-backed Houthis have committed the majority of violations against children in Yemen, mostly through child recruitment, said Action for Human Rights and Refugees director Laila Khalil.
"The Houthi militia has devoted field teams in its areas of control to recruit children and deploy them to the fronts through summer camps and sectarian courses," she told Al-Mashareq.
These child recruits are used "as a means to implement Iran's agenda and interests in the region", she told Al-Mashareq.
The danger of recruiting children is "in preparing them to become time bombs in line with the brainwashing they were subjected to, after which they turn into monsters walking on earth", Khalil said.