ADEN -- There has been an uptick in terror attacks in government-controlled areas of Yemen in recent weeks, which some officials and experts blame on the covert co-operation between al-Qaeda and the Iran-backed Houthis.
The formation in May of a military committee to unify the work of security forces and the army concerned the Houthis and terror groups, they said, suggesting these groups have stepped up their attacks in response.
At least seven people were killed by a June 29 car bomb targeting the convoy of Lahj province security director Saleh al-Sayed in the city of Aden, AFP reported.
Al-Sayed survived the assassination attempt, but at least four soldiers and three civilians were killed. No group claimed responsibility.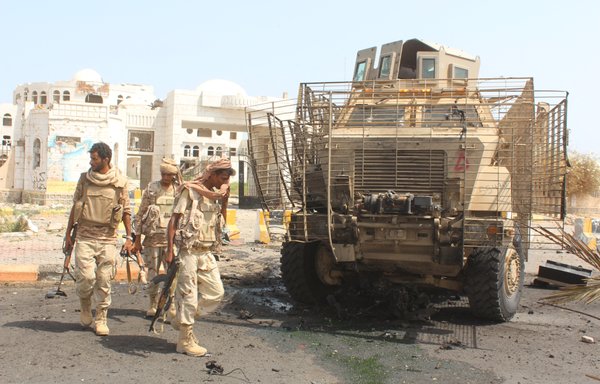 A Yemeni journalist was killed earlier in June when a bomb detonated in his car in Aden.
On June 22, al-Qaeda in the Arabian Peninsula (AQAP) elements attacked a checkpoint in Shabwa province near Ataq. Five Yemeni soldiers were killed and seven others were wounded in the attack.
In a separate attack the same day in the neighbouring province of Abyan, AQAP elements ambushed security forces on patrol in Ahwar district, killing three on the scene and later executing two soldiers they had captured.
On July 2, units of the anti-terror forces in Abyan province, led by Col. Abdul Rahman al-Shenini, launched a large-scale military operation against AQAP.
The campaign targeted a number of valleys in the Abyan delta region, in response to reports that AQAP elements were present in the area.
Al-Shenini said the campaign will continue until security is fully established in the province.
New military committee
Yemeni Prime Minister Moeen Abdulmalik met with security leaders on July 3 issuing directives to increase the readiness of security forces in Aden and the government-controlled provinces.
He stressed the need to confront terrorist plots and step up intelligence efforts to thwart any plans before they are carried out.
He also pointed to "the mutual assistance between the Houthis and terrorist groups, who will try by all means and methods to target the security and stability of Aden" and provinces under government control.
"The presence of disparate security and army units [in government-controlled areas] makes the situation ripe for al-Qaeda and other terrorist groups to carry out terror attacks," said political analyst Mahmoud al-Taher.
Al-Taher said it is highly likely that the Houthis would co-operate with terror groups to carry out attacks, "especially after the Houthis released al-Qaeda prisoners from prisons under their control".
On May 30, the Presidential Command Council announced it has formed a high-ranking military committee to restructure the army and security forces in a step aimed at maintaining peace and security in Yemen.
The committee, headed by Maj. Gen. Haitham Qassem Taher, comprises 59 security and military leaders.
The committee will "adopt policies prohibiting the emergence of armed conflicts throughout Yemen, taking necessary steps to realise the integration of armed forces under unified leadership in accordance with the rule of law, and ending all armed conflicts", the council said in a statement.
The council's efforts to unify the army and security forces have "struck fear in both the Houthis and terrorist groups", al-Taher said.
Attacks serve Iran's interests
The Houthis' co-operation with al-Qaeda "is sponsored by Iran and serves its interest in destabilising the security of the cities under legitimate government control", said Abaad Centre for Strategic Studies head Abdul Salam Mohammed.
Iran has become "a global hub for directing terrorist groups to carry out terror attacks, especially after the exposure of its role in supporting al-Qaeda", he said.
Iran has provided al-Qaeda with support, housing and other types of assistance since the group's leaders sought refuge there in 2001.
A report the Yemeni government submitted to the United Nations Security Council in 2018 included information on the Houthis' release of 252 al-Qaeda leaders from its prisons in 2018.
Among them was Jamal al-Badawi, the Yemeni al-Qaeda mastermind of the 2000 attack on the USS Cole that left 17 US servicemen dead. Al-Badawi was killed in a January 2019 air strike in Yemen.
The return of terror attacks in Aden and other government-controlled provinces "stems from the Iran-sponsored co-operation between the Houthis and al-Qaeda", political analyst Faisal Ahmed said.