ADEN -- The governor of the southern Yemen province of Shabwa has vowed to confront "the forces of terrorism" following a deadly Wednesday (June 22) al-Qaeda in the Arabian Peninsula (AQAP) attack on a checkpoint near Ataq.
Five Yemeni soldiers were killed and seven others were wounded in the attack near the provincial capital, which serves as the gateway to Shabwa.
In a separate attack in the neighbouring province of Abyan, AQAP elements ambushed security forces on patrol in Ahwar district, killing three on the scene and later executing two soldiers they had captured.
As he inspected the checkpoint near Ataq on Wednesday, after the incident, Shabwa governor Awad bin al-Wazir al-Awlaqi vowed a decisive response and pledged to bring the perpetrators to justice.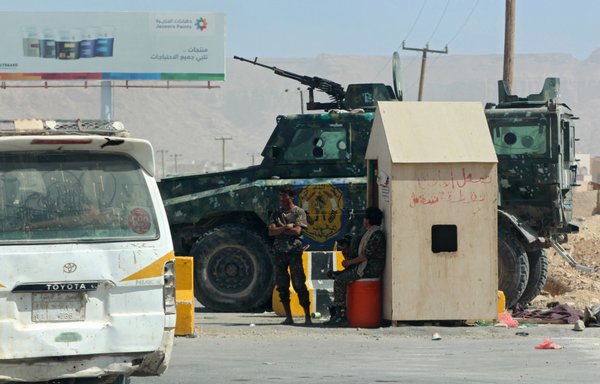 "Cowardly terrorist operations won't dissuade the security agencies from carrying out their missions to counter terrorism, confront extremism and violence, and disrupt efforts to establish security and stability," he said.
During a phone call with the governor and the security chief, Abdallah al-Alimi, a member of the newly formed Presidential Command Council, urged Shabwa residents to support the local authorities and security agencies.
He encouraged them to stand united to protect national achievements and gains and to support security, stability and development in the province, while calling on security agencies to enhance co-ordination and share intelligence.
"These terrorist acts will make the people of Shabwa only more united and steadfast," al-Alimi said.
'Cowardly terrorist act'
The Shabwa checkpoint attack was "a cowardly terrorist act", said Yemeni Deputy Minister of Legal Affairs and Human Rights Nabil Abdul Hafeez, noting that the perpetrators were incapable of confronting military forces directly.
"Terrorists have exploited the critical security situation in our country to target the soldiers, taking advantage of the armed conflict between the national army and the Houthis," he said.
"Terrorist groups are operating as part of foreign terrorist organisations such as al-Qaeda and the 'Islamic State of Iraq and Syria' (ISIS), which have been shown to have ties with the Houthis," he added.
He called on security forces to be on heightened alert to ensure that terrorist attacks like this, which "sadden all the people of Yemen", are not repeated.
Earlier this month, local media reported deployments of AQAP fighters in Shabwa's Bayhan and Usaylan districts, and in Yafaa in Lahj province.
Political analyst Faisal Ahmed said the recent AQAP deployments and attacks appear to be part of a bid to gain control of Shabwa's oil and gas fields.
Local sources in Shabwa said hundreds of extremist elements in dozens of military vehicles recently took part in a military parade in Bayhan and Usaylan districts near the oil fields, Yemen's Al-Masaa Press reported.
Escalating attacks
In early June, presumed AQAP militants abducted and executed a Security Belt Forces logistics officer in Abyan province, Reliefweb reported.
In late May, five soldiers were killed and several others were wounded in two separate attacks targeting Shabwa Defence Forces.
The first attack took place in Jawl al-Rida, Mayfaa district, while the other was carried out on the public road in al-Soda, east of Ataq, sources said.
There has been a resurgence in terror attacks in some parts of Yemen since the Houthis released many ISIS and al-Qaeda elements from prison, Abaad Centre for Strategic Studies head Abdul Salam Mohammed told Al-Mashareq.
This is part of an Iranian strategy to undermine security in these areas and weaken them, he said, adding that unfortunately, "Teheran has become a global centre for directing terrorist groups."
Mohammed said he does not rule out the possibility that the attacks in Abyan and Shabwa are part of the Houthis' strategy to target government-controlled areas, taking advantage of the truce.