Bashar al-Assad's regime is actively helping Russia and Iran recruit mercenaries in Syria to fight in battles outside their homeland, preying on their extreme vulnerability, sources in Syria said.
After reeling in new recruits -- many of whom have few options in Syria -- with promises of a regular salary and providing them with rudimentary training, Russia and Iran ship them off to conflict zones in Yemen and Ukraine.
Syrian mercenaries began to flow into Ukraine to fight alongside Russian forces shortly after Russia invaded Ukraine on February 24.
Their training and transportation are handled by Russian forces stationed in Syria and two security companies with ties to Russia: the Wagner Group and al-Sayyad for Guarding and Protection Services.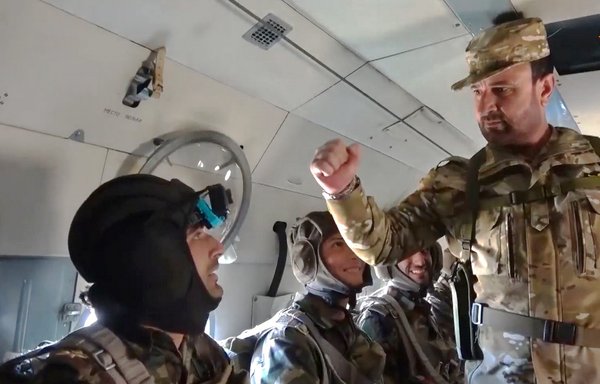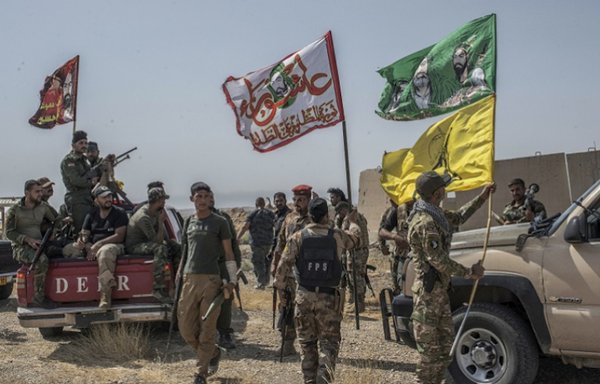 In March and April, sources from the Syrians for Truth and Justice organisation told Al-Mashareq, 500 mercenaries were recruited in Syria to take part in the war in Ukraine on the side of Russia.
The new recruits were transferred to Ukraine in small units, each comprising 25 fighters, through the Russian-controlled Hmeimim air base in Latakia province.
The Syrian regime's security services helped Russian forces identify Syrian volunteers with experience in urban combat who had previously fought in Syrian militia groups or armed forces under the supervision of Russian officers.
Russian recruitment in Syria
Elements of the Syrian regime's Russia-backed 25th Special Mission Forces Division (Suhail al-Nimr) and the 8th Brigade, a subdivision of the 5th Corps, have joined the fight in Ukraine, Syrians for Truth and Justice sources said.
They departed for the eastern front, where fierce battles have been raging, after taking a two-week military training course given by Russian officers.
Russian President Vladimir Putin had on March 11 green-lighted the participation of thousands of mercenaries from the Middle East in the fight against Ukraine.
According to Russian Defence Minister Sergei Shoigu, "16,000 volunteers in the Middle East are ready to fight" with Russian forces in eastern Ukraine.
The Syrian Observatory for Human Rights said Russia had previously prepared lists of more than 40,000 veterans of the Syrian regime's army and allied militias to be on standby to fight alongside Russian forces in Ukraine.
Syrian opposition media had previously estimated the number of Syrian mercenaries who offered to join the fight with the Russians at about 2,500, saying that the number could reach 4,000.
These outlets reported that some elements from the Syrian regime's Russia-backed 4th and 5th Corps had undergone retraining at the Tiyas (T-4) military air base in rural Homs in preparation to be thrust into the war.
The Syrians for Truth and Justice organisation, which recorded testimonies and interviews with relatives of fighters who were sent to Ukraine, said money plays a major role in the recruitment process.
Many Syrians who sign up to become mercenaries are in desperate need of salaries, but Russia's track record of payment has been unreliable by some accounts and is likely to be even more so going forward, sources said.
Some Syrians who had been fighting with Russian mercenary groups in Libya were transferred back to their homeland ahead of their transfer to Ukraine, the organisation said.
According to some reports, about 50 Syrian experts in the manufacture of the regime's notorious barrel bombs arrived in Russia weeks ago and are working alongside Russian military officials.
IRGC recruitment efforts
Meanwhile, Iran has begun its own recruitment efforts in Syria -- rounding up mercenaries to send to Yemen to fight in support of the Houthis.
Nedaa Post on April 18 reported that a new Iranian recruitment campaign is under way in Syria, under the supervision of Iranian commander Javad Muhammad-Gholam Diani, known as Hajj Diani.
The campaign reportedly seeks to recruit about 200 Syrians from the border town of Albu Kamal on a three-year contract to fight alongside the Houthis.
"Russia and Iran are jointly destroying the Syrian people by recruiting their youth into the ranks of their militias and using them as fuel in external conflicts," said Syrian Tribal Council spokesman Sheikh Mudar al-Assaad.
"The Islamic Revolutionary Guard Corps (IRGC) is still luring some Syrians with money and giving detainees in the Syrian regime's prisons a choice between staying in prison and joining its militias," he told Al-Mashareq.
Al-Assaad noted that a large number of youth from the Euphrates Basin, Deir Ezzor, al-Raqa, al-Shamiya, the Syrian coast and southern Damascus have joined IRGC militias through "either coercion or financial enticement".
"The Iranians have transferred many of these people to Yemen, Iraq and even Afghanistan and some African countries to join some of their other militias," he said, such as the Houthis, Lebanese Hizbullah and Iraqi militias.