Millions of dollars were transferred from Iran's embassy in Baghdad to accounts belonging to the Islamic Revolutionary Guard Corps (IRGC) in transactions that violate diplomatic norms, according to various media reports.
Some 60 billion IQD ($40 million) was channeled to the IRGC's Quds Force (IRGC-QF), which is responsible for the IRGC's extraterritorial activity, Saudi daily Okaz said in a May 27 report.
The money was transferred through accounts in Iraqi banks held by the Iranian embassy in Baghdad and two Iranian energy companies: Tavanir (Iran's Power Generation, Distribution and Transmission Company) and MAFNA (Iranian Power Plant Processes Management Co.).
Over the past two years, Okaz reported, Iranian ambassador to Iraq Iraj Masjedi, who was replaced in April, withdrew large sums of money from the accounts of the two Iranian companies.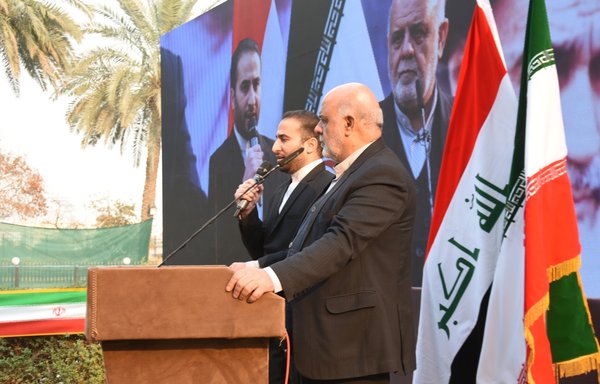 He then placed these funds in the Iranian embassy's account in the Commercial Bank of Iraq, the report said.
The transfers were done under the guise of financing normal embassy activities but were actually intended to support the IRGC-QF, according to Okaz.
Earlier this year, on February 17, the Saudi al-Hadath TV channel quoted unnamed sources as saying that the IRGC-QF had obtained $10 billion from Iran's embassy in Baghdad.
The available funds are part of Iraq's payment of its accumulated debt to Iran for purchasing electricity and gas from Iranian energy companies.
Baghdad largely relies on Iranian gas to operate its power plants, with Iran responsible for a minimum of 30% of Iraq's energy.
Breach of diplomatic norms
Rather than directing funds from Iraq's debt repayment to help Iranians overcome the colossal economic challenges they face, the Iranian regime is using the sums to pursue its expansionist regional policies, observers said.
They accuse Tehran of manipulating the Iraqi banking system to circumvent international efforts to track the IRGC's interests and assets using front companies.
They also accuse Tehran of evading responsibility for its direct involvement in the financing of regional militias.
Al-Nahrain University politics professor Qahtan al-Khafaji told Al-Mashareq Iran's embassy in Baghdad frequently ignores diplomatic norms.
"The embassy staff hold meetings with Iraqi forces, militia leaders and political figures, and interfere in sovereign issues," he said.
The Iranian embassy in Baghdad is reportedly defrauding Iraqi banks in order to support the IRGC-QF and its militias to continue activities that are detrimental to the security of Iraq and the region, al-Khafaji noted.
"Iranian diplomatic missions have a subversive role, as they are considered nothing but fronts that support the IRGC," he said, accusing Iran of "feeding off the wealth of corrupt Iraqi politicians and militia leaders".
These corrupt politicians and warlords "steal Iraqis' money and run banks, companies, commercial centres and fictitious enterprises to launder money obtained from illicit trade and illegal activities", he said.
Ongoing investigation
Iraqi and international authorities have been investigating accusations against the Iranian embassy in Baghdad for several months, observers said.
They reportedly have uncovered the identities of embassy staff who helped Masjedi transfer funds to the IRGC-QF, taking advantage of their diplomatic cover.
Those involved may include senior Iranian officials, including former foreign minister Javad Zarif and former Central Bank of Iran (CBI) governor Abdolnaser Hemmati, as well as energy company officials.
Sources say a complete file is being prepared by investigating bodies, which will be submitted to the Iraqi judiciary for further action in order to protect Iraq's national security and the reputation and security of its banking system.
"Officials are facing a serious test, in light of the pressure and extensive influence exercised by Iran-allied forces to obstruct investigations into many corruption cases, let alone a case that involves Iranian officials," al-Khafaji said.