QALAAT JAABAR, Syria -- An ancient fortress once used by the "Islamic State of Iraq and Syria" (ISIS) to launch attacks is slowly regaining its status as a key cultural destination, attracting visitors from across war-torn Syria.
Families posed for pictures under the hot June sun, some perched on an ancient brick wall overlooking the banks of Lake Assad, a man-made reservoir in northern Syria's al-Raqa province.
Abdullah al-Jaber was visiting Qalaat Jaabar with his children for the first time even though they live less than an hour away by car.
He said he would often show them photographs of his childhood trips to the citadel in the hope that they would one day visit it together.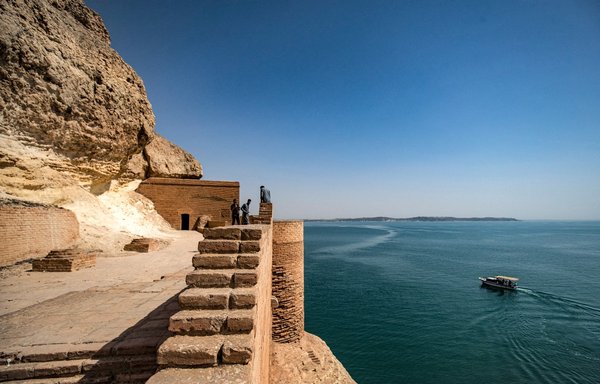 "Their dream was to see Qalaat Jaabar," the 41-year-old said with a smile.
"Today I brought them here to see it."
The Islamic-era landmark has attracted a growing number of visitors since the start of summer as security has improved in recent years.
The historic fortified site dates back to the Seljuk and Mamluk periods and is considered one of Syria's most pre-eminent fortresses.
The fortress became an island when Lake Assad was formed in 1974 by the completion of al-Tabqa dam on the Euphrates River.
Connected to the mainland by a thin causeway, the fortress has 35 bridges and a mosque. It used to house a museum with dozens of artefacts, but that was ransacked by ISIS.
Legacy of violence
Qalaat Jaabar lies around 50km from al-Raqa city, which once served as the de facto Syrian capital of ISIS's self-proclaimed "caliphate" -- a swath of territory it controlled in Iraq and Syria.
The site overlooked ISIS's largest Syrian prison, and was a strategic spot the extremist group used to launch attacks and monitor movements around the detention facility.
In January 2017, the Syrian Democratic Forces (SDF), backed by international coalition warplanes, recaptured the fortress from ISIS, who had ruled over the area since 2014.
The advance on the fortress followed violent clashes between ISIS and the SDF, with casualties on both sides, the Syrian Observatory for Human Rights said at the time.
It also followed clashes on the northern banks of the Euphrates near al-Tabqa dam, as ISIS transferred its prisoners out of al-Tabqa in preparation for defeat.
In May 2017, the SDF wrested control of the dam from ISIS after weeks of fierce fighting, during which the extremists mounted attacks using car bombs, snipers and weaponised drones.
The liberation operation progressed slowly as ISIS had been using civilians as human shields, and when the SDF gained control of the dam, they found the group had mined the area with explosives.
Syrian farmers had said they were terrified that while ISIS was in control of al-Tabqa dam, it would blow it up to defend its stronghold of al-Raqa, flooding their villages in the process.
Syrian visitors return
On the outskirts of the citadel, ISIS once "dug up trenches to train child soldiers", said al-Raqa resident Mohammad, 45, who asked to use a pseudonym due to security concerns.
"Residents were banned from visiting because it was a military area... but now it is recovering," he said.
Boat rides and picnics on Lake Assad's sandy shores now have helped turn the citadel back into a popular destination for families.
Radwan Kahawati said he came all the way from the coastal city of Latakia, a five-hour drive by car, to visit Qalaat Jaabar with his family.
"We came here for tourism and for a change of scene," he said.
"My daughter told me: 'take us to Jaabar,' because she learnt about it at school."
After the ISIS occupation, local volunteer groups comprising both Arabs and Kurds stepped in immediately to help the SDF remove debris left by the battles.
The co-operation among local residents demonstrated that rumours spread by ISIS that aimed at sowing discord between them have failed, SDF officer Farhad Khoja said in May 2017, after the dam's recapture.
"The main and common goal was to get rid of ISIS, and that has happened," he said.