ADEN -- Yemeni journalists and activists have launched a social media campaign to warn parents against sending their children to Houthi-run summer camps.
The campaign, which kicked off May 10 and uses the hashtag #Terrorism_production_camps, seeks to educate parents about the dangers of Houthi summer camps for children and for the future of Yemen.
In previous years, campaign organisers said, the Houthis have used the camps to indoctrinate children and groom them as fighters, furthering a political and military agenda pursued by their backer, Iran.
The campaign comes in response to the Houthis' call for parents to enroll their children in the camps, which the group's supreme committee for summer camps opened May 9 in the areas under the group's control.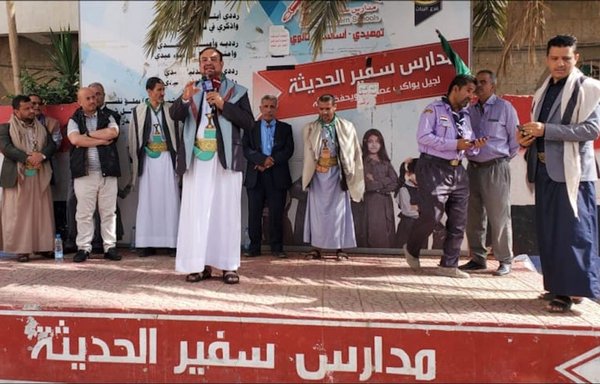 A number of activists and journalists joined the effort, which has met with "a tremendous response" on Twitter, said campaign organiser Fahmi al-Zubairi, director general of the human rights office in the Sanaa administrative district.
The campaign's coverage on satellite TV channels helped it reach parents in areas under Houthi control, he said, in addition to raising international awareness about the group's crimes against children.
In a May 14 statement, Yemeni Minister of Information Muammar al-Eryani called on parents to protect their children.
Many parents are reluctant to enroll their children in Houthi summer camps, al-Zubairi said, as they are aware of the potential catastrophic consequences.
A smaller percentage of the population does push its children to attend the camps, he said, but most are either members of the group or acting in ignorance or fear of retribution.
An effective deterrent
Al-Zubairi said tweets posted by journalists, human rights activists, government ministers and religious scholars have been effective in educating parents about the dangers to which their children might be exposed if they take part in the camps.
"In April, the Houthis signed an agreement with the United Nations (UN), which aims to prevent the recruitment of children in war and protect educational facilities," journalist and political analyst Mahmoud al-Taher told Al-Mashareq.
Yet "today, the Houthis are launching a massive campaign to recruit children in the areas under their control through summer camps and prepare them to be pushed to the battlefronts", he said.
Journalist Abdullah Ismail said the social media campaign "is a means of raising awareness about the summer camps".
He accused the Houthis of using the camps to produce terrorists and to undermine Yemeni society and the country's cultural identity.
"The Houthis view our children as firewood," he said, and as fuel for their war, "which goes beyond Yemen and threatens the region and the world".
Unlike previous years, fewer than 20,000 students are enrolled in summer camps in Houthi-controlled areas, human rights activist Abdo al-Hudhaifi said.
This is largely thanks to social media campaigns against the camps, he said.