CAIRO -- Five Egyptian soldiers were killed and two were wounded Wednesday (May 11) when extremists staged an attack in the vicinity of a security checkpoint in Sinai, in the second such deadly attack in days, the military said.
There was no immediate claim of responsibility.
Egyptian forces killed seven extremists at dawn the same day in an air raid on their hideout, an army spokesman said, and confiscated weapons including automatic guns, ammunition, hand grenades and wireless devices.
The latest violence comes as the army conducts a "comprehensive operation" in the aftermath of an attack Saturday at a western Sinai water pumping station in which 11 Egyptian soldiers lost their lives, Ahram Online reported.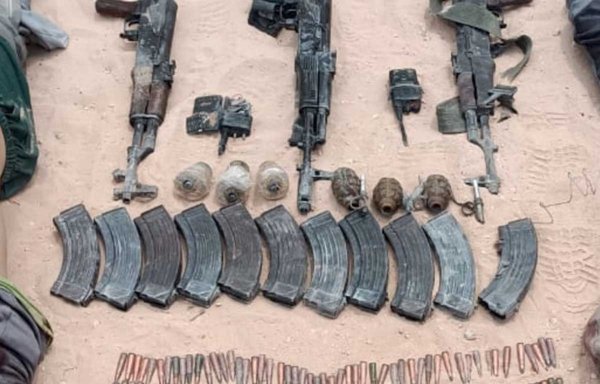 The "Islamic State of Iraq and Syria" (ISIS) claimed that attack, which was the first major attack of its kind in 2022, and the heaviest loss of life the army had suffered in years in its long-running campaign against the extremists.
The security operation is being conducted in "the isolated areas adjacent to the national border", the military said in a statement.
The army and police in February 2018 launched a vast counter-terror operation in Sinai against ISIS. Security forces also have fought extremists in Egypt's Western Desert, between the Nile valley and the border with Libya.
President Abdel Fattah al-Sisi this week directed the armed forces to continue their crackdown on extremists.
US-Egypt strategic partnership
Al-Sisi Wednesday met with US national security adviser Jake Sullivan and National Security Council co-ordinator for the Middle East and North Africa Brett McGurk to discuss "a broad range of global and regional security challenges".
On Monday in Cairo, al-Sisi discussed security matters with the head of US Central Command (CENTCOM), Maj. Gen. Michael E. Kurilla, during the first stop of Kurilla's regional tour since he took charge of CENTCOM in April, the Egyptian presidency said.
The two reiterated their commitment to the US-Egypt strategic partnership and discussed "boosting and upgrading military and security co-operation" and co-operation in counter-terrorism and border security operations.
They also agreed to continue consultation and co-ordination concerning issues of joint interest in the Red Sea, according to Ahram Online.
The United States stands in full solidarity with Egypt in its efforts to fight terrorism, emphasised Kurilla.
He also noted Egypt's pivotal role in maintaining peace and security in the Middle East and North Africa (MENA).
"I walked away with a new appreciation for Egypt's prominent role in the Middle East," said Kurilla, who also met with Egyptian armed forces commander Gen. Mohamed Zaki and armed forces chief of staff Lt. Gen. Osama Askar.
Anti-ISIS coalition meets
Separately, the international coalition against ISIS met Wednesday in Marrakesh, Morocco, to co-ordinate efforts to prevent an extremist revival in MENA.
Senior officials from dozens of countries attended the coalition's first yearly ministerial summit on African soil.
The threat posed by ISIS has "not diminished", said Moroccan Foreign Minister Nasser Bourita, adding that the coalition seeks to raise $700 million for "stabilisation activities" in parts of Iraq and Syria formerly held by the group.
The discussions covered "stabilisation efforts in areas previously impacted by ISIS", strategic communication against the group's "radicalisation propaganda" and the battle against foreign fighters, the Moroccan foreign ministry said.
ISIS still poses a worldwide threat despite its loss of a territorial base, officials have long warned.