As more evidence emerges of the scale of involvement of Russia-backed mercenaries in the war in Ukraine, many are wondering how Moscow will provide for these fighters in light of how poorly Russian troops have been supplied in Ukraine.
Up to 20,000 mercenaries from the Wagner Group, a Russian private military company (PMC), as well as from Syria and Libya, are fighting alongside Moscow's forces in Ukraine, a European official estimated last week.
Last month, Syrian activists reported how Russia and its allies had reactivated the recruitment offices they used to sign up Syrian mercenaries to fight in Libya to gin up support for the Russian invasion of Ukraine.
And in February, before Russia invaded, an unprecedented number of Kremlin-backed mercenaries were seen withdrawing from hotspots in Africa and heading back to Syria and Eastern Europe.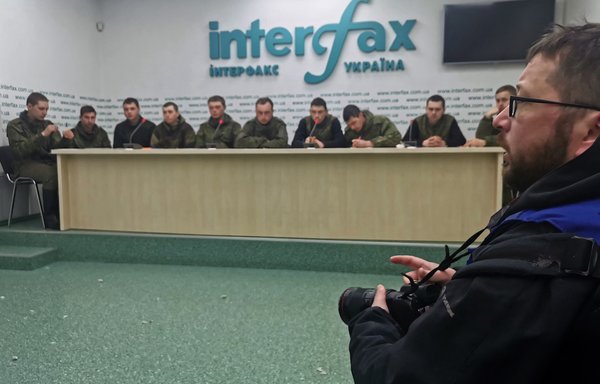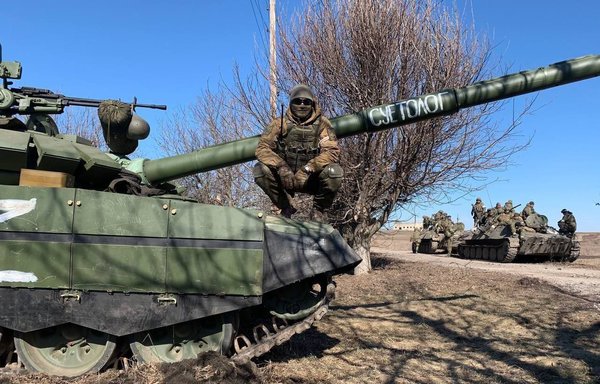 Secret messages intercepted in early April by Germany's foreign-intelligence service confirmed that Wagner mercenaries played a leading role in the massacre in Bucha, Ukraine, where more than 400 civilians were found executed.
These mercenaries are thought to now form a key part of the Kremlin's campaign against eastern Ukraine, following Russia's change of strategy in light of the major defeats it suffered in major Ukrainian urban areas.
Wagner mercenaries first deployed to Ukraine in 2014, when Russia annexed Crimea. In subsequent years, they have been involved in conflicts around the world, including in Syria, Mozambique, Sudan, Venezuela, Libya, the Central African Republic (CAR), Chad and Mali.
Hungry, poorly equipped Russian troops
While all these mercenaries converge on Ukraine, evidence is piling up of regular Russian troops not being properly supplied, fed or led.
Estimates vary on Russian casualties, but Ukraine's Defence Ministry on Monday (April 25) said its forces had killed about 21,900 Russian troops so far.
Analysts who study the Russian military say they are astonished by the mismanagement of the offensive.
Invading columns have stalled for lack of fuel and other supplies, hundreds of Russian armoured vehicles apparently have been lost, and the outmanned and outgunned Ukrainians have prevented the Kremlin's air force from controlling the skies.
Hungry Russian troops have abandoned their units and have been filmed looting grocery stores and stealing chickens from farms.
The war in Ukraine has revealed how much the international community overestimated Russian capabilities, said Yuri Poyta, a Kyiv, Ukraine, resident and head of the Asia-Pacific Section of the Centre for Army, Conversion and Disarmament Studies.
He pointed to the backwardness of Russian weapons, the unprofessionalism of officers and outdated Soviet approaches to military command-and-control, which are based on strictly vertical subordination.
"We also see poor co-ordination among different military forces, as well as the Russian military-industrial complex's enormous dependence on Western components, and the concomitant inability to set up a closed production cycle," Poyta said.
Broken promises to mercenaries
All this has led observers to wonder how the Kremlin will be able to provide for mercenaries when it cannot even support its own army.
Mercenaries in Syria already know the answer: the Kremlin does not pay them.
Syrians are tempted by "the lucrative salaries [supposedly] paid in dollars by the Russian security companies through intermediaries in the recruitment offices spread out in the regime's areas of influence", said Ibrahim, a 32-year-old Syrian who was recruited in Aleppo in 2020 to fight for the Russians in Libya.
Yet many received just a fraction of what the recruiters promised them.
Given Russia's isolation from the global financial system as a consequence of its aggression in Ukraine, it probably will be unable to keep paying them, observers said.
The country is expected to suffer an 11.2% drop in GDP this year due to sanctions that the global community imposed on it in response to the invasion, the World Bank estimated earlier in April.
Russia's economy, the world's 11th largest in 2020, might be 15th by the end of 2022, former Goldman Sachs economist Jim O'Neill estimated in March, according to Reuters.
Russia was unable to pay mercenaries fighting in Ukraine any of their wages for March, the Ukrainian Defence Ministry Main Directorate of Intelligence said on Facebook March 25.
As a result, cases of mercenaries refusing to go to Ukraine were on the rise, it said.
Evidence suggests that candidates are wary of being tricked, an investigation by New Lines Magazine revealed in December.
"They might earn their promised pay in the first few months before their salaries either stop coming in or are less than before. These are the occupational hazards, apart from death, of joining a [PMC] in Russia," the magazine said.
"Money is an illusion for them," an official from the Moldovan Security and Intelligence Service told New Lines. "They think they will sign up, go fight, earn money and support their families ... when the reality sets in and they realise they are not being paid as promised, they start wanting to come home."
Exploitative Russian recruiters robbed many Syrians who had been deployed, sometimes forcibly, in war zones like Libya and Nagorno-Karabakh of their wages, pushing many of these young men to commit crimes to survive, revealed an investigative report last year.
The report details how many of the fighters sent to Libya or Nagorno-Karabakh had little choice in the matter and received only a fraction of the money that their recruiters promised them.
Stranding unpaid participants in a covert operation in a foreign war zone was a recipe for crime, said Mohammad al-Abdallah, executive director of the Syria Justice and Accountability Centre.
"The reduction of wages pushed the fighters -- who consider themselves above the law -- to engage in more criminal activities," he told AFP in 2021.
Syrian mercenaries committed burglaries, sex trafficking and kidnappings in Libya, said al-Abdallah.
The recruitment of mercenaries has also had negative effects on women and children left behind in Syria, the report added.
Most mercenaries' families found only "greater economic precarity and social dislocation in their households".
Wagner Group families left high and dry
All this is bad news for the families of Wagner mercenaries who have been told they would be taken care of if their husbands or sons were killed or injured in battle.
One bereaved Russian, Olga Markelova, called on the Kremlin to take responsibility for the deaths of mercenaries on secret foreign missions, Reuters reported in February 2019. Her ex-husband, Dmitry, a Wagner mercenary, was killed in Syria in January 2017.
In 2019, the family of a Russian serviceman who died in combat was eligible for a one-time government payment of 3 million RUB ($38,860) and another 14,000 RUB ($181) monthly.
However, authorities said that Markelova was not entitled to social payments, since Dmitry was in Syria as part of a private -- rather than an official -- mission, according to Reuters.
The Wagner Group's separate death benefit went to a blood relative of her ex-husband because he and Markelova were divorced.
Often the families never learned how the men perished -- or even where, exactly.
Evgeny Antipov, from Odesa, Ukraine, was killed somewhere near Homs, Syria, on June 9, 2017, a day on which at least four other Wagner mercenaries were killed there.
His mother, Svetlana, received the news of her son's death more than a month later. She was working at the time in Poland but was allowed just 24 hours to visit his grave in Rostov-on-Don, Russia, she told New Lines.
"If you want to remain on good terms with us, don't ask us any questions," she said she was told. If she kept asking questions, she was told, she would never be able to visit her son's grave again.
Meanwhile, his father, Yuri, said nobody had offered him any compensation for his only child's death.
He called it "blood money" and said he would not accept it in any case, according to the magazine.
"I only want information on my son, how he ended up there," Yuri said.