The Islamic Revolutionary Guard Corps (IRGC) wields an outsized influence in Iran, claiming the lion's share of the country's budget and proceeds from the illicit sale of oil, which has continued even under sanctions, experts said.
It dominates major sectors of the Iranian economy, with controlling interests in the oil, telecommunications, transportation, ports and shipping, customs, export and import industries as well as in industrial and agricultural sectors.
This has fueled resentment inside Iran, which is facing an acute economic crisis as the IRGC fills its own coffers and bankrolls its regional affiliates, and has sparked popular protests, which the IRGC has helped to suppress.
Experts warn there is no way to break this cycle and achieve economic reforms in Iran without the participation of the IRGC. Yet the IRGC is profiting from the situation and has no incentive to change its ways, and so the cycle continues.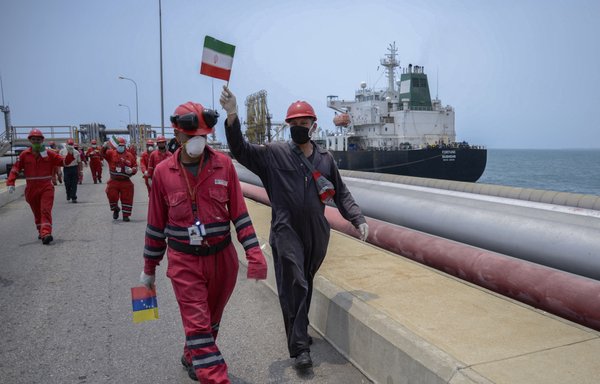 Per recent reports, Iran is exporting up to one million barrels per day (BPD) of its oil, while overall oil production has been restored to the pre-sanctions level of 3.8 million BPD, AFP reported.
"The IRGC is playing a major role in oil sales and using the revenue to repress Iranian dissent," said business expert and Iran analyst Farbod Dabirsiyaghi.
Oil revenue also is used to purchase military equipment and fund IRGC proxies such as Lebanese Hizbullah, allied Iraqi militias and the Houthis in Yemen, he told Al-Mashareq.
Deceptive practices
Some oil is delivered on Iran-flagged ships by companies under US sanctions, including the National Iranian Oil Company (NIOC) and the National Iranian Tanker Company (NITC), which is affiliated with the IRGC.
Iran has employed other strategies as well, in its efforts to sell oil and dodge the sanctions that have targeted its petroleum industry and the IRGC and its affiliated companies.
These include the use of vessels that operate under the flags of other countries, ship-to-ship cargo transfers in open water and attempts to conceal oil exports, according to numerous reports.
Other deceptive practices include tampering with or deactivating a ship's automatic identification system (AIS) -- a collision avoidance system that continuously transmits a vessel's location at sea -- so its route "goes dark".
Tanker tracking companies say China is the destination of most of those shipments, Reuters reported.
The Iranian regime also has made oil deliveries to Syria and Venezuela.
"The increase in Tehran's oil exports came after the US Treasury announced in August that it has sanctioned a network of intermediaries selling Iranian oil," Dabirsiyaghi told Al-Mashareq.
The sanctions targeted members of an international oil smuggling network that has provided support for the IRGC Quds Force (IRGC-QF), the Treasury said.
In October 2020, the United States imposed sanctions on a number of Iranian officials and institutions within the oil industry, including the NITC and NIOC.
The US Treasury said the sanctions aimed to increase pressure on sections of the Islamic Republic that have had a key role in supporting the IRGC-QF.
Economic dominance
In a recent report, UK-based Chatham House said that although Iranian president Ebrahim Raisi's government came to power with the slogan of "fighting corruption", its efforts "will by no means root out entrenched corruption".
Instead, the IRGC and various transnational institutions have employed myriad strategies to circumvent sanctions in order to ensure their survival, it said.
In the absence of significant economic reforms, the report added, the Iranian government will likely witness more protests and unrest.
But the IRGC's dominance over major sectors of Iran's economy is near absolute, Dabirsiyaghi said, making any reforms very hard to achieve.
The IRGC controls multiple sectors of the economy, he said, and would need to be involved in any efforts to effect economic reform. Yet its affiliates only care about making high profits in the shortest possible amount of time, he added.
"The IRGC is Iran, and any dialogue or agreement that doesn't happen with the IRGC is useless," Lebanese political writer and talk show host Nadim Koteich said in a January 25 op-ed in Asharq al-Awsat.
At the same time, he added, "any dialogue or agreement with the IRGC is not possible if it does not ultimately serve to expand the IRGC's own project".
The IRGC's "statelet" has reached well into Iran's economy, Koteich said, and has amassed "a vast financial empire" in alliance with leader Ali Khamenei.