ADEN -- As the war in Yemen enters its eighth year on Saturday (March 26), conditions are worsening, with nationwide assessments indicating close to three in four people (23.4 million of a population of 30 million) now need assistance.
Of this number, 19 million will go hungry in the coming months, while more than 160,000 will face famine-like conditions, according to the United Nations (UN).
Some 2.2 million children are expected to be acutely malnourished in coming months, with over half a million already facing life-threatening starvation.
The World Bank estimates just half of Yemen's medical facilities are fully functional, and that 80% of the population have problems accessing food, drinking water and health services.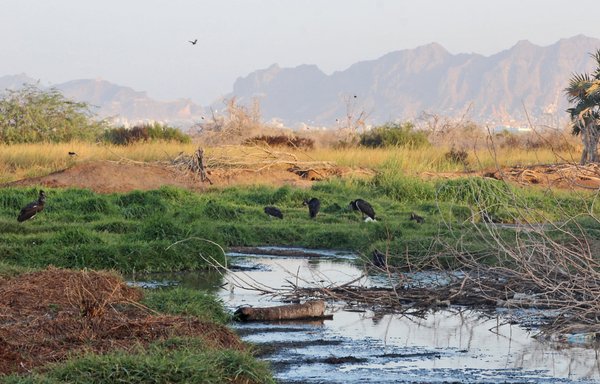 According to UN estimates, the conflict -- which began in September 2014 when the Iran-backed Houthis staged a coup in Sanaa -- has killed 377,000 people, both directly and through hunger and disease.
Meanwhile, some 190,000 migrants from war-ravaged countries in the Horn of Africa, including Ethiopia and Somalia, are stuck in Yemen needing aid, according to the International Organisation for Migration (IOM).
Yemen is becoming a chronic emergency, marked by hunger, disease and other miseries that are rising faster than aid agencies can reverse, UN emergency relief co-ordinator Martin Griffiths told the UN Security Council on March 15.
At the same meeting, Yemeni permanent representative to the UN Abdullah Ali Fadhel al-Saadi blamed the suffering in Yemen on "the Houthis' continued military escalation and their refusal to engage in any UN-led peace efforts".
Yemen still needs substantial international support as the war is estimated to have set its development back more than two decades, he said.
He called for an urgent end to the bloodshed, inviting the Security Council to put more pressure on the Houthis, as well as the Iranian regime, to stop the military escalation and ultimately bring an end to the conflict.
Houthis' attacks and obstructions
The Houthis rejected a Gulf Co-operation Council (GCC) invitation to attend talks in Riyadh between March 29 and April 7, and a few days later launched a wave of cross-border drone and missile attacks at civilian facilities in Saudi Arabia.
The salvo targeted an Aramco petroleum product distribution station in Jeddah, a Dhahran al-Janoub power station, an Aramco gas plant in Yanbu Industrial City, and a gas station in Khamis Mushayt.
The group also used Iranian cruise missiles to attack a desalination plant in al-Shuqaiq and an Aramco petroleum distribution plant in Jizan, while the Arab coalition destroyed a Houthi boat drone off the coast of al-Hodeidah.
In addition to staging attacks, "the Houthis continue to loot international resources and aid", Yemeni Deputy Minister of Justice Faisal al-Majeedi told Al-Mashareq.
The Houthis are "obstructing relief operations, seizing relief items and hindering the operations of international and local organisations that try to deliver aid", rights activist Abdul Rahman Barman said.
"The Iran-backed group is causing the humanitarian catastrophe in Yemen," he said, calling on Yemen's government to work with the international community and the UN to pressure the Houthis to stop their malign activities.
"The Houthis are responsible for the humanitarian suffering as they insist on obstructing all peace initiatives," according to economist Faris al-Najjar.
The group is "still manipulating the national economy with the monetary, customs and financial splits they have created", he said.
Yemen in ruins
The war also has laid waste to much of the country's rich architectural heritage.
Yemen's iconic mud brick towers, mosques, churches and museums have been damaged, along with many important archaeological sites and tourist landmarks, and artefacts have been looted and smuggled abroad.
"Neglect and ignorance have created a level of loss that can no longer be reversed," said Asmahan al-Alas, secretary general of the Yemeni Society for History and Archaeology.
The UN once hailed Yemen's Al-Heswa nature reserve in Aden as a beacon of conservation efforts, but the war has turned it into a rubbish-strewn wasteland reeking of sewage.
The Al-Heswa initiative was the first of its kind in Yemen, creating jobs and generating about $96,000 in revenue in 2012. Once a haven for flamingos and other migratory birds, it is now in ruins, swarmed by crows.
In the provisional capital of Aden, meanwhile, bullet-riddled homes, buildings turned to rubble and countless pictures of "martyrs" are the visible scars of a conflict that shows no signs of abating.
Water and electricity are intermittent, serving a population that officials say has tripled to more than three million, as people seek safety from fighting elsewhere.
Aden governor Ahmed Lamlas said the outbreak of war was a "disaster", leaving the city's infrastructure in ruins.
"We are still suffering from the impacts of war," said Lamlas, who narrowly escaped a deadly car bombing in October.
Lamlas said the pressure was exacting a toll on Aden residents, who are struggling to afford basic goods amid soaring inflation.
"Living conditions have affected the people psychologically," said Lamlas, but insisted: "Aden remains steadfast and will return to life."