ADEN -- Reports that Iran's Islamic Revolutionary Guard Corps (IRGC) plans to dispatch a large number of fighters from its Iraqi affiliates to Yemen have raised fears that, if true, this will expand the war in Yemen into a regional one, analysts said.
Such a move also would threaten any path towards the establishment of peace in Yemen, they said.
In a February 17 report, Intelligence Online revealed that the IRGC is planning to send a large force of fighters from Iran-backed Iraqi militias to support the Houthis in Yemen.
This will include fighters from Asaib al-Haq and Harakat al-Nujaba, it said, noting that the move follows massive Houthi losses in the battles of Marib and Shabwa.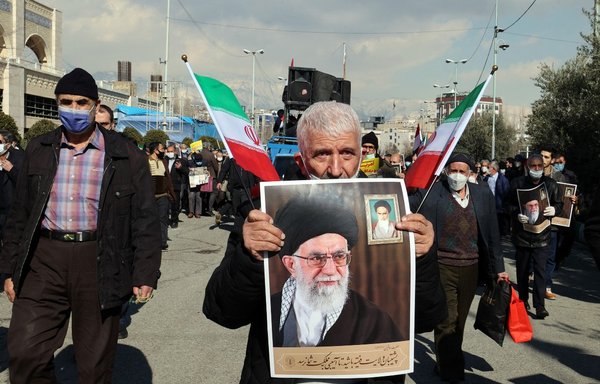 IRGC Quds Force commander Esmail Qaani's repeated visits to Baghdad have focused on meetings with the militias, journalist Ahmed Zeidan said in a February 18 Twitter post referencing the Intelligence Online report.
Senior Lebanese Hizbullah operative Muhammed Kawtharani has been among those in attendance, Zeidan said.
Kawtharani, who is Lebanese Hizbullah's senior military commander in Iraq, is regarded as Iran's most powerful point man in Iraq and Lebanon. He appears to have gone into hiding after a $10 million bounty was placed on his head.
Qaani arrived in Baghdad on Tuesday (March 15) in an unannounced visit, two days after the IRGC claimed responsibility for ballistic missile attacks on Erbil in Iraq's Kurdish region, Asharq al-Awsat reported.
Threat to peace process
If true, a deployment of IRGC and Iraqi militiamen to Yemen would complicate matters, as it brings a regional dimension to the war and threatens peace efforts, said Abaad Centre for Studies and Research director Abdul Salam Mohammed.
Dispatching Iraqi militiamen to support the Houthis would invite new international intervention in the war in Yemen, which may lead to an acute escalation in the fighting, he told Al-Mashareq.
Mohammed said the IRGC's deployment of fighters from allied militias to Yemen "constitutes direct Iranian interference, which would cause the United States and European Union countries to change their positions on peace in Yemen".
Political analyst Waddah al-Yaman Abdul Qader said it it "likely" that the IRGC's proposed deployment of new fighters to Yemen will go ahead.
He said the presence of Iranian and Lebanese Hizbullah fighters in Yemen among the Houthis already has been established.
There are two key reasons for Iran's deployment of fighters to Yemen, he said.
First, he said, the Houthis are facing a severe shortage of fighters and military expertise, especially following the loss of a large number of their commanders.
Second, it has become clear to the Houthis that the battle is breaking their back and curbing their expansion, after the intervention of the UAE-trained Giants Brigade and the liberation of Shabwa districts the Houthis previously controlled.
Houthis an Iranian 'card'
The Houthis also suffered steep losses in Marib's Harib district and in other parts of the province, Abdul Qader said, as well as in battles reaching the boundaries of al-Bayda province.
"These losses have caused serious disarray in the group's ranks," he said, adding that the pressure of the battles in Harad, Midi and Saada has diminished the Iran-backed group's capabilities.
By claiming the recent drone attack on Abu Dhabi, Abdul Qader said, Iraqi militia Alwiyat al-Waad al-Haq and its backers apparently were trying "to dissipate the Arab coalition's efforts and take the pressure off the Houthis".
Iran's purported plan to dispatch Iraqi militiamen to Yemen shows that it regards the Houthis as a card it can play as it seeks to further its regional agenda, political analyst Faisal Ahmed said.
He said this reveals how important the battle for Yemen is to Iran, as well as "the extent of the Iranian incursion into many countries in the region, including Yemen, Iraq, Lebanon and Syria, which puts the region in danger".