ADEN -- In areas of Yemen they control, the Iran-backed Houthis are using funds obtained through the illegal drug trade to fund military recruitment, emulating the business model of Lebanese Hizbullah, another Iranian proxy, officials said.
Yemeni army forces in Hajjah province recently destroyed 1,158kg of hashish and 7,700 narcotic pills seized from smugglers linked to the Houthis, the military media department announced March 3.
This brings the total quantity of illegal drugs destroyed over the past three years to more than four tonnes, it said.
Minister of Information Muammar al-Eryani has previously warned that the Houthis are planning to saturate the areas under their control with drugs.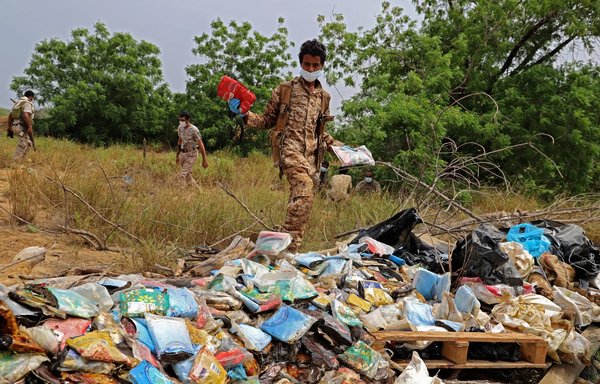 He said reports from these areas "confirm the involvement of prominent Houthi leaders in drug trafficking networks and utilisation of drugs as a major source of financing" for the militia's war effort, Asharq Al-Awsat reported.
New reports further confirm the involvement of the Iranian regime and its regional proxies, led by Lebanese Hizbullah, in the manufacture and trafficking of drugs, al-Eryani said.
A recruitment tool
"It is well known that Iran is bringing in [to Yemen] not only weapons but also drugs to support the Houthis' finances," Deputy Minister of Legal Affairs and Human Rights Nabil Abdul Hafeez told Al-Mashareq.
Day after day, he said, "quantities of hashish and other drugs have appeared in areas of the western coast, including Tihama, al-Hodeidah and Hajjah".
They are part of commercial operations "to finance the death project sponsored by Iran", Abdul Hafeez said, in reference to the ongoing war in Yemen.
He said the Houthi militia considers drugs "a weapon in its arsenal that it is using in its war, both inside Yemen and against neighbouring countries".
"It uses drugs to recruit and impel youth to fight in its ranks," he said, explaining that Iran also uses this tactic in areas where its militias are deployed.
According to Abdul Hafeez, the Houthis' involvement in the drug trade "stems from their sponsor's interest in it, namely Iran, and is an emulation of the experience of Lebanese Hizbullah".
Major source of funding
Iran has been pushing its proxies, including Hizbullah and the Houthis, to engage in the illegal drug trade as a way to shore up their finances, said Studies and Economic Media Centre (SEMC) chairman Mustafa Nasr.
Drug trafficking is regarded "as a major source of funding" that will help these groups implement Iran's agenda in the areas they control, he said.
This is especially true now that Iran and its proxies are suffering from the consequences of sanctions imposed on many of their members and networks.
Nasr said security checkpoints in the government-controlled provinces have seized hashish and narcotics bound for Houthi-controlled areas.
He accused the Houthis of "using Yemen as a corridor for drug smuggling to Saudi Arabia through the border province of Hajjah".
But the quantities seized in Hajjah are only a small part of the quantities of drugs found in local markets or transiting through Yemen in general, he added.
Smuggling attempts blocked
"Hashish and narcotics are a major source of financing for terrorist groups, such as al-Qaeda, Hizbullah and the Houthis in Yemen, but the Houthis and Hizbullah in particular rely heavily on them," political analyst Mahmoud al-Taher said.
There is an apparent agreement between the two militias to flood Saudi Arabia with illegal drugs, he said.
"Hizbullah has tried more than once to smuggle drugs in shipments of fruits and vegetables from Lebanon to Saudi Arabia, but its attempts were thwarted," he said.
In light of the increased scrutiny at the ports, it seems the Lebanese militia has partnered with the Houthis to "smuggle it across the border, from Saada or Hajjah, two provinces that border the Kingdom of Saudi Arabia", he said.
Iran considers the illegal drug trade a major revenue stream for its proxy militias and Hizbullah is the best proof of it, said political analyst Adel al-Shujaa.
"Hizbullah has devoted large areas of Lebanon to the cultivation of hashish, which generates millions of dollars for it," he said.