WASHINGTON -- As Moscow forges ahead with its brutal war in Ukraine, there are increasing concerns that Russia will resort to using banned chemical weapons -- as it has in past conflicts -- to invigorate its faltering offensive.
Russia invaded its neighbour February 24.
Intelligence reports suggest that Russia may be preparing to use chemical weapons against Ukraine, US and European officials said Friday (March 11).
Security officials and diplomats, who spoke to the Washington Post on the condition of anonymity, warned that Russia may carry out a "false-flag" attack that attempts to pin the blame on Ukraine or Western governments.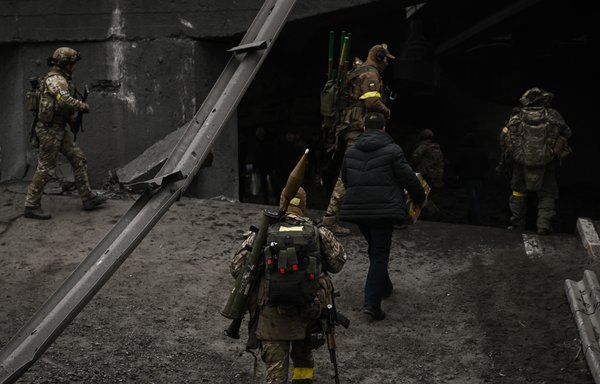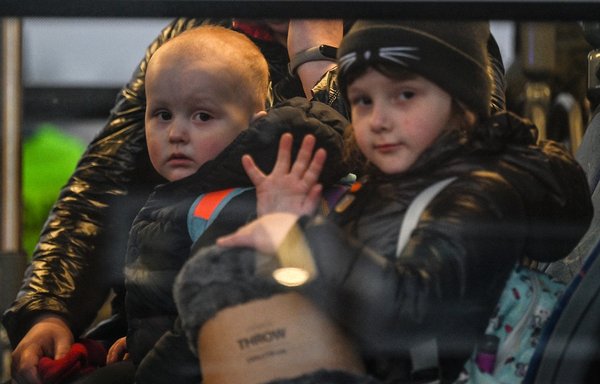 Earlier, the White House sounded the alarm over a new Russian propaganda campaign that may indicate the Kremlin is laying the groundwork for a new phase in the war.
Russia may be preparing to "use chemical or biological weapons in Ukraine", White House spokesperson Jen Psaki said in a series of tweets March 9.
With Moscow's momentum in Ukraine slower that what Russian President Vladimir Putin had hoped for, Russian officials have stepped up accusations about supposed secret US biological weapons laboratories in Ukraine.
This tactic is straight out of Russia's "playbook", Western officials said.
"This is all an obvious ploy by Russia to try to try to justify its further premeditated, unprovoked and unjustified attack on Ukraine," Psaki said.
"Now that Russia has made these false claims, and China has seemingly endorsed this propaganda, we should all be on the lookout for Russia to possibly use chemical or biological weapons in Ukraine, or to create a false flag operation using them," she said. "It's a clear pattern."
The warnings came as Ukrainian officials reported that Russia used phosphorus chemical bombs in the eastern Donbas region, AFP reported Sunday.
International law prohibits the use of white phosphorus shells in heavily populated civilian areas but allows them in open spaces to be used as cover for troops.
Oleksi Biloshytsky, chief of police in Popasna, about 100km west of Luhansk city, said late on Saturday that Russian forces had used the chemical weapon in his area.
"It's what the Nazis called a 'flaming onion' and that's what the Russcists [amalgamation of 'Russians' and 'fascists'] are dropping on our towns. Indescribable suffering and fires," he wrote on Facebook.
It was not immediately possible to verify the comments.
Straight out of Moscow's playbook
Moscow on Friday called a meeting of the 15-member United Nations (UN) Security Council to repeat its previously made, unsubstantiated claims that Washington had funded biological weapon research in Ukraine.
Ukrainian, US and UN officials denied the presence of any US-backed bioweapon programme in Ukraine.
"Allegedly, we are preparing a chemical attack," Ukrainian President Volodymyr Zelenskyy said in a video address posted to his official Telegram channel on Friday.
"This makes me really worried because we've been repeatedly convinced: if you want to know Russia's plans, look at what Russia accuses others of," he said.
US Ambassador to the UN Linda Thomas-Greenfield expressed similar concerns during the Security Council meeting.
"Russia has a track record of falsely accusing other countries of the very violations that Russia itself is perpetrating," she said.
Other diplomats dismissed Russia's claims as "wild" conspiracies and "utter nonsense".
The UN "was not aware of any biological weapons programme in Ukraine", said Izumi Nakamitsu, the UN's under-secretary-general of Disarmament Affairs.
Russia used the Security Council to utter "a series of wild, completely baseless and irresponsible conspiracy theories", said British ambassador to the UN Barbara Woodward.
"Let me put it diplomatically: they are utter nonsense. There is not a shred of credible evidence that Ukraine has a biological weapons programme," she said.
Russia might deploy chemical weapons in Ukraine, British Prime Minister Boris Johnson warned on Thursday.
"I'll make you one other prediction, by the way, which is that the stuff that you're hearing about chemical weapons, is straight out of their playbook," Johnson told Sky News' Beth Rigby.
"They start saying that there are chemical weapons that have been stored by their opponents or by the Americans. And so when they themselves deploy chemical weapons, as I fear they may, they have ... a maskirovka, a fake story ready to go."
'Game-changing'
According to a senior NATO official who described the growing anxiety about potential chemical attacks in Ukraine, the concern is being driven by new "intel, and also Russia's previous record of the tactics".
The tactics consist of "heavy bombardment, flattening of cities, then chemical weapons use to clean basements of fighters, then denying and planting false flags", the official said.
Any use of poison gases in Ukraine would violate a decades-old international treaty banning such weapons.
The use of chemical weapons by Moscow in its invasion of Ukraine would be "game-changing" and require a rethink of the conflict by NATO, Polish President Andrzej Duda said Sunday.
In that case, NATO should seriously consider its further moves, he said.
"Because then it starts to be dangerous, not only for Europe, not only for our part of Europe... but for the whole world," he added, speaking in Polish with an English translation.
Duda said Putin would resort to any means especially as he had already lost this war "politically", while in military terms he is no longer capable of winning it.
Russia will pay a "severe price" if it uses chemical weapons in Ukraine, US President Joe Biden vowed Friday, while also pledging to avoid provoking Moscow into "World War III".
Past use
Moscow has consistently tried to impede investigations of chemical weapons use, while attempting to shift blame and spread disinformation.
The Kremlin has a history of deploying illegal nerve agents against the regime's opponents, including the 2020 Novichok poisoning of Russian opposition leader Alexei Navalny and that of former KGB agent Sergei Skripal in 2018.
Moscow denies involvement in either incident.
In Syria, Russia helped the regime of Bashar al-Assad cover up the use of chemical weapons against his own people.
After the Organisation for the Prohibition of Chemical Weapons (OPCW) confirmed in a 2019 report that chlorine was used against the opposition-held town of Douma the year before, Russia attempted to help cover up such attacks.
It rejected the OPCW report and claimed the atrocity was "staged" by Syrian rescue volunteers known as White Helmets.
In Syria, chemical attacks were accompanied by false-flag claims -- repeated frequently by Russian officials -- suggesting that opposition fighters themselves were behind the attacks, the Washington Post reported Friday.