Hizbullah chief Hassan Nasrallah on Wednesday (February 16) boasted that his Iran-backed party is now capable of using unmanned aerial vehicles (UAVs), commonly known as drones, to turn its missiles into precision-guided weapons.
He even claimed, during a televised address, that it is willing to sell its weapons, inviting interested parties to "fill out an application", Lebanese media outlets reported.
"We now possess the ability to turn our thousands of rockets into precision-guided missiles," he said, claiming that the party started doing this "years ago".
"We have already transformed a lot of our missiles," he said, going on to issue a threat to Lebanon's neighbour, Israel.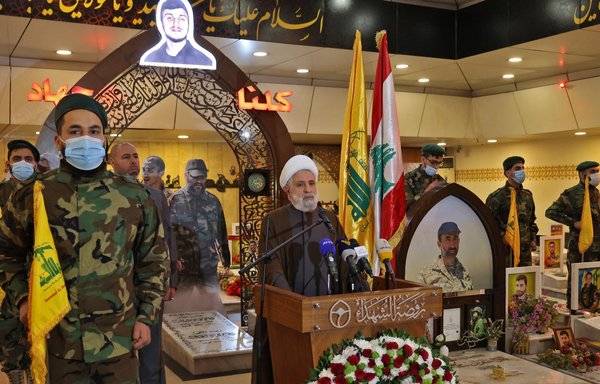 Nasrallah's revelation comes just a week after Iran's Islamic Revolutionary Guard Corps (IRGC) announced the development of a surface-to-surface missile with a stated range of 1,450km -- a range that would put Israel within reach.
The IRGC's Sepahnews website said the missile, named the Khaybarchekan, "runs on solid fuel and is capable of penetrating anti-missile systems".
Iranian Armed Forces chief of staff Mohammad Bagheri described it as a "strategic long-range" missile, and noted that Iran was "self-sufficient in terms of military equipment", AFP reported.
On December 24, the Islamic Republic fired 16 ballistic missiles to conclude military drills IRGC officials described as a "warning to Israel".
Bagheri said Iran could become one of the world's largest arms exporters if US sanctions were lifted, as observers questioned the timing of such remarks and activities, in light of the ongoing nuclear deal negotiations.
Iran is engaged in talks with world powers to revive a 2015 nuclear deal that offered sanctions relief in exchange for curbs on its nuclear programme.
Since the start of the Syrian conflict, Israel has carried out hundreds of air strikes, targeting Syrian regime positions as well as Iran-backed forces and Hizbullah fighters, AFP reported.
Missile depots
In his televised speech, delivered during a ceremony to mark the deaths of high-level party officials, Nasrallah said Hizbullah has been working on improving its military capabilities.
He claimed that in the summer of 2021, Hizbullah had conducted the largest training exercise since its formation in the early 1980s.
He also noted that the party's missiles are not stored in one place but are scattered throughout Lebanon -- a matter that already has stoked anger in Lebanon, as some weapon depots are situated in residential areas.
Lebanese from across the political spectrum have complained that Hizbullah is exposing the entire country to unwanted danger by storing Iranian-made missiles, explosives and ammunition in depots deep in civilian areas.
Nasrallah has not sought to hide that the party has been storing Iranian-supplied missiles in the southern suburb of Beirut and the Bekaa Valley.
And in a December 28, 2020, interview that aired on al-Mayadeen satellite TV, he boasted that "the number of precision missiles the resistance possesses is double what it was a year ago".
In addition to threatening Israel, should it attempt to target Hizbullah's weapons inside Lebanon, Nasrallah derided the Lebanese authorities, saying the party does not fear any national dialogue over its weapons, Naharnet reported.
"Our strategy is clear, and let them demonstrate their strategy to us instead of insults and slurs," he said, in an apparent reference to his detractors in the Lebanese government.
Pushback on Bahrain
Nasrallah also pushed back on Lebanon's February 10 decision to ban Hizbullah-linked Bahraini opposition forces from holding two events in the country.
Hizbullah had previously hosted a January 12 conference in Lebanon for Saudi opposition figures and Houthi officials.
Nasrallah's remarks came shortly after Israeli Prime Minister Naftali Bennett on February 15 concluded a landmark visit to Bahrain, AFP reported.
"This was a very successful visit, warm reception, strong connection, very open atmosphere," Bennett said at the end of his visit, 17 months after Israel and Bahrain ended decades of tensions to normalise ties.
Bennett, the first Israeli head of government to visit Bahrain, said the trip had offered a very "different atmosphere in the Arab-Israeli relationship".
"It is a new model; it is a good model," he said, adding that his goal is to "create a ring of alliances between Israel and Arab countries in the region".
Bennett's Bahrain trip follows a visit by Israeli Defence Minister Benny Gantz earlier this month that saw the two countries sign a defence agreement.
"The fault lines used to be between Arabs and Israelis," Bennett said, adding that now the divisions were between them and the "agents of terror and chaos" -- an apparent reference to Iran and its proxies, including Hizbullah.