During a trip to the United Arab Emirates (UAE) that was brought forward after a volley of attacks on the Gulf state, the top US commander in the Middle East on Monday (February 7) delivered a "strong message of reassurance" to the US ally.
Arriving in the UAE on Sunday, US Central Command (CENTCOM) commander Gen. Kenneth F. McKenzie sought to build on US efforts to fortify the UAE's defences, following attacks staged by the Iran-backed Houthis and another shadowy group.
In an interview with the official Emirati news agency, WAM, McKenzie said he was happy to see the Terminal High Altitude Area Defence (THADD) ballistic missile interception system -- made by the United States and deployed by the UAE -- had proven effective against recent attacks.
"I know that sends a strong message of reassurance to everyone in the UAE," he said of the two successful combat deployments of the system. "We'll continue to work with the UAE to make that system even better in the future."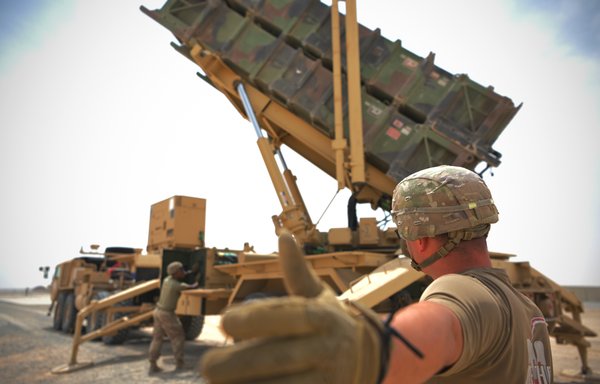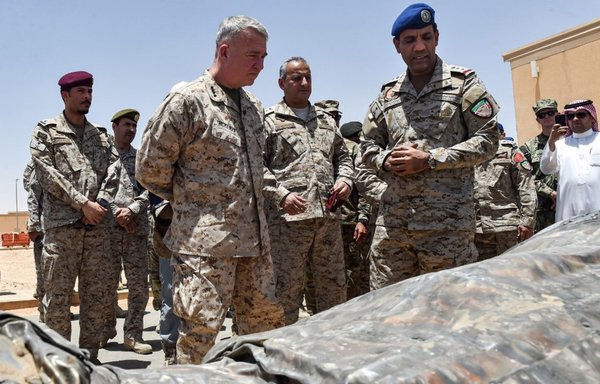 To this end, he said, the United States is working with regional partners and US industry.
"You'd like to be able to detect the launch [of missiles and drones], and then you'd like to be able to see them and interfere with their flight. And if you can't do that, you'd certainly like to be able to shoot them down as they get near their intended target," he told WAM.
Helping an 'old friend'
The recent spate of attacks on the UAE is "very concerning", McKenzie said.
"But I think the UAE has one of the most professional militaries in the region," he added. "They're very well-led, and I think the UAE is a very safe and secure place."
"Even as the UAE has come under attack, the United States has moved quickly and swiftly to help an old friend," McKenzie said.
"We brought a destroyer in, a guided-missile destroyer, the USS Cole, which has ballistic missile defence capabilities. It will patrol the waters of the UAE, working closely with UAE air defenders to protect their nation," he told WAM.
"And then additionally, over the next week or so, we're going to bring in a squadron of F-22 fighter jets, the best air superiority fighters in the world."
"They will also work with their UAE partners to help defend the nation. So, we think this is just one friend helping another in a time of crisis."
Last Wednesday, the UAE announced the interception and destruction of three "hostile drones", which follows three previous drone and missile attacks claimed by the Houthis since January 17.
A little-known group called Alwiyat al-Waad al-Haq, which is believed to have ties with pro-Iran armed factions in Iraq, said it was responsible for the four drones launched at dawn Wednesday, targeting the UAE.
Iran's 'inhuman experiment'
Delivering a keynote address at the Middle East Institute (MEI) via video link last Thursday, ahead of his trip to the UAE, McKenzie called out Iran for its role in undermining security and stability in Yemen and beyond.
"Unfortunately there are actors in the region who are determined to deprive not merely the Yemenis but indeed the entire region of the freedom of fear they deserve," he said, pointing to Iran as the "central threat".
"Specifically, my top priority is to deter Iran from undertaking malign activities that undermine the security and stability of the region," he said.
"As usual, Iran relies on proxies to do its dirty work, funneling them arms and other resources with the express purpose of sowing discord and endangering human life," he said.
McKenzie noted that the conflict in Yemen "has dragged on this long only because of Iran's support to its clients, the Houthis".
While Iran itself "has largely confined itself to activities that it considers below the threshold of our tolerance", he noted, its proxies have no such constraints.
"As we have recently seen with their complex attacks on the UAE, not to mention their persistent campaign against the kingdom of Saudi Arabia, the Houthis are less interested than Iran in waging a limited war," he said.
"Rather they will recklessly use whatever capabilities the Iranians put in their hands in pursuit of victory, regardless of the risk to human life.
"Using the population of the southern Arabian peninsula as human lab rats, and the Yemeni civil war as an inhuman experiment in modern war, the Iranians have introduced cutting edge technology in what otherwise resembles a pre-industrial conflict," he said.
"I'm talking about ballistic missiles, land attack cruise missiles, and unmanned aerial vehicles (UAVs) of all sorts and descriptions."
"In all probability, military victory is beyond the reach of any party to this conflict," he added. "And yet Iran unconscionably stokes it, drawing out what many regard as the world's worse humanitarian disaster."
France to help UAE secure airspace
France said Friday it will help the UAE secure its airspace following the recent drone and missile attacks, AFP reported.
"To show our solidarity with this friendly country, France has decided to provide military backing, notably to protect their airspace from any intrusion," French Defence Minister Florence Parly said on Twitter.
France also is helping the UAE with aerial surveillance, using Rafale fighter jets stationed at France's air base in Abu Dhabi, she said.
The UAE defence ministry confirmed that it was activating its defence co-operation agreement with France, a measure it said was discussed by its joint operations commander Maj. Gen. Saleh al-Amiri on a visit to Paris.
The UAE has signed successive defence agreements with France since the 1990s, notably a 2008 accord which granted France its first permanent military base in the Gulf at al-Dhafra military airport.
French troops in the UAE currently number around 650, a French defence ministry official said.